Student Martha Collison, the youngest ever contestant to take part in The Great British Bake Off, has become the latest hopeful to leave the show after she failed to make the grade.
The 17-year-old - who had been balancing the show with her A-level studies - said the BBC1 show had been "a life experience that I will never forget" as she bowed out.
She had been close to elimination a week earlier and her final selection of bakes during "advanced dough week" included an east European nutty bread which was barely cooked.
Judge Paul Hollywood even advised his colleague Mary Berry not to try the Povitica, prepared for the technical challenge, and declared it was "totally raw" in places.
The teenager, from Ascot in Berkshire, said her experience of the programme had increased her appetite for cookery.
"I love baking and I feel that I have learned so much from the Bake Off and from Mary and Paul's critique that it has made me love baking even more.
"I would love to go to university and study Food Science as a course - that is my ambition.
"I am also hoping to do a gap year for charity which will involve baking on some level.
"After the excitement of watching the episodes on TV, I am now back to school on my second year of A Levels, and hitting the reality of maths, chemistry and food technology."
The worst Bake Off gaffes
The worst Bake Off gaffes
1/7 GBBO gaffes

It sounds impossible, but the great meltdown of series five involving Iain, Diana, and the hottest day of 2014 so far was more controversial than Custardgate. It ended when Iain binned the remains of his Baked Alaska and stormed out of the tent

YouTube

2/7 GBBO gaffes

The bread basket challenge in series two had many bakers scratching their heads. Worst off was poor Janet, whose basket collapsed as soon as she took it out of the oven

YouTube/BBC Food

3/7 GBBO gaffes

Who can forget the most unpatriotic British flag cake ever made in series four? Not only did you have to cut Liz's head off to see inside: the flag itself was more than a little wonky

YouTube/BBC Food

4/7 GBBO gaffes

It's not even clear what this biscuit bake was supposed to look like, but series one contestant Louise said it was supposed to be heart-shaped. It's definitely not

5/7 GBBO gaffes

More of a camera gaff than a baking one: this squirrel made headlines for all the wrong reasons in series two when it found itself on national television. Complaints were made over the fact that the image failed to come with a "may contain nuts" warning

YouTube/BBC Food

6/7 GBBO gaffes

Poor Yasmin in series two had a mini breakdown when her macarons failed to rise. Everyone else was more concerned about the dodgy shade of green. 'I didn't realise I'd get this emotional with baking,' said Yasmin. None of us did, Yasmin. None of us did

YouTube/BBC Food

7/7 GBBO gaffes

The curse of the soggy bottom struck one unlucky contestant in the form of this zingy tart from series three. Mary Berry pursed her lips over how much lime zest had been used, while Paul Hollywood just looked disappointed at the poor quality of pastry on offer

YouTube/BBC Food
She praised her family for supporting her through the low points.
"They have been a solid rock to lean on. They had to deal with a very under-pressure Martha while I was on Bake Off and studying for exams at the same time.
"My family were very good at coping with me and keeping me calm, and they loved the whole process although I think throughout we have all put on a bit of weight."
Viewers saw her in tears last week when Kate Henry was eliminated instead of her, and she admitted: "I was just feeling so drained and exhausted.
"I was juggling revising with baking and it was just a bit of a car crash moment.
"I fell apart a bit, but then pulled myself together with great support and help from the other bakers, even though sometimes there was a big age difference.
"Without the bakers being who they are and how they are it wouldn't have been such a good experience for me."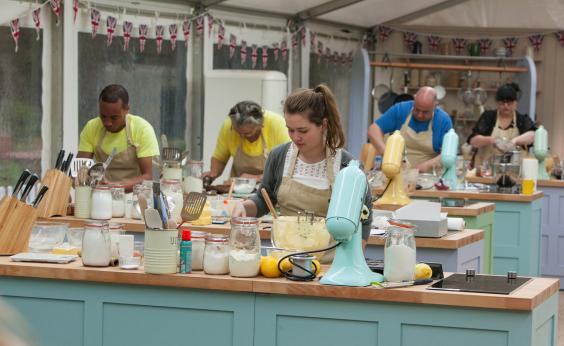 Martha had watched the show since the age of 12 and said: "It's amazing to be on something that you have grown up watching."
Her creations for this week included a spice plum iced bread swirl, of which Hollywood said: "Some of it is quite dense. It could have done with a slower bake."
She also made two different types of doughnut - chocolate and passion fruit, as well as lemon and poppy seed.
Hollywood said: "You have got two great tasting doughnuts, but the texture's not good."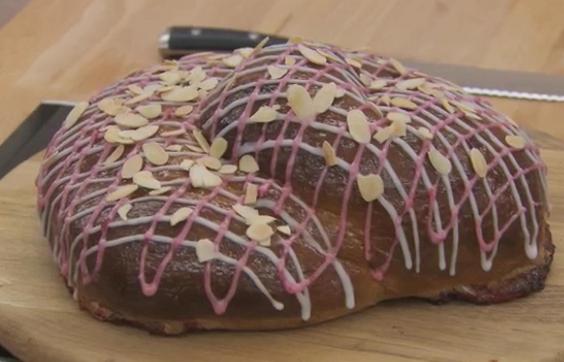 Viewers saw Richard Burr named star baker for the fourth time during the series.
He and Chetna Makan, Luis Troyano and Nancy Birtwhistle go forward to next week's semi-final.
Martha added: "Being on the show definitely made me grow up quite fast, I met lots of new people and learned about their lives, which makes me excited about my future."
Press Association