On Mary Venezi's first day at Greece's state broadcaster, ERT, her editors told her: "No matter what happens, the news will go live, even if there's an earthquake, a fire or if we all die. News will go live or it's a dictatorship."
The radio producer lived by that rule for 21 years until 11 June 2013 when, in an effort to push reforms forward after the financial crisis, the public broadcaster, ERT, was abruptly taken off the air, leaving 2,656 employees jobless. Twenty months after the historic shutdown, Ms Venezi is still hoping the three-week-old government will stand by its word and bring the service back to life.
"Our lives were erased in minutes," she said. "The government announced the closure that afternoon, and within hours it had all ended. We were in shock but we didn't give up." After the signal stopped transmitting, employees squatted the building and, calling their initiative ERT Open, kept broadcasting through all available frequencies until police forced them out five months later.
Despite financial hardship, the laid-off staff moved across the street to their union's offices where they have been broadcasting ever since. "One of our colleagues killed herself, another miscarried at six months," said Ms Venezi. "We won't stop until this fight is recognised."
Another ERT Open volunteer, Zefi Tsoukala, 45, a mother of two, had worked in international sales for Greece's broadcaster for 25 years. "We are here voluntarily all day, every day, and haven't stopped for a second," she said. "We have been humiliated. I'm unemployed and my husband works part-time. Some of our colleagues have to eat in food banks. Others can't even afford electricity. We want to go live again."
But the closure was not entirely unjustifiable. Nobody denies ERT's failure in the past to reform itself. It was a open secret that since ERT started in 1975 it had been used for relentless political appointments, while several staff drew big salaries without even showing up for work.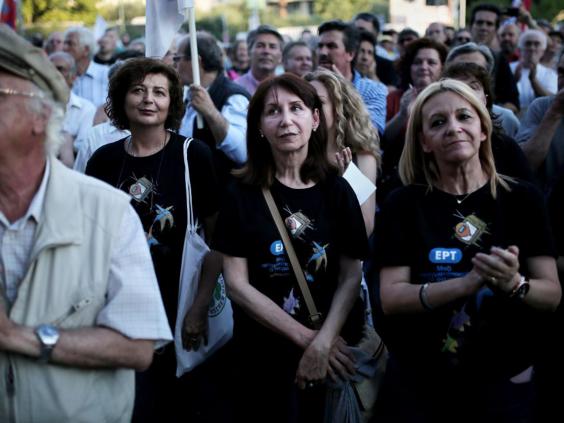 "Whoever it was, it wasn't me," Ms Tsoukala said. "After 25 years I was earning just over €1,000. We knew what was happening and had contacted prosecution services but our claims were ignored."
Today, some 700 people around Greece keep ERT Open alive by running 17 radio frequencies, one television and one online channel, showing live news, documentaries, music and sports. Not all of them are former ERT employees.  "I am an unemployed," said Kostas Kletsas, who contributes as a news producer. "Everybody does a bit of everything. There are people who were drivers and have now become sound engineers to cover the needs."
Chryssa Dimitriadou, a retired ERT news presenter, also helps. "I was there for 28 years and it's my duty to help in a time of need," she said. "I'll be here until these people's efforts find justice."
"We have shed tears, sweat, blood along the way but there's always those who put their own interests above the common fight," said the president of the ERT workers' union, Panagiotis Kalfagiannis.
One month after the closure, a new state broadcaster was formed under the name of Nerit and some 1,000 employees were rehired. Those who haven't moved on are now excitedly waiting for the state minister, Nikos Pappas, to honour last week's statements and throw the "On air" switch again. But positivity is not shared by all. "I'm not as optimistic any more," said Mr Kalfagiannis. "We expected the left-wing government to be the voice of the people and open ERT the day after the election as they promised. It's been nearly a month and they still haven't."
They are not the only ones. Tomorrow, the eurozone heads again meet for talks over Greece's bailout. ERT will covering the story, even if it is not backed by the government. Yet.
Reuse content