CNN has "terminated" an agreement with comedian Kathy Griffin to co-host its annual New Year's Eve programme after she posted and photo and video of herself holding up the fake severed head of President Trump.
Griffin made the following apology after the content provoked anger, which clearly wasn't enough:
"I sincerely apologize. I'm just now seeing the reaction of these images. I'm a comic, I cross the line. I move the line, then I cross it. I went way too far," she said. "The image is too disturbing. I understand how it offends people. It wasn't funny. I get it. I've made a lot of mistakes in my career; I will continue. I ask your forgiveness. (I'm) taking down the image. (I'm) going to ask the photographer to take down the image and I beg for your forgiveness. I went too far. I made a mistake and I was wrong."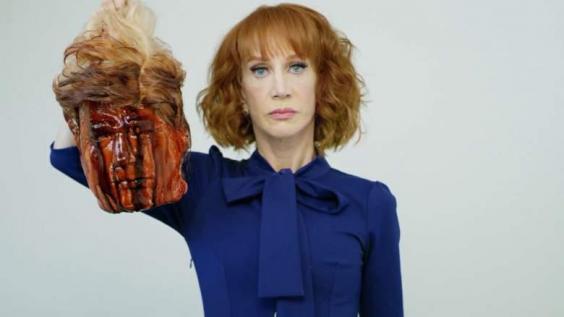 She was due to host New Year's Eve coverage alongside Anderson Cooper, who tweeted following the stunt: "For the record, I am appalled by the photo shoot Kathy Griffin took part in. It is clearly disgusting and completely inappropriate."
Griffin did not disclose the context for the stunt, which was part of a photo shoot with Tyler Shields, but pre-apology said she was "merely mocking the MOCKER IN CHIEF."
The fake beheading drew criticism from Trump himself, who tweeted (not long before his now infamous 'covfefe'): "Kathy Griffin should be ashamed of herself. My children, especially my 11 year old son, Barron, are having a hard time with this. Sick!"
Reuse content