He is known for his role as badass counter-terrorism agent Jack Bauer in 24, but Kiefer Sutherland has never watched an episode of the hit US series.
The actor, 47, revealed on The Jonathan Ross Show that he hates seeing himself on screen. "I haven't watched an episode of 24, no," he said. "But I know how it goes, I have read the script."
Sutherland's boycotting stems from the "mortifying" experience of watching himself in 1986 coming-of-age movie Stand By Me. 
"I had a girlfriend and we went to the cast and crew screening and I had a very specific idea of what I wanted to do with the character," he told Ross. "I was standing there, we watched the movie, and everything I thought I wanted to do, I hadn't done at all."
Sutherland's reaction was so severe that he told his girlfriend: "I need to get another job. If I don't get another job and this comes out I'm dead and my career is over."
The Canadian star is currently shooting 24 follow-up 24: Live Another Day in London, where the show has many fans. "I think one of the reasons we were allowed to stay on air until it caught on [in the US[ was because of the response here, so it's only fitting that we get to do this last season here," Sutherland said.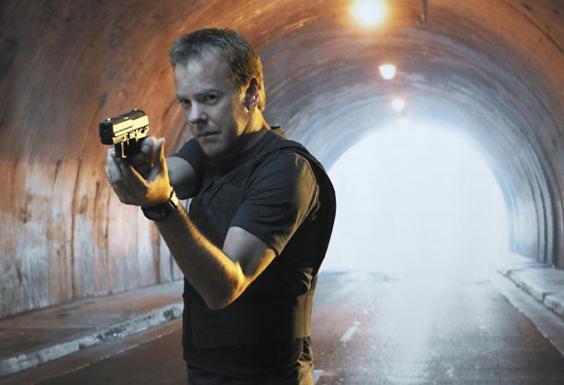 Few details of the new 12-episode series emerged on The Jonathan Ross Show, but Sutherland did confirm that a "terrorist threat" is involved, with a "couple of other changes".
"I can't go into it at length but some of the characters that are more familiar to the audience that are coming back, their relationships in these last four years have dynamically changed as well," he teased. "At the root of it, [Jack's] going to have a s****y day."
Original 24 cast members Mary Lynn Rajskub, Kim Raver and William Devane will also appear in the new season, which starts in the US on 5 May.
The Jonathan Ross Show airs 8 February at 9.55pm