Fans of Netflix documentary series Making a Murderer have flooded the Yelp page of Steven Avery's prosecutor, Ken Kratz, with negative reviews; in objection of what they believe is the jailing of an innocent man. 

District attorney Kratz led the prosecution in Avery's trial, where he stood accused of murdering photographer Teresa Halbach. Avery had previously been wrongfully jailed for sexual assault in 1985; he was released after 18 years in prison, when new DNA evidence linked the case to a serial rapist. This led to accusations that the investigation formed part of a conspiracy against Avery, as he was simultaneously jailed at the time for assaulting his cousin, the wife of a sheriff's deputy.

Avery was then arrested in 2005 for Halbach's murder, though he claimed this was a further conspiracy to muddy his chances of winning his pending civil case over the false conviction. The trial concluded in a guilty verdict, and Avery has been in jail ever since. 

Making a Murderer essentially argues there's truth in claims of a conspiracy against Avery; using evidence involving both the investigation by the sheriff's office and Kratz's own role in the trial. Convinced of the show's reasoning, fans have rushed to the Yelp page for the Kratz Law Firm, leaving scathingly negative reviews against the attorney.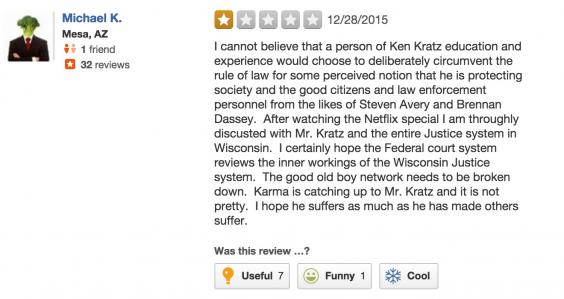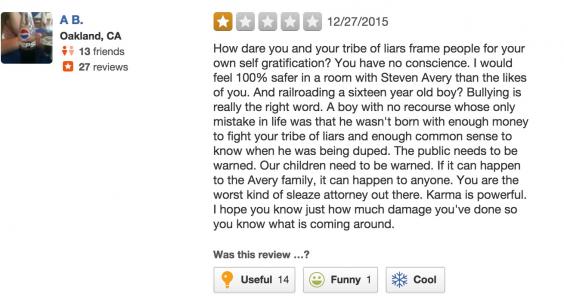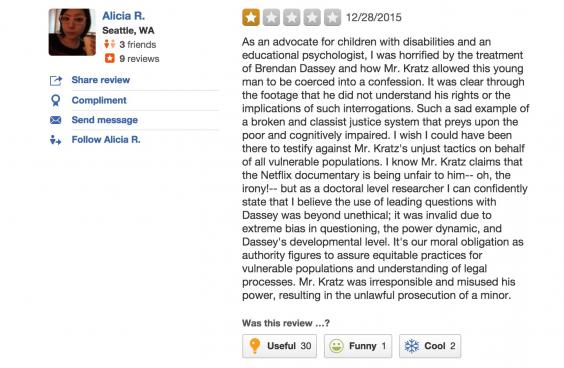 Many of the reviews also referenced Kratz's resignation as Wisconsin country DA in 2010 over his sending of sexually explicit text messages to a client who was the victim to a domestic violence case he was prosecuting.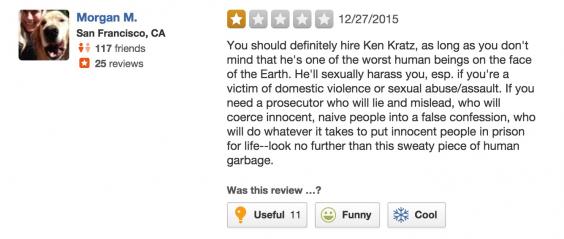 Katz claims the filmmakers didn't allow the prosecutor to respond to any of the allegations made; telling Fox 11 News, "Anytime you edit 18 months' worth of information and only include the statements or pieces that support your particular conclusion, that conclusion should be reached."

He added that the series' popularity has led to him receiving an array of threatening messages, "Suggestions that I shouldn't even be walking around was offered, the good cheer that I happen to develop stomach cancer for Christmas and really lots of really troubling pieces of correspondence."

The show has garnered a vast fanbase since its release on Netflix, with many claiming it as a worthy successor to the likes of Serial and The Jinx. 
Reuse content