It's not all about the John Lewis Christmas ad, alright? Rival retailer Marks and Spencer launched their own schmaltzy festive campaign today and, while there may be no cute penguins called Monty involved, there are two fairies named Magic and Sparkle instead.
Yes it is as nausea-inducing as it sounds, but it's quite good fun too and sure enough, also comes with its own Twitter hashtag, #followthefairies.
Set to Julie London's version of "Fly Me To The Moon", the advert follows the two magical girls as they clock in for work at the Fairy Factory before flying across the country to spread some Christmas spirit with a click of their glitter-filled fingertips.
TV viewers can catch the clip when it premieres during The X Factor on Saturday night, a day after John Lewis' effort debuts during Channel 4's Gogglebox.
M&S has been giving their ad a strong push on social media, setting up an intriguing Twitter account @thetwofairies that only tweets in rhyme.
Gift boxes have been delivered to some lucky people who post wishes on Twitter and all week, the fairies have been visiting cities to deliver presents to those in need of some smiles.
The commercial ends with the rather cheesy strapline: "Christmas is better with Magic and Sparkle".
"The magic of Christmas is how it brings out that little part in all of us that wants to believe the extraordinary," said Patrick Bousquet-Chavanne, executive director of marketing and international at M&S.
"It's a moment to escape the realities of everyday and give in to the joyfulness of the festive spirit. We wanted to capture that feeling and bring Magic and Sparkle to life in a fun and light-hearted way that spreads a little cheer."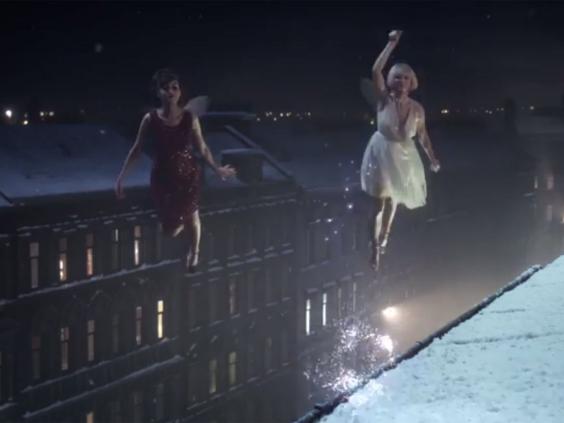 Despite their best attempts, M&S has its work cut out to trump John Lewis for YouTube views. Their 2013 Christmas ad Sparkle the Dog notched up 132,000 views compared to John Lewis' 13.2 million for The Bear and the Hare.
John Lewis' new ad, Monty's Christmas, has racked up an impressive 4 million YouTube views in just 24 hours. It sees adorable little boy Sam present his penguin pal Monty with a penguin lover called Mabel after he becomes sad and lonely.
John Lewis Christmas advert 2014
John Lewis Christmas advert 2014
1/13 John Lewis Advert 2014

Monty and Sam do everything together and the advert follows them playing happily through the year, from hide and seek to football.

2/13 John Lewis Advert 2014

Set to the track 'Real Love', sung by Tom Odell and originally written and recorded by John Lennon, the heartwarming advert tells the tale of an unlikely friendship between a little boy, Sam, and his penguin friend, Monty

3/13 John Lewis Advert 2014

4/13 John Lewis Advert 2014

Monty is happy playing with other birds, but he soon grows lonely

5/13 John Lewis Advert 2014

6/13 John Lewis Advert 2014

A scene from the 2014 John Lewis Christmas advert

7/13 John Lewis Advert 2014

As the winter months draw in, Sam begins to notice that Monty is sad and realises that he is longing for a companion

8/13 John Lewis Advert 2014

Sam has just the treat in store to help Monty this Christmas

9/13 John Lewis Advert 2014

10/13 John Lewis Advert 2014

11/13 John Lewis Advert 2014

Knowing his friend so well, on Christmas Day Sam gives Monty the gift he has been dreaming of – a new penguin friend called Mabel

12/13 John Lewis Advert 2014

13/13 John Lewis Advert 2014

Featuring the strapline 'Give someone the Christmas they've been dreaming of', Monty and Mabel have been created using complex CGI technology to look and behave exactly like real life Adélie penguins.
British singer-songwriter Tom Odell provides the soundtrack with his rendition of John Lennon's "Real Love".
Reuse content