"It's time to play the music, It's time to light the lights." The muppets return to television screens tomorrow night with a madcap new series which will introduce a family of new characters hoping to seize the spotlight from Kermit and Miss Piggy.
In That Puppet Game Show, an ambitious collaboration between the BBC and the Jim Henson Company, original creators of the Muppets, celebrity guests take part in a series of bizarre games invented by a team of puppet experts.
In the first episode, Jonathan Ross and Katherine Jenkins have to place a line of kilted singing hot dogs in the correct order for the sausages to perform a Proclaimers song.
Click here or on "View Images" for pictures of the new 'muppets'
Like the original Muppet Show, which ran for five years until 1981, the front-of-house action is linked by comic sketches and a running backstage narrative starring the puppet characters who are trying to keep the show on the road.
The new muppet stars include Ian, a jaded, tipsy Armadillo, Udders McGhee, a crusty media kingpin who began his career working in Rupert Murdoch's post room and Amber O'Neill, a shallow showbusiness expert whose desire for fame makes her a distant cousin to Miss Piggy.
A puppet family of television viewers occasionally comment on the onscreen madness, reviving memories of Statler and Waldorf, the Muppet Show's caustic theatre box critics.
Launching on BBC1 tomorrow, the show's Kermit figure is Dougie Colon, a host whose Bolton accent and physical appearance bears an uncanny resemblance to the Saturday night entertainment presenter, Vernon Kay.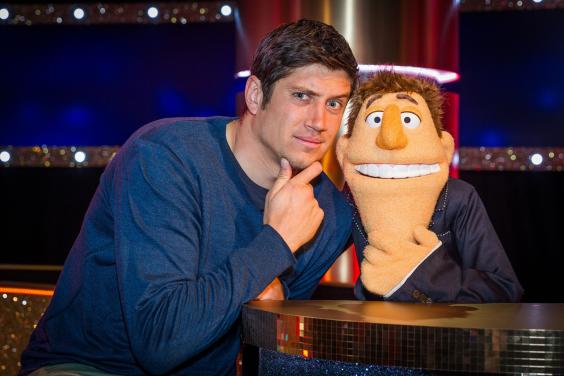 The seeds of the series lie in Puppet Up!, an improvised 2006 Edinburgh Festival show staged by Brian Henson, who inherited the puppeteering business from his father Jim Henson, who died in 1990. 
"I saw it and I sent a speculative email to the Jim Henson company asking if they would ever considering making a new show in the UK. Brian said he loved the idea," said Jamie Ormerod, series producer.
After experimenting with a late-night chat show format, in which Stephen Fry performed alongside a puppet version of himself in a "taster" tape, the BBC decided to gamble on returning a muppet-based comedy series to prime-time, with an added game show element.
Whilst the original muppets have spawned a lucrative franchise of big budget movies, Henson ensured that the new television series remained true to the values of the 1976 show. "We embraced a retro feeling," said Henson, who lends his voice to two puppets on the show. "Although the show itself is very modern we use the traditional Henson-style of hand puppetry techniques."
That Puppet Game Show is filmed on the same Elstree studio stage that the Hensons used for the Muppet Show. "All the sets are built above the ground on 3ft stilts," Ormerod said. "It looks like the desks and doors are floating. We had to create room for the puppeteers to stand up and hold the puppets above their heads and watch video-feeds."
That Puppet Game Show will be judged on the strength of its furry ensemble. Tom Leopold, an American satirist who has written for Seinfeld and Cheers, contributed gags. "We spent a lot of time working on the characters with the writers," the producer said. "You need to give the puppets real problems and personalities to make them three- dimensional."
BBC Worldwide plans to sell the format to international broadcasters, inviting them to bring over their own celebrities and film local versions on the Elstree set.
It's appropriate that the new muppet incarnation debuts in front of a British audience. Mr Henson said the muppets would never have become global stars without UK support. "The US networks passed twice. My dad was famous for Sesame Street so they said 'puppets are for kids'. Lew Grade saw that it was funny and innovative and said 'bring your people to London and make it at ATV.'"
He added: "The Muppet Show was a really good combination of British comedy creative minds with the muppet characters. I'm hoping it will be much the same with That Puppet Game Show."
Although Colon looks like Vernon Kay and talks like Vernon Kay – he isn't a direct imitation of the Splash! presenter, who will appear as a guest celebrity. "We looked at archetypal Saturday night entertainment figures. They often had a Northern charm like Peter Kay and Ant & Dec," Ormerod said. "Any physical likeness to Vernon is accidental."
The BBC series will not refer to the new puppets as "Muppets", since that brand is now owned by Disney. "They are two completely different sets of characters," a BBC spokesman said.
That Puppet Game Show - Meet the new "Muppets"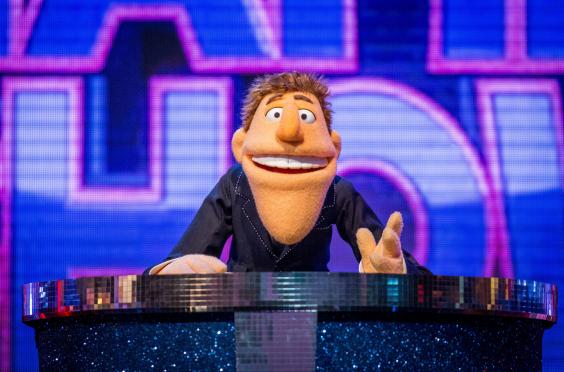 Dougie Colon - Host
Pronounced 'Cologne', Vernon Kay soundalike was a warm-up act for Ant and Dec and has a tendency to put his foot in his mouth with celebrity guests.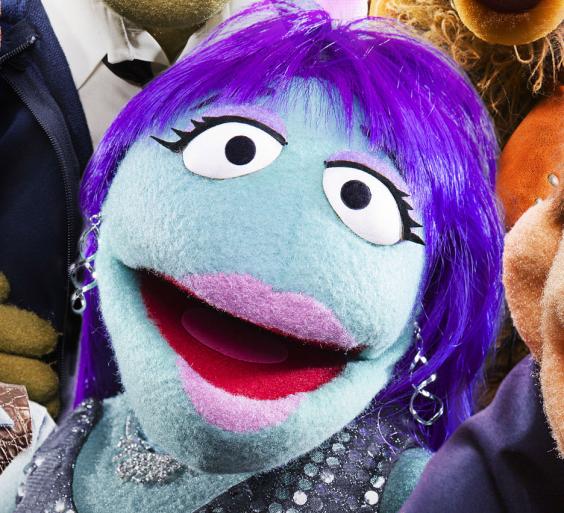 Amber O'Neill – showbusiness expert
Celebrity gossip-addicted US reporter who puts the super in superficial. Moved to That Puppet Game Show from Mexican showbiz channel Scorchio. A muppet "cousin" of Miss Piggy.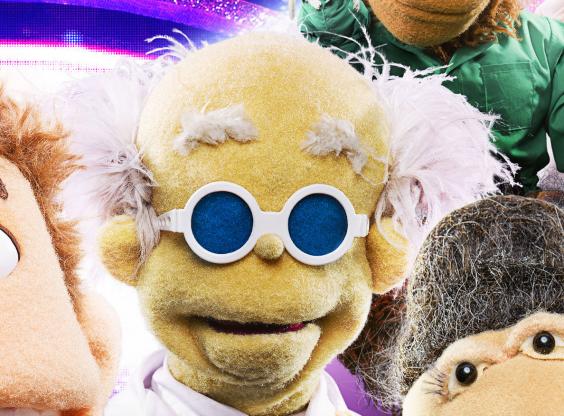 Dr Strabismus - Science Expert
Born in Austria, he has worked for the likes of NASA and CERN as well as conducting his own, uncommissioned, research. Briefly roomed with Einstein.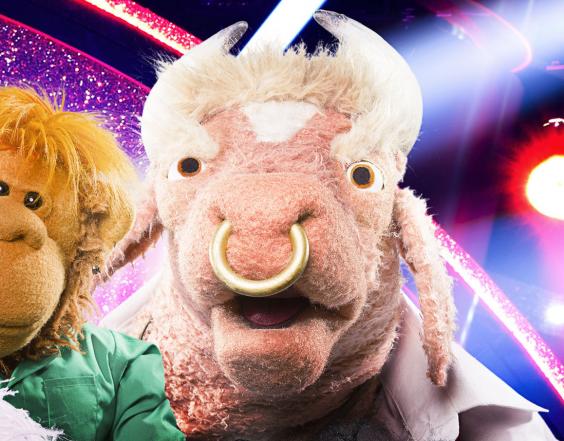 Udders McGhee - The Big Boss
Media mogul who worked his way up from News Corp post room. Friend of US Presidents is constantly seeking to "trim some fat" off show budget.
Mancie O'Neill – Producer
Amber's oldest sister is an English lit graduate from Oregon who imagined England would be exactly like Downton Abbey. Hot-shot producer who secretly thinks puppet shows are beneath her.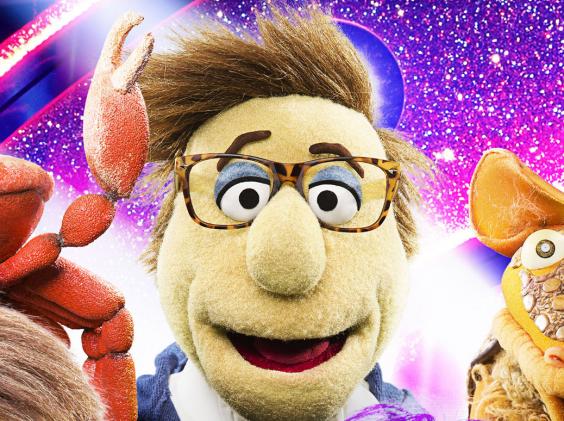 Eddie Watts – Music Expert
Introverted, geeky journalist whose hours spent listening alone to music in his bedroom paid off when NME offered him a job. Secret object of Amber's desires.
The Amazing Ian - Mental Agility Expert
Armadillo with a passion for mental agility who has seen it all before and may enjoy a drink at the bar after the show (and sometimes before). Considers Derren Brown a fierce rival.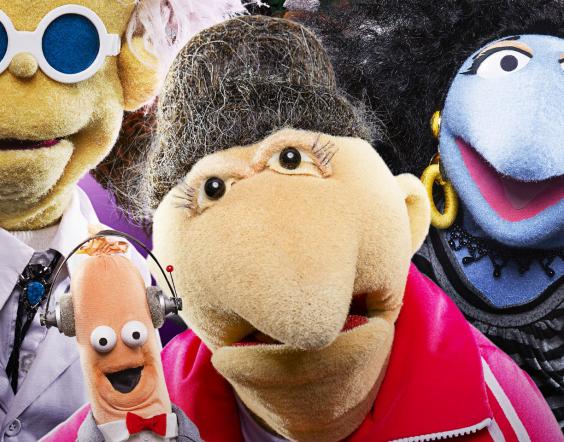 Miss Jemima Taptackle - Sports Expert
A sports mistress at several distinguished English public schools, Miss Taptackle has also trained both the Oxford and Cambridge boat teams, although controversially at the same time. Won bronze in the Hammer at the 1980 Moscow Olympics.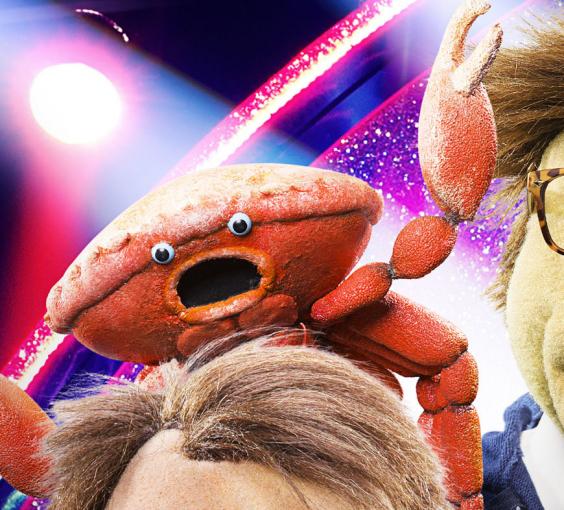 Clyde the Crab - Score Keeper
On the first day of rehearsals in the brand-new studio Mancie discovered that Clyde and his entire family were already living in the scoreboard. New Yorker Clyde is married with 14 children.