Terry Pratchett's much-loved book Good Omens is getting a TV adaptation after all, thanks to co-author Neil Gaiman.
Gaiman had previously refused to tackle the project without Pratchett, who sadly died in March 2015, but had a change of heart after the children's writer gave him a late blessing to go ahead solo. 
"Terry and I [initially] had a deal that we would only work on Good Omens things together," Gaiman said at a memorial event for Pratchett in London last Thursday.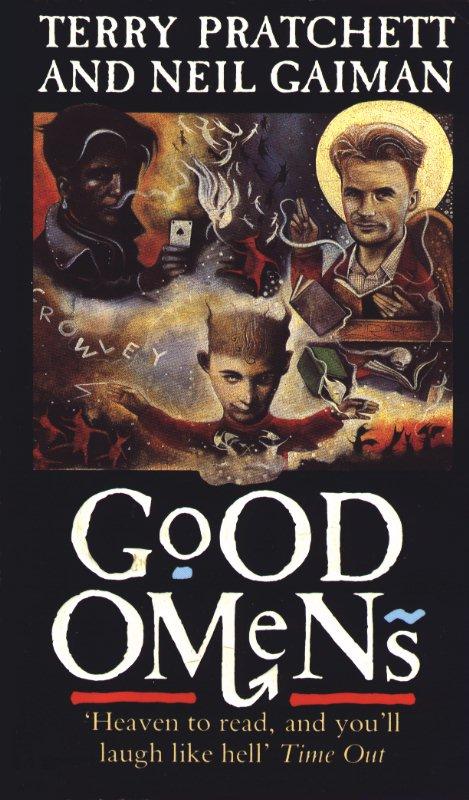 "Everything that was ever written, bookmarks and tiny little things, we would always collaborate. Everything was a collaboration."
When Gaiman finally agreed to adapt Good Omens by himself, Pratchett sent him a letter shortly before his death, writing: "I would very much like this to happen and I know, Neil, that you're very very busy, but no one else could ever do it with the passion that we share for the old girl. I wish I could be more involved and I will help in any way I can."
Gaiman joked, "At that point I think I said, 'You bastard, yes'," adding that Pratchett had left him a big black hat when he died. 

Good Omens, which follows demon Crowley and angel Aziraphale as they battle to stop the apocalypse in a rural English village, will run in six parts. The cast and expected air date are yet to be announced.
Shortly after the memorial event, Gaiman posted an emotional entry on his blog, revealing that the script is almost three quarters finished. 
"I've been working on the Good Omens scripts for much of the last year, wishing that [Pratchett] was still here and could help, even if it was just to take a phone call," he wrote. "It's hard when I get stuck, and want to ask his advice. It's harder when I come up with something clever or funny that's new and I want to call him up and read it to him, and make him laugh or hear him point out something I'd missed. 
"We were always each other's first audiences for Good Omens. That was the point. Neither of us had any idea whether or not we'd be able to sell this odd book or not, when we were writing it, but we knew that we could make the other one laugh. I'm now 72 per cent of the way through the Good Omens scripts, and the end is in sight."
Terry Pratchett: A career in quotes
Terry Pratchett: A career in quotes
1/13 "Inside every sane person there's a madman struggling to get out" –The Light Fantastic

Pratchett photographed in 1990

Corbis

2/13 "We Pratchetts are a feisty bunch"

Pratchett with his daughter Rhianna at home in 2009. Rhianna is now a writer in her own right and has written the storylines to video games such as Tomb Raider and Overlord

Rex Features

3/13 "It occurred to me that at one point it was like I had two diseases - one was Alzheimer's, and the other was knowing I had Alzheimer's"

Terry Pratchett delivers a petition on behalf of the Alzheimer's Research Trust calling for an increase in government funding for dementia research in 2008

Getty Images

4/13 "Imagination, not intelligence, made us human"

Terry Pratchett with his double-row of six computer screens in 2009

George Wright

5/13 "If you don't turn your life into a story, you just become a part of someone else's story"

Pratchett was awarded an OBE in 1998

PA

6/13 "Sometimes glass glitters more than diamonds because it has more to prove" - The Truth

Terry Pratchett launches his 25th novel of the 'Discworld' series, 'The Truth' in 2000

Corbis

7/13 "Time is a drug. Too much of it kills you"

In 2007, the year he announced he had Alzeihmer's

Getty Images

8/13 "You can't ask a fantasy writer not to want a knighthood"

Receiving his knighthood in 2009

AFP PHOTO/Ian Nicholson/POOL

9/13 "Life doesn't happen in chapters - at least, not regular ones"

Pratchett at home in 2009

Rex

10/13 "The trouble with having an open mind, of course, is that people will insist on coming along and trying to put things in it"

Pratchett at the world congress of the World Federation of the Right-to-Die Societies in Zurich, 2012

Corbis

11/13 "Inside every sane person there's a madman struggling to get out"

Attends the South Bank Sky Arts Awards in 2012

Getty Images

12/13 "Insanity is Catching"

Pratchett won the Bollinger Everyman Wodehouse Prize at the Telegraph Hay Festival, pictured with Snuff the pig in 2013

Getty

13/13 "People don't alter history any more than birds alter the sky, they just make brief patterns in it" - Mort

Campaigning for Dementia Friends in 2014

PA

Good Omens has been adapted once before, for BBC Radio 4 in 2014, when both Gaiman and Pratchett made cameos. There were plans for a Hollywood version in 2002, directed by Terry Gilliam and starring Johnny Depp and Robin Williams as Crowley and Aziraphale respectively, but sadly it never got off the ground.
Elsewhere, Pratchett's daughter Rihanna is adaptation his 2003 book Wee Free Men for the big screen, while Shrek and Aladdin screenwriter Terry Rossio is penning a screenplay for 1987's Mort.