Netflix is on the hunt for a Gallic Francis Underwood – and reportedly may have found him in the capacious form of Gérard Depardieu.
The online streaming service is said to be tying up a deal this weekend to secure the Asterix actor as a lead in the mould of the fictional US president, in the French "House of Cards".
In an effort to seduce a European audience, the company will be launching Marseille, its first original series to be made in France by the French, later this year – and Depardieu could play a starring role, according to the French radio station Europe1.
But the project has not proved universally popular, with French filmmakers fearing that the US company's intrusion into their industry could water down the quality of its output.
Best Netflix originals to watch in 2015
Best Netflix originals to watch in 2015
1/11 Orange is the New Black (Season 3)

Aussie model Ruby Rose has confirmed she will be the next star in stripes at Litchfield Penitentiary when OITNB returns on 10 July.

2/11 Daredevil

Marvel's new Netflix series will be released on 10 April (all 13 episodes), starring Charlie Cox as blind lawyer by day and masked vigilante by night Matt Murdock.

Netflix

3/11 What Happened, Miss Simone?

Music legend and civil rights activist Nina Simone is the subject of this film from Oscar-nominated Liz Garbus. Expect unheard recordings and rare archival footage.

Netflix

4/11 Marseille

The French port city of Marseille will be the focus of a new drama about the local mayor, who is forced to face the man he chose as his heir in the elections.

Simon Calder

5/11 Grace and Frankie

Jane Fonda will arrive on Netflix on 8 May in this show about two rivals brought together after their husbands announce they are in love and plan to marry. Also starring Lily Tomlin.

Reuters

6/11 Sense8

No not The Matrix - but directors Andy and Lana Wachowski have created a new sci-fi drama series involving eight strangers from around the world who suddenly become mentally and emotionally connected after a tragic event.

Rex Features

7/11 Narcos

Ten-episode series Narcos will see Brazilian actor Wagner Moura play notorious Colombian drug lord Pablo Escobar.

8/11 Dreamworks Dragon

This will bridge the gap between How to Train Your Dragon 2 and the third film. Storylines include Hiccup's new flight suit, the secrets of his dragon blade and the young Viking's budding romance with Astrid.

9/11 Better Call Saul

The Breaking Bad spin-off series began in February starring Bob Odenkirk as sleazy lawyer Saul Goodman. The drama documents the trials and tribulations of Goodman before he moves to his strip-mall law office in Albuquerque.

Netflix

10/11 House of Cards (Season 3)

Kevin Spacey is back as the conniving Frank Underwood on 27 February for the third season of this hit White House drama.

AP

11/11 Crouching Tiger, Hidden Dragon: The Green Legend

The sequel to this Oscar-winning martial arts epic hits Netflix on 28 August - the same day of its cinematic release.

Netflix
Ted Sarandos, Netflix's chief content officer, came under fire during a speech at Cannes Film Festival earlier this month, with one culture journalist asking him if he was aware that in "five, 10, 15" years, Netflix's foray in to European markets "would destroy [its] film ecosystem".
The company, whose European operations are based in the Netherlands, are exempt from rules on minimum French-language content and the levy on television firms which helps to finance the French cinema industry.
However, Mr Sarandos said investing millions in projects like Marseille was a better way to foster the industry. "I think what we are going to do is grow the film ecosystem," Mr Sarandos said, according to Bloomberg. "We don't take any money out of the system.
"We won't take one cent of French tax dollars to produce that show," Mr Sarandos reportedly added. "Our plan is not to draw from those funds, not to pay into those funds, because we are creating content for the world," he said.
His arguments were supported by Harvey Weinstein, the film producer who has a deal with Netflix to distribute some of his films online. He hailed Netflix's expansion a "wake-up call" to "monopolist" European broadcasters.
The port of Marseille will provide the backdrop for a story of dirty money, corruption and political backstabbing  –  with Depardieu potentially playing the role of Robert Taro, a mayor whose protégé usurps him after 25 years as head of the city authority. The wayward dauphin will manoeuvre a casino opening in the mafia-run city as his predecessor tries to claw his way back to power.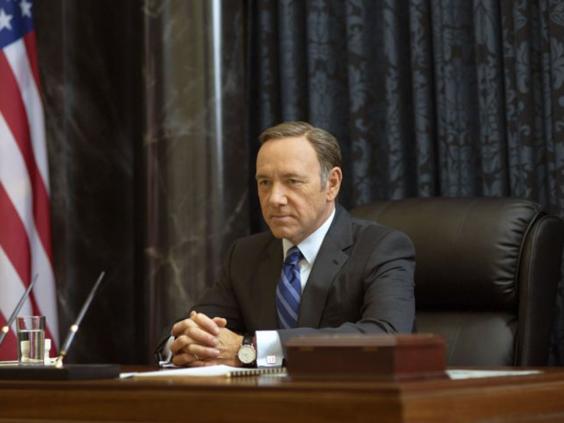 Its writer Dan Franck, who won a Golden Globe for his mini-series Carlos in 2011, told the French press that he wants to revive the lost art of storytelling forgotten since the novels of Balzac and Dumas. We can thus expect complex characters, lots of drama, and cliffhangers that keep you hanging until ... the next episode loads 10 seconds later.
The head of communications for Netflix's European operations played down the speculation over Depardieu's role in the show, telling The Independent on Sunday that it was a "pure rumour mill". 
But clinching one of the most recognisable faces in French cinema could make the series more palatable for an international audience – already warming up to French output – whether Depardieu's countrymen like it or not.
The Returned, released in France in 2012, was broadcast in the UK on Channel 4's primetime Sunday night spot and attracted, on average, 1.8 million viewers an episode. And Spiral, the detective show, was watched on average by 800,000 BBC4 viewers an episode before being adapted for the US market.
Depardieu scandalised France by obtaining Russian citizenship in 2013, as a protest against the proposed 75 per cent tax rate for the country's highest earners. But he was on the red carpet at Cannes this week to promote his new film Valley of Love – which reunited him with actress Isabelle Huppert 35 years after their on-screen love affair in Maurice Pialat's Loulou.
He drew laughs at the festival when he claimed: "I know Vladimir Putin, I like him very much. I go to the USSR, er, Russia, a lot."
Reuse content