The Great British Bake Off has seen its very own red wedding in week four (a 'bread wedding' if you will, only it's not bread week so I'll keep that pun for laters), with Iain Watters storming out in tears after his Baked Alaska was removed from the freezer by "ice cream-melting supervillian" Diana Bird.
The furore started when Diana removed Iain's dessert while it was setting.
He went to check whether it was ok, and, finding it very much wasn't, promptly threw the Alaska in the bin, stormed out of the GBBO tent and sulked on a nearby hill.
By this point Twitter was raging over the incident, crying sabotage as Diana presented her glorious Baked Alaska Swan to judges Mary Berry and Paul Hollywood to superlative reviews.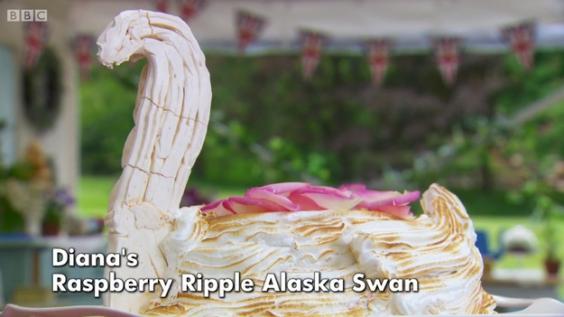 In a macabre twist, Iain was then asked to present his bin, which, being a plastic cuboid and not an ice cream-based sweet, landed him in last place and saw him ignominiously booted from the show.
Twitter duly went into meltdown, making use of the #JusticeForIain hashtag, with one viewer commenting "I'd have thrown her f*ckin swan on the floor if I was Iain," as another shouted: "ARE YOU KIDDING IM SO FRUSTRATED IT WASNT HIS FAULT SHE TOOK HIS ICE CREAM OUT THE FRIDGE HOW !?"
Diana Bird speaks out on sabotage claims
One viewer tried to place the scandal in a wider GBBO context, adding: "The ice cream sabotage is more controversial than the great custard theft of 2013."
At one stage, Diana's Wikipedia entry was even slanderously altered to reflect the incident:

Eventually, Sue Perkins and Paul Hollywood were forced to wade in:
Iain's Alaska was out of the freezer for 40 secs. That's it. No sabotage. 40 secs of normal temp would NOT be enough to reduce it to liquid

— Sue Perkins (@sueperkins) August 27, 2014
I'm glad Mary's not on twitter this would upset her.. #enoughnow

— Paul Hollywood (@PaulHollywood) August 27, 2014
But Iain took the high road, admitting his cakey breakdown:
THANK YOU @BritishBakeOff it's been truly EPIC. What can I say guys - I had a #MELTDOWN. Thanks for the support. #BINCIDENT #GBBO

— iain watters (@iain_watters) August 27, 2014
Better hide the palette knives before Victoria Sponge week.
Reuse content