The pressure on Chris Evans to give a knock out performance when he first presents Top Gear has risen ten-fold as it has been revealed the up-coming series will be broadcast live.
Previously, when Jeremy Clarkson and his side-kicks presented the hit BBC show, everything was filmed weeks in advance, with many shots going through numerous re-takes.
According to The Sun, the Radio 2 breakfast-show host believes broadcasting live will make everything "more exciting".
"Chris thinks his speciality is as a live broadcaster," Top Gear sources reportedly said. "He always loved the buzz of TFI Friday going out live and likes the idea of bringing that to Top Gear."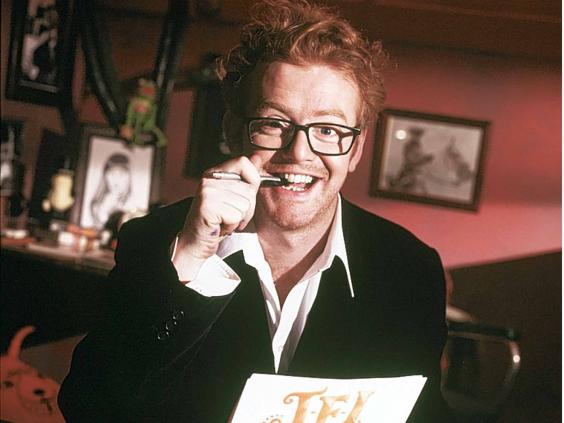 According to the report, whilst Suzi Perry has been long rumoured to co-host the show, she is no longer in the running as the live broadcast would clash with her F1 presenting. However, it is believed Evans may want Perry badly enough to allow her to present Top Gear from wherever she is in the world. 
Recently, Evan had to deny friend Zoe Ball was going to co-host the show with him, calling reports "hilariously inaccurate."
He tweeted: "Re my good friend Zoe Ball excelling in Top Gear screen test. She hasn't even been for one."
Hilariously inaccurate story in 2days paper. Re my good friend Zoe Ball excelling in Top Gear screen test. She hasn't even been for one

— Chris Evans (@achrisevans) September 14, 2015
Motorbike racer Guy Martin, actor Philip Glenister and presenter Dermot O'Leary have also been tipped to join Top Gear as a presenter.
Top Gear: Who will join Chris Evans behind the wheel?
Top Gear: Who will join Chris Evans behind the wheel?
1/7 Jodie Kidd

What they call a dead cert: Jodie Kidd will be confirmed as the new May – the six-foot-something former model being too lofty to be the new Hammond. But does she want it? Doing the rounds of reality TV contests (Strictly Come Dancing, Celebrity MasterChef, The Jump) suggests a woman in search of a future in television, and assuming that the BBC is eager to rid Top Gear of its blokey image – and Evans has said that the new line-up will include a female – then Kidd would be ideal: she drives a Maserati, posted one of the fastest laps in the programme's "Star in a Reasonably Priced Car" and, as a veteran of the fashion industry, has probably encountered her fair share of misogyny before

Getty Images

2/7 Guy Martin

In retrospect, Channel 4's Speed with Guy Martin looks like an extended audition reel for the Top Gear job, as the former motorcycle racing champ attempted to beat the world speed record for a hovercraft (as well as for a motorcycle on water!), while, like Hammond, Martin is a survivor of high-speed crashes. A television natural, Martin's bushy sideburns will appeal to Top Gear fans who still groom like its 1974

Getty Images

3/7 Dermot O'Leary

Being a "safe pair of hands", as Dermot has proved on The X Factor, is one thing – but unless the BBC secretly wants to kill off its troublesome export milch cow, then that's the very last thing Top Gear needs. After all, recklessness, along with (lest we forget) some excellent, attention-grabbing motor journalism, is what has amassed fans in more than 200 countries worldwide. And will O'Leary really want to crease those impeccable suits?

Getty Images

4/7 Philip Glenister

The BBC drama Life on Mars, in which a policeman finds himself trapped in 1973, proved that Philip Glenister would be game to imitate James May's old-rocker denim look. But what has grabbed bookies' attention is Glenister's more recent role as presenter of Channel 4's For the Love of Cars, in which old motors are found and restored. Still, it seems unlikely that he'll be turning down acting gigs because he's too busy racing Ford Cortinas across the Gobi desert

Getty Images

5/7 Steve Coogan

Chris Evans would drown if he tried to trade banter with Coogan, a far sharper and funnier man who is also a petrolhead, and has driven around Italy with Rob Brydon. Those are miserable odds in the circumstances

Getty Images

6/7 Rowan Atkinson

Who says bookies don't have a sense of humour – and I mean the odds they're offering, not a taste for Mr Bean? A wealthy car lover, collector and sometime racer, Atkinson has appeared before as a "Star in a Reasonably Priced Car", driving a Ford Kia. His other car is a McLaren F1

Getty Images

7/7 David Beckham

Beckham would instantly rid Top Gear of its fashion-dinosaur image – but would he be too busy self-grooming in the rear-view mirror to actually put his foot on the pedal? And let's face it, Becks is always more impressive when he doesn't open his mouth. The new Stig, perhaps?

Getty Images
Clarkson, Hammond and May have teamed up to present their own motoring show for Amazon Prime after leaving the flagship BBC2 show following Clarkson's dismissal by the BBC for punching a producer on set.
The trio's new show has a £160 million budget, but it has yet to be confirmed when the series will be available on the Amazon on-demand service.