It is known for being comfort viewing, but Downton Abbey has drawn over 90 complaints following a rape scene broadcast on Sunday.
ITV has received 60 complaints about the storyline, which saw Anna Bates attacked and raped by a visiting valet, played by Nigel Harman.
Broadcasting watchdog Ofcom has also received over 30 complaints about the episode.
The scene in question saw housemaid Anna Bates, played by Joanne Froggatt, confronted in the kitchen by visiting valet Mr Green.
When she resisted his advances, he hit her and dragged her into a small room to carry out his attack.
The rape and attack was not shown, but Mr Green could be heard hitting Anna through the door.
When she was discovered later by head housekeeper Elsie Hughes, she appeared only in her underdress with cuts and bruises to her face.
An average audience of 9.2 million viewers watched Sunday night's episode, with a peak audience of 9.9 million.
A warning alerting viewers to the upsetting scene was broadcast before the episode aired post-watershed at 9pm.
The storyline marks a departure for Downton Abbey, which is known for its gentle escapism and light drama.
A spokesman for Downton Abbey defended the storyline, saying: "The complex and loving journey of Anna and Bates has been central to the narrative of the show. The events in episode three were, we believe, acted and directed with great sensitivity. Viewers will see in the forthcoming episodes how Anna and Bates struggle to come to terms with what has happened."
Nigel Harman, who played attacker Mr Green, told ITV's This Morning that the intention was to shock.
He said: "It was a shocking and bold storyline…for a show like Downton it really leaped out as a bold and risky idea."
He added: "I'd worked with Joanne Froggatt before and we had a rehearsal and went for it. And what we wanted to do was to try and not signal about what was to come.
"We went for something- as it would be in real life- very shocking."
The owner of Highclere Castle, where the period drama is set, has said the violent storylines have nothing to do with reality and are not to her taste.
Fiona, Countess of Carnarvon, said: "I didn't watch it [on Sunday] but I gather it was less pleasant- I can't think of any other way to describe it other than it was quite cutting edge and quite painful."
She told an audience at the Cheltenham Literature Festival: "I like Pretty Woman, Notting Hill. I like nice things in life, that's what I choose to watch."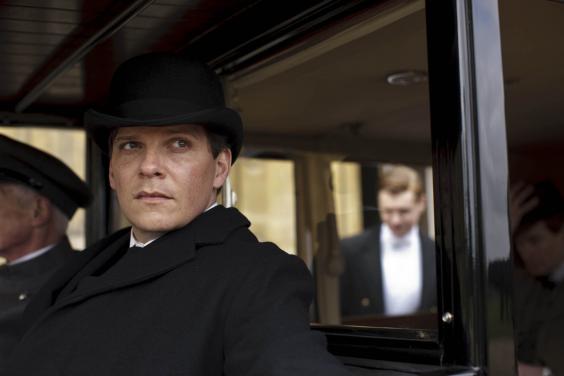 Reuse content