Tamera Foster left The X Factor tonight after the judges handed the decision over to the public following a sing-off with Luke Friend.
First through to next week's semi-final was Rough Copy, with Sam Bailey and 17-year-old Nicholas McDonald the next acts in the clear.
Despite managing not to forget her lines this week, Nicole's "beautiful shining star" Tamera Foster joined Luke Friend in the bottom two.
She gave a gutsy performance of "The Voice Within" by Christina Aguilera before Luke took his place to sing Snow Patrol's tear-jerker "Run" for survival.
The first judge to cast her verdict, Nicole Scherzinger stuck with "her girl" to send home Luke, before Louis Walsh and Sharon Osbourne enthusiastically opted to save him.
Gary Barlow surrendered the decision to deadlock, leaving the final choice to the public vote, which ended Tamera's run and kept Luke in the competition.
Earlier in the show, Sam Bailey and Tamera Foster's vocals jarred on an opening group performance of Ellie Goulding's "Burn" and, at least together, that elusive 'X' factor was lacking.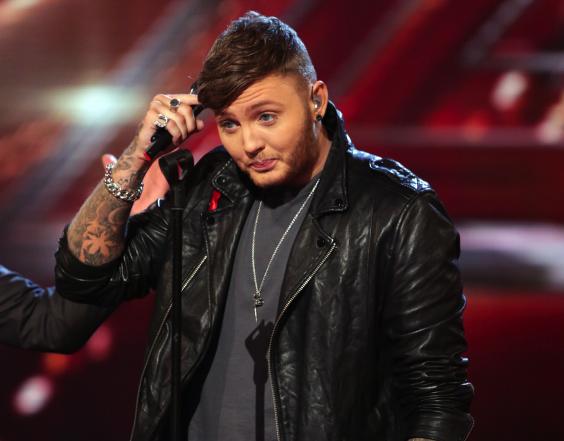 Runner-up from 2010, Rebecca Ferguson, performed her latest single "I Hope" surrounded by the usual pyrotechnics, while last year's winner James Arthur sung his new track, "Recovery".
The "Impossible" singer's appearance on tonight's show had sparked controversy - complete with Facebook petition to ban him - after his use of the homophobic lyric "you f**king queer" in a rap.
"I've made a few very silly mistakes but I want to thank all the people who have stuck with me and supported me," Arthur said after his performance.
"Above all, I want to say sorry for abusing my position as an X Factor winner because I owe everything to this thing, so thank you very much."
Host Dermot O'Leary congratulated judge Gary Barlow on his new album Since I Saw You Last, which has debuted at number two in the Official UK Albums Chart behind this year's fastest-selling album, Midnight Memories by X Factor's own One Direction.
Next week, Leona Lewis and Michael Bublé will be welcomed to the results show, while the remaining acts will sing Elton John and Beyoncé songs.
Reuse content