This slow burn prequel to Breaking Bad has left some feeling unsatisfied as dear, hopeless, try-hard Jimmy McGill (Bob Odenkirk) remains a far cry from badass, strutting Saul.
But the season finale provided more detail to the Albuquerque lawyer's transition from straight to woefully bent than the previous 9 episodes put together.
And the wonderful, agonising monologue that Jimmy enters into in front a Bingo hall full of bewildered old people will loom large in TV history.
As the cream-suited legal eagle read out the Bingo numbers with his usual panache the prevalence of "Bs" left him scraping at his own tragedy ("'B' is for brother, 'B' is for betrayal, 'B' is for broken") and launching into a brilliantly executed rant about his fall from grace over that "Chicago sunroof" incident.
Quite why grumpy elder brother Chuck McGill (Michael McKean) thinks Jimmy is an irrepressible scumbag suddenly becomes clear. The small-minded Electromagnetic Hypersensitivity-sufferer who sold out his own kid brother evidently feared a turd might land on the leather interior of his car if Jimmy was given a shot at being a proper lawyer.
Best Netflix originals to watch in 2015
Best Netflix originals to watch in 2015
1/11 Orange is the New Black (Season 3)

Aussie model Ruby Rose has confirmed she will be the next star in stripes at Litchfield Penitentiary when OITNB returns on 10 July.

2/11 Daredevil

Marvel's new Netflix series will be released on 10 April (all 13 episodes), starring Charlie Cox as blind lawyer by day and masked vigilante by night Matt Murdock.

Netflix

3/11 What Happened, Miss Simone?

Music legend and civil rights activist Nina Simone is the subject of this film from Oscar-nominated Liz Garbus. Expect unheard recordings and rare archival footage.

Netflix

4/11 Marseille

The French port city of Marseille will be the focus of a new drama about the local mayor, who is forced to face the man he chose as his heir in the elections.

Simon Calder

5/11 Grace and Frankie

Jane Fonda will arrive on Netflix on 8 May in this show about two rivals brought together after their husbands announce they are in love and plan to marry. Also starring Lily Tomlin.

Reuters

6/11 Sense8

No not The Matrix - but directors Andy and Lana Wachowski have created a new sci-fi drama series involving eight strangers from around the world who suddenly become mentally and emotionally connected after a tragic event.

Rex Features

7/11 Narcos

Ten-episode series Narcos will see Brazilian actor Wagner Moura play notorious Colombian drug lord Pablo Escobar.

8/11 Dreamworks Dragon

This will bridge the gap between How to Train Your Dragon 2 and the third film. Storylines include Hiccup's new flight suit, the secrets of his dragon blade and the young Viking's budding romance with Astrid.

9/11 Better Call Saul

The Breaking Bad spin-off series began in February starring Bob Odenkirk as sleazy lawyer Saul Goodman. The drama documents the trials and tribulations of Goodman before he moves to his strip-mall law office in Albuquerque.

Netflix

10/11 House of Cards (Season 3)

Kevin Spacey is back as the conniving Frank Underwood on 27 February for the third season of this hit White House drama.

AP

11/11 Crouching Tiger, Hidden Dragon: The Green Legend

The sequel to this Oscar-winning martial arts epic hits Netflix on 28 August - the same day of its cinematic release.

Netflix
The finale had some superb, theatrical elements and Odenkirk slid into the role of hard-partying, A-moral, bamboozling trickster "Slippin' Jimmy" like he was putting on a pair of comfy slippers.
And, having spent a week spinning cons with his old mate Marco (who met a swift, if timely end), Jimmy's desperation to prove his goodness and the sensitive, needy side of his character that never rung quite true, is exposed as the façade of trying to please others (Kim, Chuck) it really is.
Freed from this he experiences a car park-based epiphany and throws off the job opportunity which might have led him into a life of convention with an almost jazz-hands degree of childish excitement.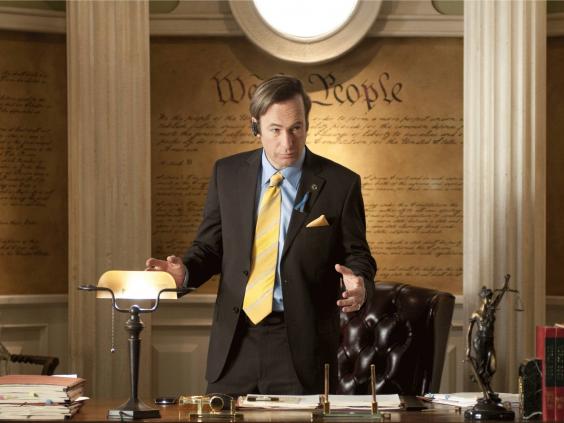 Only the presence of Mike Ehrmantraut (Jonathan Banks, who is still acting troll under the toll bridge requesting coupons) reminds one of the Breaking Bad roots the show sprang from so far has it come in its own right.
Better Call Saul has no guns, no meth, no fear that the beloved main characters are about to pop their clogs at any moment and less to gamble with (Jimmy has no wife, no kids, his brother is not worth worrying about). And as such the stakes are lower.
What it does have – and why the story is such a thrilling echo of Walter White's – is enough guts and humour to get you totally on Jimmy's side. We're gunning for him to become a hotshot criminal lawyer and get his hands on loads of cash. After all, as Marco says, if you're a lawyer and you're not making "big bank" you're doing it wrong.
Come on Jimmy, show Howard Hamlin and all those other corporate goats the pillars you can build in your office.
Reuse content