In Joe Penhall's 2000 play Blue/Orange, which explored mental health treatment in the UK, one doctor explains to another (Billy Nighy to Andrew Lincoln, no less) that 'hey, some people are just like that'.
You can throw all the labels you like at it – delusional, borderline personality disorder, anti-social behaviour – but some people are just like that. In the second part of Louis Theroux's By Reason Of Insanity the affable Englishman meets the patients of Ohio's State Psychiatry Hospitals whose personalities were so enmeshed with their illnesses that it made them near impossible to diagnose, let alone treat. Where does the personality end and the illness begin?
In the cases of Charles and Dean their diagnoses provided relief. For Charles this meant avoiding trial for four counts of aggravated robbery (and a subsequent hefty spell in prison); for Dean an acceptance that he might have been in his right mind when he committed his crime would make him "a monster". Dean, when aged 18, had sexually assaulted his own mother. "I just think he wanted to do it, so he did it" she explained. Both these men were eager to believe it isn't simply a case that they are "just like that".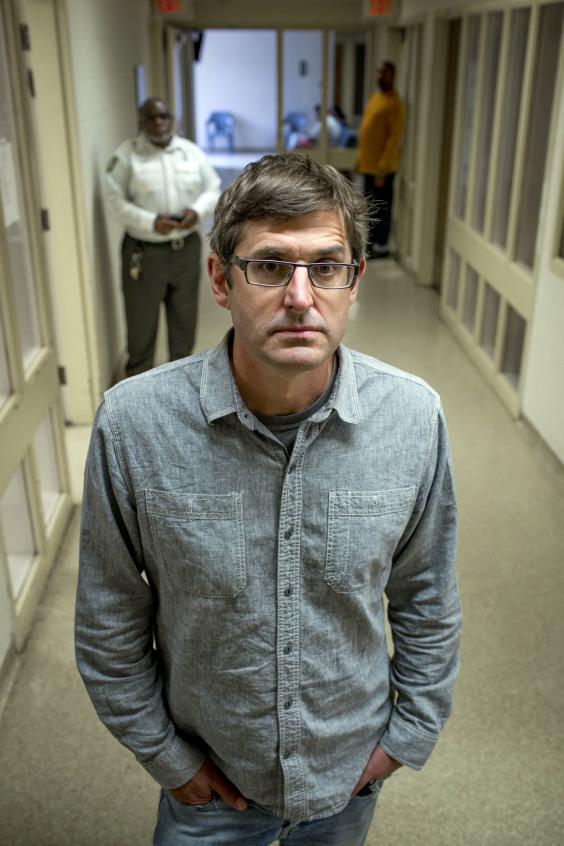 As for sad-eyed old Louis, we know the drill by now. Our narrator enters a remarkable setting and strolls about harmlessly, teasing information out of people by playing the humble, blank canvas. Theroux's talent is well documented, his uber-low status disarming his interviewees to the extent that they feel unguarded enough to spill the beans. Inside the wards he chatted to patients, some of whom had committed the grisliest of acts, as if saying hello to a next door neighbour. There's not an ounce of superiority or judgement in Theroux's bearing and you can see his subjects visibly soften as he allows them to believe, as he always does, that they have the upper hand.
Louis is at his best when unmasking people (the Westboro Baptist Church, Jimmy Savile) – tying liars and fakers in knots, always giving them enough rope. We had a flavour of that with Ohio's own RP McMurphy, Charles, who, at least one doctor believed, was "playing the system"'. Louis got under his skin. "I'm not saying I'm malingering, I'm not saying I'm not malingering," he said. "I'm choosing my words carefully". As was Louis.
26 Netflix shows you need to watch
26 Netflix shows you need to watch
1/6 Breaking Bad / Talking Bad

If 37 of your friends haven't convinced you to watch this masterpiece by now, I'm not going to be able to. If not the best TV series of all time then certainly the most entertaining, Breaking Bad tells the story of a cancer-stricken chemistry teacher who throws his hand in and decides to cook crystal meth instead. If you're a devout fan and missing the series, its sister discussion show Talking Bad is also on Netflix and may be worth checking out, if just to reminisce on the weekly theorising that gripped us.

Frank Ockenfels/AMC

2/6 Orange is the New Black

Taylor Schilling plays a middle class woman who is forced to trade her comfortable New York apartment and Mad Men boxsets for a tough, tyrannically-run women's prison, but it's the supporting cast you'll stick around for. As well as being very funny, OITNB packs an emotional punch as you learn how the rest of the Litchfield inmates came to be incarcerated, challenging your preconceptions of them. Season 1 is up now, and season 2 is right around the corner (arrives 6 June).

Netflix

3/6 Trailer Park Boys

A seven season micro-budget mockumentary might sound like hard work, but actually you'll find yourself chomping your way through this hidden gem in no time. It centres on the recidivists and down and outs of a Canadian trailer park, whose daily struggles include scraping enough money together to buy smokes, repelling cats who piss on their weed plants and trying not to pass out drunk in the street. You'll instantly feel bonded to protagonists Julian and Ricky, while their neighbour Bubbles is comedy gold. Each episode is only 20 minutes, get binging.

4/6 Louie (US only)

Start by watching Louis C.K's stand-up Live at the Beacon Theater (also on Netflix) then plough on into this series. It sees the comedian play a semi-autobiographical version of himself gigging, raising his two kids and trying to cope with the world of dating far later in life than he expected to. It doesn't pack a high laughs-per-minute ratio, but that's not really what he's going for in this series. It's more Woody Allen territory really (indeed he went on to star in Blue Jasmine last year), and has a surprising emotional depth. Season 2 is shaky, but worth sticking through for season 3 which is brilliant and incredibly thoughtful.

FX

5/6 House of Cards

For too long US political dramas were all flags slowly unfurling in the wind to bugle calls and overblown final-hour speeches, but this Netflix original takes a much dimmer view of Washington. Kevin Spacey plays conniving congressman Frank Underwood, who will walk over anyone's dead body (maybe literally?) to get into power. Season 2 is even better than the first and watching it is like sitting down to eat a 16oz steak, so dense is the political plotting.

Netflix

6/6 Arrested Development

Living in a pre-fab show house with his shallow, avaricious family, Michael Bluth (Jason Bateman) is surrounded by fakery. When patriarch George goes to prison Michael must take charge of the family business, which turns out to be something of a poisoned chalice. Very funny and very innovative, though the latest season, a half-Netflix original, may be too meta and ambitious for its own good.

AP
However, the act is wearing a little thin (the reason perhaps why he now does all his work in America) and his recent subjects have been so weighty that even a man as perceptive as Theroux struggles to scratch the surface of them. Here, as with his recent shows on paedophiles and children with severe autism, it occasionally becomes an episode of "intelligent, sensitive man feels a bit sad about difficult things". While you're left with admiration for those who treat and care for the mentally ill, By Reason Of Insanity ended with a bit of a resigned shrug. What can be done?
Reuse content