How do you end a series about everything and nothing? Do you go out with a bang or a whimper? Throw the kitchen sink at the finale or, as David Chase did with The Sopranos, simply fade to black? Matthew Weiner, the creator of Mad Men, worked on the latter show and has previously declared himself a fan of Chase's ambiguous ending, yet the conclusion he crafted, emotionally satisfying and rich in the small connections we make each day, ultimately owed more to another great show about humanity: Alan Ball's Six Feet Under.
Mad Men has always been concerned with communication, both that between ad man and audience and, more importantly, those many interactions, large and small, we make as human beings. For Don Draper, expert packager of the American Dream, selling the bigger picture has never been the problem: it's the smaller connections that always went awry, whether in his marriages, his many flings or, in latter seasons, his day-to-day relationships at work.
Mad Men season seven
Mad Men season seven
1/16 Mad Men season seven

With Sterling Cooper & Partners opening a West Coast office, many of the staff will be going bi-coastal this season. Though Don (Jon Hamm) on an enforced leave of absence needs to find his feet again.

Lionsgate

2/16 Mad Men season seven

Don and his actress wife, Megan's future was uncertain at the end of season six. One thing's for sure, Megan (Jessica Paré) will be embracing the late 60s and 70s trends.

Lionsgate

3/16 Mad Men season seven

Joan Holloway (Christina Hendricks) now has to balance life as a partner at SC&P with looking after her son Kevin.

Lionsgate

4/16 Mad Men season seven

The final season will see new directions for many of the main characters. From left, Roger Sterling (Jon Slattery); Joan Holloway; Pete Campbell (Vincent Kartheiser); Peggy Olsen (Elisabeth Moss); Betty Francis (January Jones); Megan Draper and Don.

Lionsgate

5/16 Mad Men season seven

Pete and creative director Ted Chaough are living the Californian dream this series.

Lionsgate

6/16 Mad Men season seven

If these shots are a reflection of the action, Don and Roger will be making regular coast to coast trips this season.

Lionsgate

7/16 Mad Men season seven

A family united? Betty(January Jones) and Henry (Christopher Stanley) with Betty and Don's three children, Sally (Kiernan Shipka), Bobby and Gene

Lionsgate

8/16 Mad Men season seven

Sally Draper's firmly in her teenage years - we predict fireworks.

Lionsgate

9/16 Mad Men season seven

The SC&P team are all back for the seventh and final series. From left, Stan Rizzo (Jay R. Ferguson); Michael Ginsberg (Ben Feldman); Peggy; Harry Crane (Rich Sommer) and Ken Cosgrove (Aaron Stanton).

Lionsgate

10/16 Mad Men season seven

The boys have embraced the late 60s fashion.

Lionsgate

11/16 Mad Men season seven

Megan's putting her efforts into her acting career.

Lionsgate

12/16 Mad Men season seven

It appears Roger Sterling (Jon Slattery) is finding it easier to move with the times than Don.

Lionsgate

13/16 Mad Men season seven

Partners Roger, Bertram Cooper (Robert Morse), Jim Cutler (Harry Hamlin) and head of creative Ted Chaough (Kevin Rahm).

Lionsgate

14/16 Mad Men season seven

Flower power: Peggy

Lionsgate

15/16 Mad Men season seven

BettyFrancis

Lionsgate

16/16 Mad Men season seven

Megan Draper

Lionsgate
A man with two names who had reinvented himself time and time again, there was always something hollow at Don's centre, a part he couldn't ever bring himself to reveal. So it was fitting that this final season has seen him undertake one last quest to start over, driving and then hitching west to California, his own personal Xanadu, before ending up nearly catatonic in an ashram surrounded by other lost souls.
This being Mad Men, Don broke down and found enlightenment, but with a twist. The final shot of him cross-legged and chanting revealed not as a moment of spiritual nirvana but rather of creative reawakening with Don, the consummate magpie, stealing inspiration once again before almost certainly heading back to New York to make the iconic "I'd Like to Teach the World to Sing" Coca-Cola ad for McCann-Erickson.
Elsewhere, there were happy endings for Peggy, who found in Stan a partner who loved her for her creativity and work ethic rather than despite them; for Pete and Trudy, reunited, older and wiser but still able to dream; for Roger seeing out his end days in style with Marie; and for Joan, who chose work over romance and gained the satisfaction of "not answering to anyone" in a room of her own. In more bittersweet scenes we saw Sally, home and caring for her dying mother Betty, as the latter's lung cancer took hold. Yet even that sadness was tempered by our knowledge that Betty's final letter to her daughter was correct: Sally is a survivor – she will have adventures, a new life is beginning, all will be fine.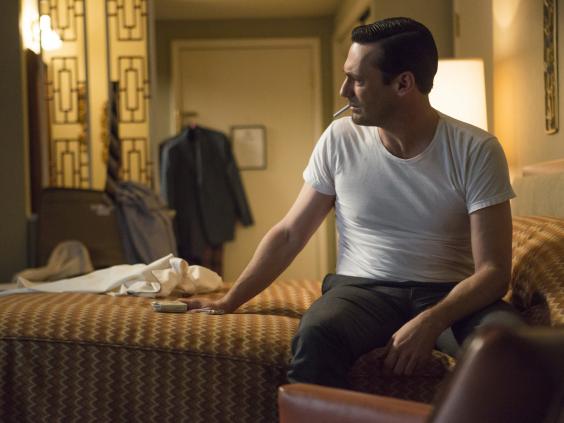 This was a beautifully acted finale of great warmth and hope, which gave the lie to the assertion that Mad Men always had more style than substance. The endings shown may not be final ones – Don may yet burn out or Stan and Peggy split one angry day – but they were snapshots into the wonder of life in all its messy glory. Contrary to Coca-Cola's famous ad, we don't always sing in perfect harmony but we strive, we try, and as Donald Draper, that great dreamer of Joan Didion's golden dream, would tell you, we get by.
Reuse content