Tonight Michelle Keegan takes centre stage as your typical bubbly receptionist in a story that starts out as a frothy girls-havin'-it-large yarn before taking a dark turn into the world of drug trafficking.
Episode two of Ordinary Lies plays with any preconceptions the audience may have about this series - it really isn't a bog-standard 'Northern drama'. But let's be honest, you wouldn't expect anything sub-par from the Bafta and Emmy Award-winning Danny Brocklehurst. This drama takes you to unexpected places and it's far from a melodramatic, everyone's-shagging-everyone in the office type affair (although there is a bit of that).
Switching to the picturesque setting of the Dominican Republic also helps to change the pace and adds a sense of danger that you just don't get from a car showroom in the North - unless you're globophobic (scared of balloons) in which case those shiny red and blue balloons just outside the room are terrifying. 
The best TV to watch in 2015
The best TV to watch in 2015
1/13 Game of Thrones

Sky Atlantic, April

HBO

2/13 Poldark

BBC 1, March

BBC

3/13 Fortitude

A murder mystery set in a close-knit Arctic Circle community, with an impressive ensemble cast -Sky Atlantic, January

Sky Atlantic

4/13 Banished

BBC 2, March

BBC

5/13 Ordinary Lise

BBC 1, March

BBC

6/13 Life in Squares

Phoebe Fox, James Norton and Lydia Lynch in 'Life in Squares'

BBC

7/13 Wolf Hall

BBC2, January

BBC

8/13 Better Call Saul

Netflix, February

Netflix

9/13 Mel & Sue chat show

ITV, January

Princess Productions

10/13 Mad Men, Series 7, Part II

Sky Atlantic, Spring

©Lionsgate

11/13 Dementiaville

This series of documentaries explores both the heart-breaking experiences of those with dementia and a ground-breaking new approach to their care - Channel 4, Summer

Georgie Scott/Age UK 2013

12/13 Morning Has Broken

More than a decade since Nighty Night established Julia Davis's reputation for caustic character comedy, she's back with a new creation on Channel 4

BBC

13/13 Cucumber/Banana

Sixteen years after Queer as Folk, Russell T Davies returns with two interlinked series about gay life in Manchester on Channel 4

c.Showtime/Everett/REX
Watching Tracy (Michelle Keegan) and Viv (Cherrelle Skeete) swallow capsules of pills is nauseating and probably had a few viewers feeling like their own dinners were about to resurface. It's safe to say that this story is very real – down to Tracy's "but I'm English" protestations as she's hauled away by customs. We've all seen the shamed drug traffickers who get caught in places like Thailand but what about the ones who don't get caught?
Keegan carries this instalment and proves she's more than just the Rovers Return barmaid. You really are rooting for her as she's tormented by guilt while her best friend is languishing in a foreign prison.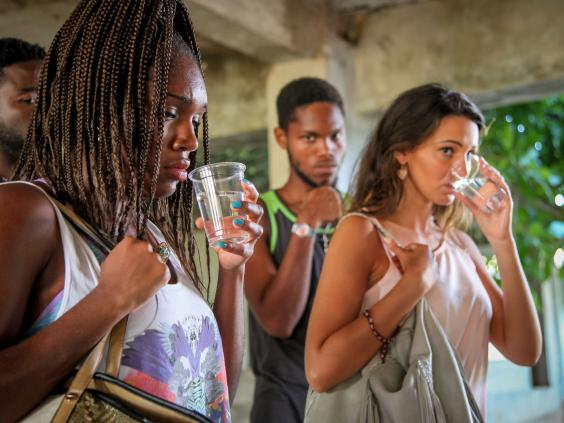 The problem is that soaps stars always get a bad rep because of the rapid speed in which something like Corrie or EastEnders is churned out. But this attitude does a disservice to all those actors who have walked the cobbles or had a yelling match in the Old Vic.
They always have to "prove themselves" over again and Keegan does, she holds your attention for every single moment of this episode. Anyone poo-pooing the craft of soap stars needs to watch Ordinary Lies – there's a reason Sir Ian McKellan, Timothy West and Annette Badland have made appearances.
Ordinary Lies is one of those rare shows where you really don't know what to expect – this drama will definitely keep you on your toes.
Reuse content