It started, after five years in development, as a gentle cooking show with just two million viewers on BBC2, but when The Great British Bake Off returns to our screens on 5 August it will have solidified as surely as one of Mary Berry's delicious meringues. Now in its sixth series, it is the most popular show on television.
With its mixture of soggy bottom disasters, mind-boggling sweet creations and the somewhat questionable comedy duo of hosts Mel Giedroyc and Sue Perkins, the search for Britain's best amateur baker has become an unlikely reality television phenomenon.
The endless double entrendres from the presenters and the succession of collapsing soufflés and - gasp - accusations of foul play at the oven door, have left the British public hooked and desperate for another lick at the bowl of ever-so-sweet Bake Off cake mixture.
Last year more than 13 million viewers watched winner Nancy Birtwhistle take the title, just less than the 14 million people who watched the World Cup Final.
This year, following a familiar recipe, the baking marathon will warm up a fresh batch of 12 contestants to battle it out over 30 challenges to become Britain's master baker. They will have to overcome devilishly complicated recipes as well as enduring the "Hollywood stare" and Berry's ever so polite form of critique. "We've only got one walnut and I've got a sort of feeling there may have been a disaster," is one of her stand-out lines of polite attack from tonight's show.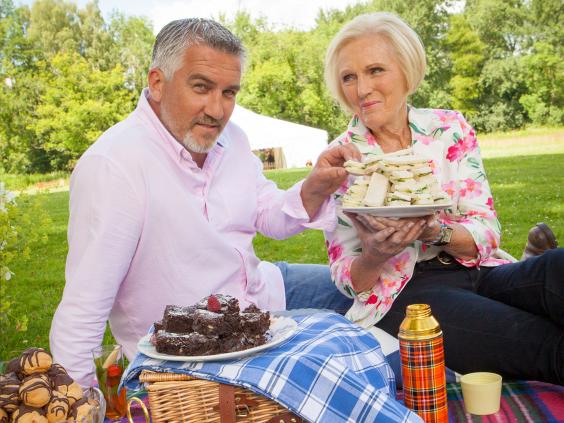 Facing this charming barrage are a dozen contestants who range from a female Lithuanian bodybuilder (watch out for her balloon addition to Black Forest Gateaux), a London firefighter and this year's youngest contestant, a 19-year-old arts student from Scotland.
In fact, it's young Scot Flora Sheddon, who comes from a family of bakers and is already an accomplished cook, who is already early favourite to win the competition according to the bookies. Apparently she's already admitted that her family are her "harshest critics" and she likes to "bake a good showstopper" to keep them happy. Her inventions, which, of course, she has already documented on her blog and social media pages, include fennel ice-cream sandwiches, a grapefruit and olive oil cake and pecan and peach tarts. Expect an unusual collection of recipes in her near inevitable cook book if she wins.
The show's line-up is completed a prison governor from Wales who served in the Coldstream Guards and wants to show than men "can love baking" too; a 35-year-old musician and a 41-year-old househusband who moonlights as the personal photographer of the Dalai Lama.
The new series has an international flavour also, with a Bangladeshi, a West Indian and a Filipino baker represented in the Kitchen, reflecting the international appeal of the show, which has now been licensed to 20 territories with the UK version sold to 196 areas to date.
The Great British Bake Off 2015: Meet the 12 contestants
The Great British Bake Off 2015: Meet the 12 contestants
1/12 Nadiya, 30

Full-time mother of three Nadiya lives in Leeds with her husband. Born in Luton to a Bangladeshi family, she grew up wondering why her father only sold ice cream as a desert in his restaurant, as deserts aren't a major mealtime in Bangladesh, so she soon got out a whisk to make her own

BBC

2/12 Marie, 66

This year's oldest contestant, Marie was entered by her daughter who claims the baker couldn't "even boil an egg" while she was growing up. The turning point was when she moved to Paris and was inspired by the patisseries. We're expecting some amazing croissants

BBC

3/12 Alvin, 37

Father of two, Alvin is originally from the Philippines but now works as a nurse in Berkshire. According to the BBC, he's a true perfectionist who once repeatedly baked bread each day for three weeks until he got it just right

BBC

4/12 Dorret, 53

Originally from the West Indies, Dorret actually grew up in Preston and now works as an accountant. She enjoys hosting dinner parties with her husband to "impress their friends with their skills"

BBC

5/12 Flora, 19

The youngest baker in this year's competition, Flora is an assistant at a contemporary art gallery and is currently waiting to start her history of art degree. Expect some tastefully arranged cakes

BBC

6/12 Ian, 41

Travel photographer Ian lives with his wife and two children in Cambridgeshire. Recently, he's become more of a house husband, making his family fresh bread every day, but that doesn't stop him being the Dalai Lama's personal photographer when he's in the UK

BBC

7/12 Mat, 37

Fire Fighter Mat began baking three years ago in between work shifts and is a self-confessed "competent amateur" who "learns every time he bakes". His ambition, apparently, is to one day own a dishwasher

BBC

8/12 Paul, 49

Prison governor Paul sees being on the show as "an opportunity to show that men like me, stereotyped by our jobs do and can love baking and that it is a skill and talent to be proud of." The Welshman also enjoys exploring the countryside with his wife and three sons

BBC

9/12 Sandy, 49

Mother of one, Sandy is a child welfare officer who lives near Bradford. Describing her baking style bluntly, she said: "it might not be glamorous but it's tasty"

BBC

10/12 Stu, 35

Professional musician Stu has toured the world, and according to these photos, has a hat surgically attached to his head. The lead singer used to watch his parents in their restaurant and was amazed "how something liquid could go in and out would come this fluffed up awesomeness"

BBC

11/12 Tamal, 29

Tamal's parents moved from India to Hertfordshire in the 1960's, his older sister soon teaching him to bake. He is now a trainee anaesthetist in Manchester, and once baked a five tier wedding cake

BBC

12/12 Ugne, 32

Originally from Lithuania, Ugne's main hobby may be baking but she is primarily a bodybuilder. She lives in Essex with her partner, also a bodybuilder, and two children. She's the one who said cake is a "nutritional sin"

BBC
One assumes this has sweetened the bitter pill for the BBC, which was forced to sack former Top Gear cash-cow Jeremy Clarkson earlier this year.
Unlike the motor show though - which was also one of the BBC's greatest selling exports, Great British Bake Off, which will run on BBC1 until October, is a kind affair with only a mild sense of jeopardy from the constant threat of baking elimination. Admittedly last year did feature some scandal, but this was a mild affair that centred on the hurling of a ruined Baked Alaska and accusations that the ill-fated pudding had been sabotaged.
But this is nice television however, where the hosts are kind and the contestants, who varied and interesting, are treated kindly and with respect by the producers.
The show is a long way from the X Factor. In fact in a recent interview with the Radio Times, Berry admitted that she wanted to make it easier on them. "My aim is not to get too complicated," she said. "The simpler it is, the better, so that viewers can get the hang of it to."
With that in the mind the first show of the new season, which airs on BBC1 at 8pm, starts with cakes. First up is the Madeira cake (watch out for Berry's very sweet "candy drop test") followed by the "technical challenge" of Mary's Frosted Walnut Cake, a pre-war classic that is as British as they come, and a finally a Black Forest Gateau.
As usual the results are mixed with Madeira cakes lacking the crucial "crack" and suggestions from Hollywood that some of the walnuts are "too gritty", as the contestant try to create the Bake Off's brand of dreamy domesticity,
Next week, with the cakes under their belt and enlarging the nation's waistlines, the 11 remaining bakers must prove themselves with biscuits or face disappointing the Queen of Baking. Perhaps it's not such an unlikely success after all.