And it came to pass that the warring houses of Westeros ceased their bloody feuds as word spread of an even more deadly threat from a land called W1A.
The BBC has invested £10m in The Last Kingdom, an incursion into the blood-and-guts medieval drama genre which has proved such a profitable venture for HBO, producers of the all-conquering Game Of Thrones.
With ITV about to launch its big budget take on Anglo-Saxon poem Beowulf, the BBC has marshalled its resources, hiring Carnival, producers of Downton Abbey, to bring an eight-part adaptation of author Bernard Cornwell's Saxon Stories to the screen.
Boosted by funding from BBC America, the hook for the BBC2 drama is its mingling of fictional characters with real historical events, in an attempt to tell the story of the creation of England as a unitary state.
Set in 872, the series opens with the great Kingdom of Wessex standing firm as the other kingdoms of what we now know as England fall to the invading Viking hordes.
A story of courage, romance, intrigue, warfare and the search for identity, our hero is Uhtred, the son of a Saxon nobleman who is captured by Vikings after his father is slain during a massacre and is brought up with divided loyalties, in a Danish household.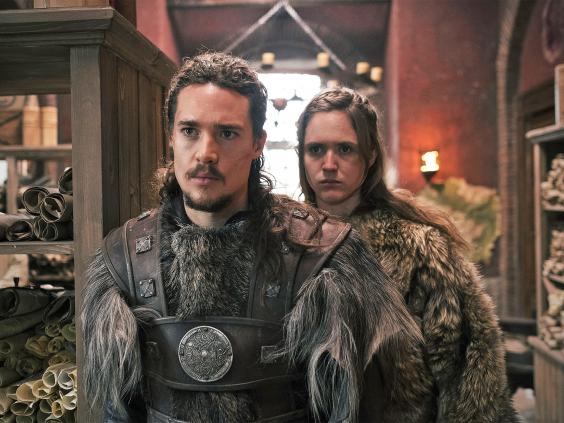 Uhtred's destiny is to provide the brawn for the more cerebral Alfred The Great's mission to bring the squabbling Kingdoms of England together.
The producers argue that the business of Alfred and the cakes has overshadowed his contribution and left British schoolchildren largely ignorant of a vital strand in the national narrative.
Yet it's unlikely that The Last a Kingdom will be rushed on to the GCSE syllabus. "Danes!" exclaims Matthew Macfadyen, the senior Lord Uhtred, spotting unwelcome arrivals on the Northumbrian beach in the opening scene. "Like Devils' turds."
The Danes are soulless pagans, the proto-English claim.
Yet this is an epic production designed for international sales, with a multi-national cast including Blade Runner star Rutger Hauer and the Vikings, it turns out, are a deal more likeable than the English, whose number includes weak-minded traitors and sell-outs.
Uhtred, played by German-born actor Alexander Dreymon, is brought up among his new Viking overlords as a Saxon pet at a settlement in Leeds, which appears to be thriving in the ninth century.
The opening episode suggests that whilst we might want the English to win, it's a lot more fun being a tattooed, Metallica-goateed Viking.
Their victory over the Northumbriands is celebrated with a bacchanal that looks more like a Led Zeppelin after-party.
Game of Thrones fans will be satisfied by some suitably bone-crunching battle scenes as swords splinter flesh with a satisfying crunch.
Macfadyen is filleted in a particularly imaginative manner.
However for all the sweeping battles scenes featuring 200 extras, The Last Kingdom, shot in Hungary, Denmark and Wales, feels a little tame next to Game of Thrones.
Readers' favourite lines from Game of Thrones
Readers' favourite lines from Game of Thrones
1/10 Jon Snow

'We are only human, and the gods have fashioned us for love. That is our great glory, and our great tragedy.'

HBO

2/10 Tyrion Lannister

'Never forget what you are, for surely the world will not. Make it your strength. Then it can never be your weakness. Armor yourself in it, and it will never be used to hurt you.'

3/10 Tyrion Lannister

'Death is so terribly final, while life is full of possibilities.'

HBO

4/10 Ned Stark

'A ruler who hides behind paid executioners soon forgets what death is.'

5/10 Tyrion Lannister

'A mind needs books as a sword needs a whetstone, if it is to keep its edge.'

HBO

6/10 Cersei Lannister

'When you play the game of thrones, you win or you die. There is no middle ground.'

HBO

7/10 Barristan Selmy

'They say night's beauties fade at dawn, and the children of wine are oft disowned in the morning light.'

HBO

8/10 Ned Stark

'If you would take a man's life, you owe it to him to look into his eyes and hear his final words. And if you cannot bear to do that, then perhaps the man does not deserve to die.'

9/10 Tyrion Lannister

'Let them see that their words can cut you, and you'll never be free of the mockery. If they want to give you a name, take it, make it your own. Then they can't hurt you with it anymore.'

HBO

10/10 Jorah Mormont and Daenerys Targaryen

'The common people pray for rain, healthy children, and a summer that never ends,' Ser Jorah told her. "It is no matter to them if the high lords play their game of thrones, so long as they are left in peace.' He gave a shrug. 'They never are.'

HBO
The producers say they were not able to faithfully replicate all of the gore in Cornwell's novels.
Uhtred's coming of age is signalled by the actor's emergence from a dip in the water, his pecs glistening, a shirtless beefcake scene now mandatory for BBC dramas.
Yet the explicit nude scenes familiar from the cable show are lacking in the BBC venture. The sex scene between Uhtred and his beloved Brida (Emily Cox), a feisty feminist fighter, is more of a fully-clothed dry hump.
There'll be more politicking and history as the series develops with Alfred only being introduced in episode two.
But whilst Westeros regroups for its next round of slaying, fans will find much to enjoy in the BBC's leap on to the fantasy drama terrain.
The Last Kingdom will start on BBC2 in October
Reuse content