The tent seemed very sparse with only four bakers at those familiar lilac, mint and turquoise benches. The Union Jack bunting looked almost forlorn, giving an atmosphere of a village fete where only a handful of dedicated locals have bothered to stick around for the judging of the cake competition. Still, the upside of the dwindling numbers meant we got more time with each baker and more interaction between them and Mel and Sue.
The pair were at their irreverent best, underlining that Channel 4 should not try and replace this duo with their silly, but really very special chemistry. We got to see their relationships with the bakers, particularly good on what was by all accounts a very hot day in the tent – Mel touching up Candice's fading lipstick, Sue patting down a sweaty Selasi and then sticking the paper napkin in her inside pocket – as well as them speaking lots of French sounding like Hercule Poirot (David Suchet's incarnation) discussing his theories on a pastry-related murder.
On to the challenges: the signature called for French palmiers; 24 little puff pastry savouries in two shapes and with different fillings. Mary and Paul wanted to be able to see the "lairs", with pastry cooked through and not too much filling.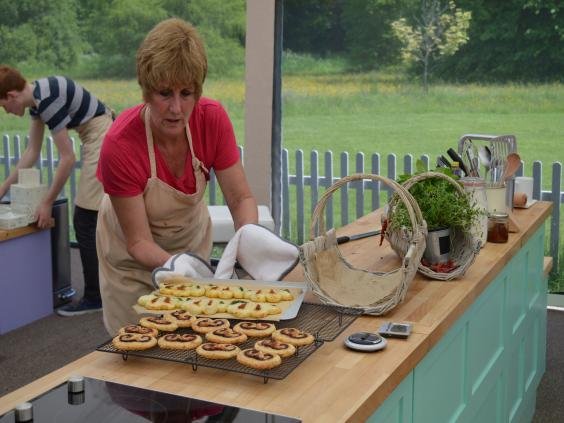 The technical involved a Savarin, a ring-shaped yeasted cake, decorated with fruit and a chocolate label and doused in an "orange booze" syrup. The showstopper called for 36 fondant fancies. My point of reference for those was those super-sweet Mr Kipling ones that were big in the 90s, but these had to be an altogether fancier affair, with two different types required and Genoese sponge, buttercream and fondant icing all made from scratch. Paul wanted them to be "Shop. Standard" and Mary was after "sheer perfection". Easy. 
Bakeastrophes
Andrew had a "ruddy disaster" in the technical when his puff pastry was too dry, so he started again from scratch. Despite the high stakes, it was nice to see the bakers still helping each other out, with Selasi dishing out some advice: "Make sure you chill it before you bake it," he said on Andrew's second batch of pastry. Well, the man knows a lot about chilling. Selasi prowled around like wild animal stalking its prey, waving a fish slice menacingly, always with one beady eye on the oven. The pressure finally got to him and in the end his palmiers were not just under-baked, but raw in places. Candice and Andrew's Savarins were under-proved, while Selasi's was also under-done. Then he offended Mary by leaving the membrane on his orange (pith to you and me). His syrup didn't soak in enough either, leaving Mary going into headteacher mode, declaring that he needed to "pull up his socks" in the showstopper. He didn't manage it. Despite remaking his pink sponge, Selasi's fondant fancies were two sweet and "basic" for Bezza and Paul. Elsewhere, Jane hadn't done the crucial buttercream on the sides that helps ensure a smooth finish, so it all looked a bit crumby.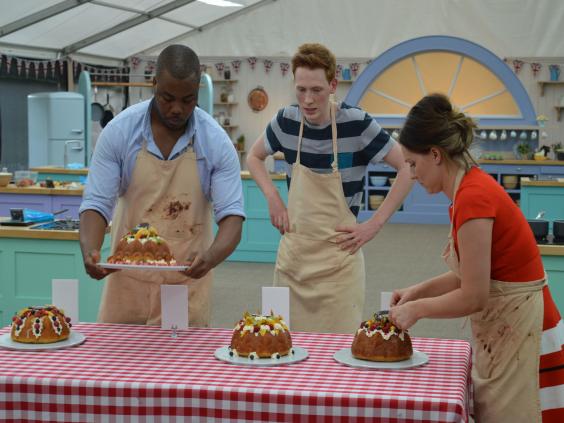 Baking Bonanzas 
The judges were taking no prisoners this week - praise was on the thin side. Paul did say that Candice's caramalised onion palmiers were "one of the best things I've had in a long time", but were too thick and overfilled to actually be classified as a palmier. Despite Andrew's pastry troubles, he got enough "lairs" for Paul to decare he'd "got away with it". As for the Savarins, Andrew's caramel was admired, Jane's bake was the perfect shade of golden brown and her fruity decoration was on point. Mary loved the liquor-soaked surprise in Candice's cherry Bakewell fancies (of course she did) and called her a "clever girl". It was just a shame they looked a bit informal.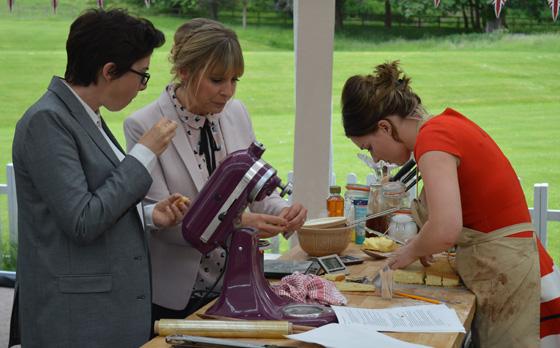 Andrew decorated his fancies with sheet music and little bowties, as you do, luckily he nailed the textures and flavours with his victoria sandwich and chocolate and coffee "Philharmonic Fancies".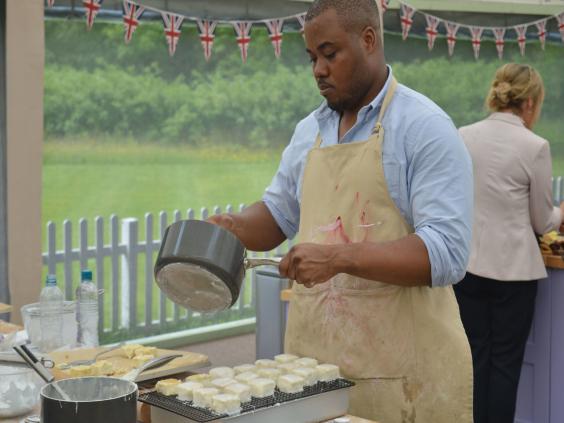 What struck me in this penultimate week is that you could see the physical toll the competition takes on the contestants too – Jane looked knackered and said she hadn't been sleeping, instead waking up in cold sweats about leaking butter and the like. Fondant fancies sounded relatively simple in comparison to some showstoppers, until we saw Andrew's splits-like stance at his bench to get low enough to get through the challenge of icing his 36 cakes as the clock ticked. Selasi, Candice and Jane all reverted to giving themselves little pep-talks. "Come on, CB," whispered Candice, in the style of Tim Henman up against it in a grass-court rally. There was no ball to get back here, just another cake to ice.  I feel like this show proves that anyone who says they find baking relaxing is lying.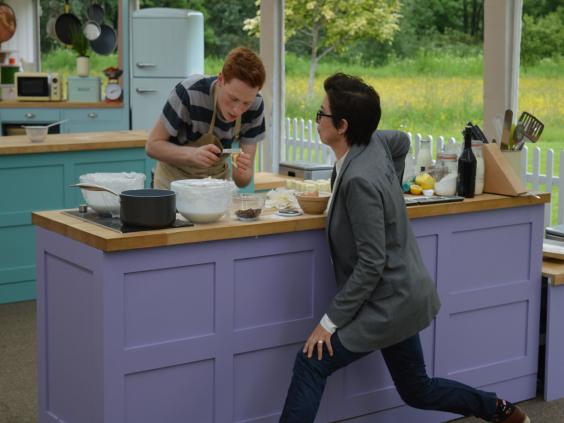 We all knew the game was up for self-declared "baking athlete" Selasi. He just hasn't been in the same league as the others for the past couple of weeks. Andrew won the Star Baker accolade this time. Soon more amateur bakers might be doing the "Fondant Straddle".
So, one week to go, Bake Off fans. As Mel said to Selasi: "Did you ever think when you were growing up, that one day you would making tiny pastel pink sponge cubes to entertain people." He did not, and we didn't think we would be entertained by it, but my God, we are. 
Putdown of the week: "I think you've got an appointment at Banalities Are Us." Sue to Paul after the judge's not-so-constructive advice before the technical. It seems the heat in the tent got to them.
Wordplay of the week: "It never Sava-rins, it Sava-pours" – Sue in the technical. Savour the ridiculous, gentle humour, you'll miss it. 

Most British moment of the week: Jane managing to fit in a glug of tea amid the semi-final week madness. 
Candice lipstick watch: A dark rose pink. 
Reuse content