Educate Girls seeks to provide highquality education to all girls in India by enrolling those who have dropped out of school or never previously attended. The project also aims to ensure that girls stay in school for an academic year at least, and that they succeed in mathematics and languages.
India contains more than 200 million illiterate women and, on average, a girl in India receives less than four years of education in her lifetime.
More than 3.7 million girls across India are out of school and the problem is particularly acute in Rajasthan. In 2012,  India was ranked as the worst of the G20 countries in which to be a woman and the fourth-worst in the world.
Educate Girls began with a pilot in 2005 in 50 government schools. It has since expanded to cover hundreds of thousands of children in more than 5,000 schools today.
The project has enrolled 58,080 girls aged six to 14 in schools and has increased girls' attendance from 62 per cent to 87 per cent. Moreover, test results in Hindi, English and mathematics have improved significantly.
Educate Girls concentrates on raising community awareness about the importance of girls' education, explaining the socio-economic benefits of educating young women, and then building the capacity of the community to organise resources for girls' education.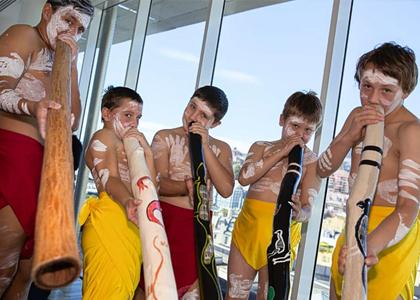 The Song Room provides workshops in music, drama, dance, and the visual and media arts to the most disadvantaged children in Australia.
The workshops are held every week in schools over a period of six months or more – the most disadvantaged areas receive help for 12 to 18 months – to ensure that the results are sustained and that the injection of arts education improves social wellbeing, school attendance and academic results.
The workshops are innovative in that music is introduced across the curriculum. The arts are used as a vehicle for engaging students who are given access to specialist teachers. These teaching artists develop workshops suited to the children's needs and mentor the generalist school teachers.  The capacity of the generalists is enhanced as they learn new skills and incorporate these into the classroom.
The Song Room also provides ARTS: LIVE, which is a national online interactive arts learning platform that makes possible collaboration between teachers, teaching artists and students. It offers more than 400 digital resources linked to the curriculum.
Compared with its OECD peers, Australia's education performance has recently slipped, but The Song Room's workshops produce significant benefits to young people in keeping them at school and achieving good results.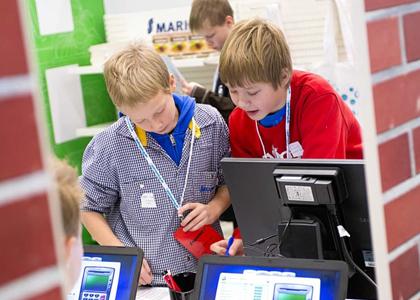 Me & MyCity is a hands-on Finnish project aimed at introducing 12- and 13-year-olds to entrepreneurship, the economy and society.
Pupils are given a course of lessons, at the end of which they spend a day in the MyCity learning environment. This is a 500m2 miniature town with movable walls, which includes 15 companies and its own banking system. Pupils visit the "town" for a day, working in a profession, earning a salary and acting as consumers and members of their own society.
In 2014, 70% of all grade 6 students in Finland participated in the Me & MyCity programme. Real companies are involved, meaning that the role-play is comparable to the real world. The feedback has been positive: children learn financial skills as well as those that will be useful during their working life.
In the next two years, the project aims to reach all Finnish sixth graders.
Like other countries, Finland has suffered from youth employability problems and poor financial literacy among young people. The number of socially excluded youths has been rising. At the same time, Finnish businesses have been facing a skills gap. School pupils lack motivation as a result of the curriculum having little relevance to the realities of the world outside. Me & MyCity sets out to equip young people with much-needed 21st-century skills.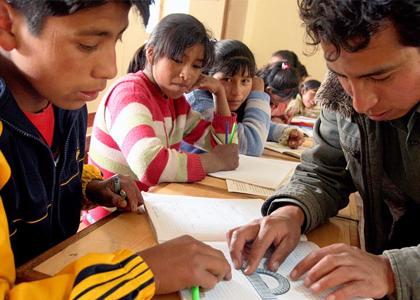 Alternate Education for Rural Development in Peru is trying to crack the problem of young Peruvians living in the countryside who leave secondary school early because they are needed at home. Education is often considered to be irrelevant by parents because it appears to be designed for city dwellers. These twin factors result in a perpetuation of poverty and a lack of opportunities.
This project, run by Fundación Codespa, seeks to change this situation through an innovative alternate education programme recognised by the Peruvian government as a successful learning model for rural areas.
Students alternate between home and school for two-week periods to ensure their school life is linked to their social and professional life. They board at the school instead of making the long daily journey home.
School curricula have been adapted to the rural environment, rural teachers have been recruited and trained, and parents have become involved in school management and teacher training.
The model has been used successfully since 2002 and has been implemented in 40 alternate rural schools in 11 Peruvian regions, helping over 3,000 young people.
The various problems the project addresses include the poor quality of technical and learning content, and the government's inadequate management of rural education.
We Love Reading based in Jordan, encourages children to read for pleasure by training women to read aloud to children in their neighbourhoods. Reading is considered essential to develop children's personalities, imaginations and cognitive skills. Yet many young people in countries such as Jordan, Egypt and Saudi Arabia do not read for pleasure – not for lack of books, but because their parents did not read to them.
The We Love Reading programme trains local women to hold readaloud sessions in public spaces in their neighbourhoods and is aimed at increasing reading levels among children aged four to 10. Such read-aloud sessions are the project's libraries and the object is to make reading fun.
The model is innovative in its simplicity and cost-effectiveness. It is sustainable and encourages grassroots action. The project has trained 700 women and opened 300 libraries in Jordan, reaching more than 10,000 children. The model has spread throughout the Arab world and beyond, as far as Germany, Uganda and the US.
The lack of a reading culture in Arab countries is thought to have an adverse effect on education levels and on the economic productivity of the region. Many programmes that attempted to increase reading by providing books failed in the past.
Street Children: Reintegration through Education was set up to help over a million street children in Cairo who are illiterate and have dropped out of school. Run by Face for Children in Need, it does this by introducing them to informal education at a drop-in centre and a dedicated school. The aim is to reduce the number of children living and working on the streets of the Egyptian capital and to integrate them into the state school system and society at large.
The project gives them education and life skills, including road safety awareness and information about reproductive health, specifically about hygiene, HIV and other sexually transmitted diseases.
A progressive, information education project was introduced in 2012, using innovative training methods. These included techniques to reach children of varying capacities and levels of learning, as well as learning through play.
The child-friendly school attracted 37 children in 2012 and 30 in 2013. A total of 33 children have been integrated into public schools. Over 19,000 children have been taught life skills and almost 27,800 have been helped with literacy.
The project found that street children can develop a desire to learn and acquire the tools to protect themselves on the streets. Face trains these young people to become peer educators who can spread their learning and skills.
Reuse content