Funding to protect critically endangered wildlife, including whales, penguins and seabirds, could be at risk as a result of Brexit, campaigners fear. 
Hundreds of thousands of pounds worth of EU grants are now threatened as a result of the vote to leave the bloc.
The money is used to support wildlife conservation projects in UK Overseas Territories (UKOTs) stretching from the Caribbean to the South Atlantic.
Macaroni penguins, sei whales and turtles benefit from the grants, but environmentalists warn there is no guarantee of funding for future projects once Britain cuts ties with Brussels.
Five projects in the South Atlantic are currently funded by the Best 2.0 scheme, which runs until December 2019.
But the Government has failed to give any assurances about the funding for wildlife schemes after Brexit.
Theresa May has promised to trigger Article 50 by the end of March, starting two years of negotiations. It is understood that UKOTs will then be ineligible for funding as Britain will be outside the block and unable to apply for new grants.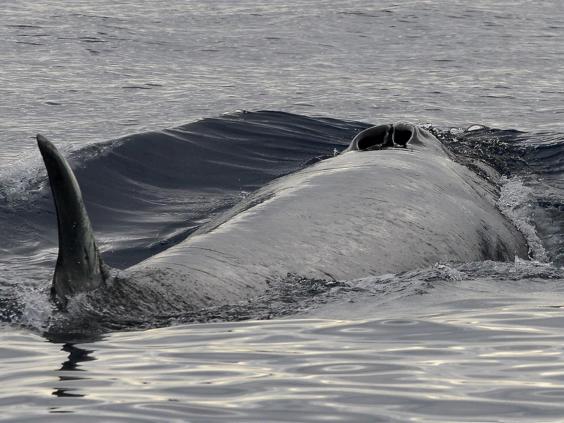 Experts believe the Macaroni penguin could be hardest hit as the UK is responsible for more of that globally-endangered species than any other nation.
Among the other conservation efforts supported by Best 2.0 is a project to protect sei whales in the seas surrounding the Falkland Islands.
The species is classified as "endangered" on the International Union for Conservation of Nature's "red list".
Almost 100,000 euros (£87,000) was awarded to help protect their population, which has been depleted by as much as 80 per cent in recent years, largely as a result of the commercial whaling industry.
A similar sum was spent on restoring forests on Nightingale Island in the UKOT of Tristan da Cunha – home to just 80 pairs of Wilkins' bunting birds that are now threatened by invasive rodents and other alien species from nearby islands and shipwrecks.
EU cash is also being used to fund an assessment of shallow water seamounts – underwater mountains – on Ascension Island, roughly half-way between West Africa and Brazil.
The work is allowing experts to determine the best locations for marine reserves that restrict fishing in the equatorial Atlantic Ocean.
Two projects to protect gumwood and cloud forest on the British-administered island of St Helena's also benefit from Best 2.0 grants.
A total of around £300,000 of EU money helps protect wildlife on UK territories in the South Atlantic alone – from a total budget for UKOTs that is estimated to reach £1.3m.
Tara Pelembe, deputy director of the South Atlantic Environmental Research Institute, said a loss of EU funding risked making the future for already endangered species in some of the world's most remote environments even more precarious.
"The Best funding scheme… is a very welcome additional source of funding for biodiversity and conservation projects in the region," she told The Independent.
"Some of the projects focus on the management of on endemic and endangered species, and as such will likely have an impact on their survival rates."
Additional resources also help fund projects in the Caribbean, including the protection of turtles off the coast of Anguilla.
What experts have said about Brexit
What experts have said about Brexit
1/11 Chancellor of the Exchequer Philip Hammond

The Chancellor claims London can still be a world financial hub despite Brexit "One of Britain's great strengths is the ability to offer and aggregate all of the services the global financial services industry needs" "This has not changed as a result of the EU referendum and I will do everything I can to ensure the City of London retains its position as the world's leading international financial centre."

Reuters

2/11 Yanis Varoufakis

Greece's former finance minister compared the UK relations with the EU bloc with a well-known song by the Eagles: "You can check out any time you like, as the Hotel California song says, but you can't really leave. The proof is Theresa May has not even dared to trigger Article 50. It's like Harrison Ford going into Indiana Jones' castle and the path behind him fragmenting. You can get in, but getting out is not at all clear"

Getty Images

3/11 Michael O'Leary

Ryanair boss says UK will be 'screwed' by EU in Brexit trade deals: "I have no faith in the politicians in London going on about how 'the world will want to trade with us'. The world will want to screw you – that's what happens in trade talks," he said. "They have no interest in giving the UK a deal on trade"

Getty

4/11 Tim Martin

JD Wetherspoon's chairman has said claims that the UK would see serious economic consequences from a Brexit vote were "lurid" and wrong: "We were told it would be Armageddon from the OECD, from the IMF, David Cameron, the chancellor and President Obama who were predicting locusts in the fields and tidal waves in the North Sea"

PA

5/11 Mark Carney

Governor of Bank of England is 'serene' about Bank of England's Brexit stance: "I am absolutely serene about the … judgments made both by the MPC and the FPC"

Reuters

6/11 Christine Lagarde

IMF chief urges quick Brexit to reduce economic uncertainty: "We want to see clarity sooner rather than later because we think that a lack of clarity feeds uncertainty, which itself undermines investment appetites and decision making"

Getty Images

7/11 Inga Beale

Lloyd's chief executive says Brexit is a major issue: "Clearly the UK's referendum on its EU membership is a major issue for us to deal with and we are now focusing our attention on having in place the plans that will ensure Lloyd's continues trading across Europe"

EPA

8/11 Colm Kelleher

President of US bank Morgan Stanley says City of London 'will suffer' as result of the EU referendum: "I do believe, and I said prior to the referendum, that the City of London will suffer as result of Brexit. The issue is how much"

9/11 Richard Branson

Virgin founder believes we've lost a THIRD of our value because of Brexit and cancelled a deal worth 3,000 jobs: We're not any worse than anybody else, but I suspect we've lost a third of our value which is dreadful for people in the workplace.' He continued: "We were about to do a very big deal, we cancelled that deal, that would have involved 3,000 jobs, and that's happening all over the country"

Getty Images

10/11 Barack Obama

US President believes Britain was wrong to vote to leave the EU: "It is absolutely true that I believed pre-Brexit vote and continue to believe post-Brexit vote that the world benefited enormously from the United Kingdom's participation in the EU. We are fully supportive of a process that is as little disruptive as possible so that people around the world can continue to benefit from economic growth"

Getty Images

11/11 Kristin Forbes

American economist and an external member of the Monetary Policy Committee of the Bank of England argues that the economy had been "less stormy than many expected" following the shock referendum result: "For now…the economy is experiencing some chop, but no tsunami. The adverse winds could quickly pick up – and merit a stronger policy response. But recently they have shifted to a more favourable direction"

Getty
Liberal Democrat MEP Catherine Bearder, who founded the cross-party MEPs for Wildlife group, said the Government was "putting vital protections for threatened species at risk through its reckless hard Brexit plans.
"Britain's membership of the EU has played a crucial role protecting some of our most iconic species.
"Ministers must give assurance that legal protections and funding streams that protect our wildlife will be fully replaced after Brexit."
Wildlife charity RSPB said the Government had questions to answer about the protection of species after Brexit.
A spokesperson said: "The UK's Overseas Territories are home to some fantastic species and precious habitats. Unfortunately some of these species are under threat. Funding schemes such as BEST have been and continue to be important in bringing together the people and resources needed to tackle problems that extend beyond international borders.
"So, as the UK Government plans our future outside of the European Union there are important questions that need to be answered about how we continue to support the vital work to protect nature in our Overseas Territories."
A spokesperson for the Government declined to comment directly on whether there were plans to protect funding for conservation projects on UKOTs after Brexit, but said: "Our ambition is to be the first generation to leave the natural environment in a better state than we found it while securing the best deal for the country as we leave the EU."
Reuse content