It is almost certain 2015 will be the hottest year recorded, scientists have said after it was revealed that July was the Earth's warmest month on record.
The average global temperature across land and ocean surfaces last month reached 16.61 C (61.86F) – 0.81C higher than the 20th century average for the month, scientists have said.
It was also higher than the previous global mark set in 1998 and 2010, the National Oceanic and Atmospheric Administration said in its latest monthly report.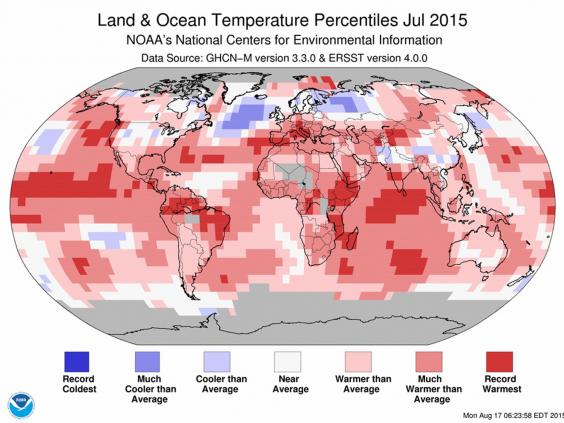 NOAA climate scientist Jake Crouch said: "It just reaffirms what we already know: that the Earth is warming.
"The warming is accelerating and we're really seeing it this year."
Records on global temperatures kept by the NOAA go back to 1880 – but nine of the ten hottest months have occurred since 2005.
According to the NOAA, the first seven months of this year have also been the hottest for January to July on record.
Temperatures have surpassed the previous record from 2010 by 0.09C.
NOAA climate scientist Jessica Blunden told the Associated Press that she was "99 per cent certain" that this year will be the hottest recorded for the globe.
In pictures: Climate Change Protests Around the World
In pictures: Climate Change Protests Around the World
1/6 Sydney

Enviromental protesters form the words 'Beyond Coal + Gas' during a meeting in a park in Sydney on September 21, 2014, as part of a global protest on climate change. Australians rallied for climate action forming a human chain message as part of an international day of action to fight climate change ahead of a United Nations summit in New York on 23 September

AFP/Getty

2/6 London

People with giraffe puppets march during The People's Climate March, central London, a march and rally to demand urgent action on climate change

PA

3/6 New York

Actor Leonardo DiCaprio, centre, walks down 6th Avenue during the People's Climate March. Activists mobilized in cities across the globe for marches against climate change, with one of the biggest planned for New York

AFP/Getty

4/6 New York

People dance during a rally against climate change in New York

Reuters

5/6 London

Vivienne Westwood, Peter Gabriel and Emma Thompson show their support at the People's Climate March, London

PA

6/6 Berlin

Participants of the climate demonstration 'Mal schnell die Welt retten' (roughly translated as 'Save the world in passing') hold signs reading 'Share more, buy less' in front of Brandenburg Gate in Berlin, Germany, 21 September 2014

EPA
Mr Crouch, Ms Blunden and other scientists say the temperatures seen have been caused by a combination of man-made climate change and a strong El-Nino.
According to the NOAA report, while land-surface temperatures were the sixth highest for July on record last month, the sea-surface temperatures were the highest for any month recorded.
It says: "The global value was driven by record warmth across large expanses of the Pacific and Indian Oceans."
The latest analysis follows confirmation from the NOAA and NASA in January this year that 2014 was the hottest year since records began.
The NOAA said the average temperature across both land and ocean surfaces for 2014 was 0.69C (1.24F) above the 20th century average.
Additional reporting by AP