Climate change scientists must be more honest about the limits of their knowledge and uncertainty around predictions if they are to win the trust of the public, according to a new report.
Scientists are under increasing pressure to communicate their research more clearly, to galvanise politicians into taking decisive action to combat climate change, and to help promote their universities.
They are also keen to make their findings meaningful to a public which feels alienated from much climate change research, which is largely abstract and concerned with developments that often lie decades in the future, said Dr Gregory Hollin, of the University of Nottingham.
But this increases the temptation to gloss over any uncertainties in research – an urge they should resist if they don't want to lose credibility, his report says. And while referencing recent events such as floods and heatwaves can make climate change seem more tangible, they are much less scientifically certain as evidence.
In pictures: Climate Change Protests Around the World
In pictures: Climate Change Protests Around the World
1/6 Sydney

Enviromental protesters form the words 'Beyond Coal + Gas' during a meeting in a park in Sydney on September 21, 2014, as part of a global protest on climate change. Australians rallied for climate action forming a human chain message as part of an international day of action to fight climate change ahead of a United Nations summit in New York on 23 September

AFP/Getty

2/6 London

People with giraffe puppets march during The People's Climate March, central London, a march and rally to demand urgent action on climate change

PA

3/6 New York

Actor Leonardo DiCaprio, centre, walks down 6th Avenue during the People's Climate March. Activists mobilized in cities across the globe for marches against climate change, with one of the biggest planned for New York

AFP/Getty

4/6 New York

People dance during a rally against climate change in New York

Reuters

5/6 London

Vivienne Westwood, Peter Gabriel and Emma Thompson show their support at the People's Climate March, London

PA

6/6 Berlin

Participants of the climate demonstration 'Mal schnell die Welt retten' (roughly translated as 'Save the world in passing') hold signs reading 'Share more, buy less' in front of Brandenburg Gate in Berlin, Germany, 21 September 2014

EPA
"The most meaningful things are often the least certain things and so that potentially leads to difficulties because scientists are being asked to make their results really meaningful, while being incredibly certain. And there are instances when that leads to real tensions," Dr Hollin told The Independent.
He acknowledged in some cases scientists are keen to play down uncertainties to limit the scope for climate sceptics to magnify their doubts and use it to attack research – but this approach makes the problem worse.The research, which Dr Hollin carried out with his colleague Dr Warren Pearce and is published in the journal Nature Climate Change, focused on a key press conference in 2013 when the UN Intergovernmental Panel on Climate Change unveiled its latest report.
The scientists repeatedly emphasised the finding that the decade from 2001 onwards was the hottest on record, to bolster the case that man-made climate change is happening and poses a major threat.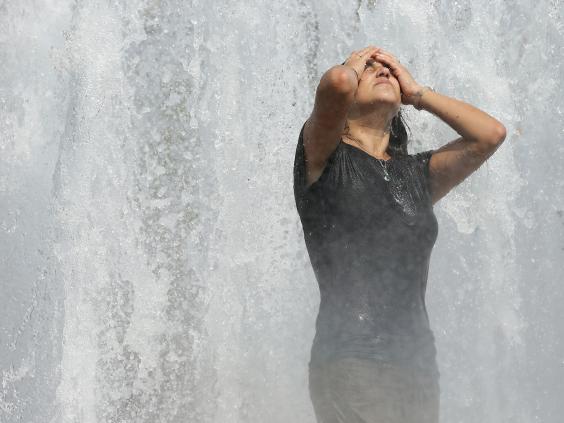 However, when asked about the widely perceived slowdown in global warming since the late 1990s – since shown by research in the US to be a fallacy – a scientist dismissed the question by saying that the period was too short to draw any meaningful conclusions.
"A switch to shorter periods made it harder to dismiss media questions about short-term uncertainties in climate science," Dr Pearce wrote. "The fact scientists go on to dismiss journalists' concerns about the pause – when they themselves drew upon a similar short-term example – made their position inconsistent."
Reuse content