Florida state environmental officials claim that they are banned from using the terms "climate change" and "global warming".
The employees have also been ordered not use the word "sustainability" in official documents and communications by their seniors at the Department of Environmental Protection, according to the Florida Center for Investigative Reporting.
The unwritten policy – in a state that experiences some of the worst effects of climate change in the US – has potentially affected around 3,200 employees with a $1.4 billion budget to safeguard natural resources and enforce environmental laws.
In pictures: Climate Change Protests Around the World
In pictures: Climate Change Protests Around the World
1/6 Sydney

Enviromental protesters form the words 'Beyond Coal + Gas' during a meeting in a park in Sydney on September 21, 2014, as part of a global protest on climate change. Australians rallied for climate action forming a human chain message as part of an international day of action to fight climate change ahead of a United Nations summit in New York on 23 September

AFP/Getty

2/6 London

People with giraffe puppets march during The People's Climate March, central London, a march and rally to demand urgent action on climate change

PA

3/6 New York

Actor Leonardo DiCaprio, centre, walks down 6th Avenue during the People's Climate March. Activists mobilized in cities across the globe for marches against climate change, with one of the biggest planned for New York

AFP/Getty

4/6 New York

People dance during a rally against climate change in New York

Reuters

5/6 London

Vivienne Westwood, Peter Gabriel and Emma Thompson show their support at the People's Climate March, London

PA

6/6 Berlin

Participants of the climate demonstration 'Mal schnell die Welt retten' (roughly translated as 'Save the world in passing') hold signs reading 'Share more, buy less' in front of Brandenburg Gate in Berlin, Germany, 21 September 2014

EPA
Miami is named as one of the most vulnerable cities in the country and the fourth largest population in the world at danger of extreme weather conditions caused by rising sea levels. Heavy destructive floods are likely to escalate and continue over at least the coming decades, according to University of Miami.
"We were told not to use the terms 'climate change,' 'global warming' or 'sustainability,'" said Christopher Byrd to the FCIP, formerly a lawyer for the DEP's Office of General Counsel in Tallahassee. "That message was communicated to me and my colleagues by our superiors in the Office of General Counsel."
Another former employee, Kristina Trotta, said her supervisor said during a staff meeting last year not to use the terms as they were "not allowed to discuss anything that was not a true fact."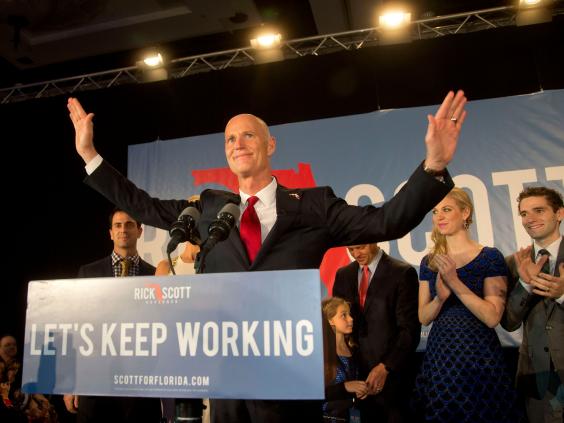 Last year, the worst flooding the state has seen in decades – more than two feet of water in 26 hours – ruined homes and caused the death of at least one man in Florida, who drowned after his car got stuck in rising water, as reported by CBS News.
Byrd, who worked with the government body from 2008 to 2013, added: "It's an indication that the political leadership in the state of Florida is not willing to address these issues and face the music when it comes to the challenges that climate change present."
Rick Scott, Republican governor of Florida, said in 2010 that he has "not been convinced" that man-made factors have contributed to extreme weather.
Reuse content