At least 116 environmental activists died last year while campaigning against mining, logging, water and land grabs, according to a report.
The number of deaths is rising, UK-based group Global Witness reported, with two people dying on average every week – up a fifth on 2013.
Some have been shot by police during protests or gunned down by hired assassins, its research found, while many more activists are threatened by the companies they oppose.
According to the "How Many More?" report, the death toll could be far higher as the remote location of clashes in villages and jungles means many are not officially recorded.
Nearly three quarters of the known fatalities were in Central and South America, with Honduras being the most dangerous country per capita and Brazil, Colombia and the Philippines also seeing high numbers of deaths.
Around 40 per cent of those victims were indigenous and involved in disputes over hydropower, mining, logging, land disputes and water.
"In Honduras and across the world environmental defenders are being shot dead in broad daylight, kidnapped, threatened, or tried as terrorists for standing in the way of so-called development," said Billy Kyte, a campaigner at Global Witness.
"The true authors of these crimes – a powerful nexus of corporate and state interests – are escaping unpunished. Urgent action is needed to protect citizens and bring perpetrators to justice."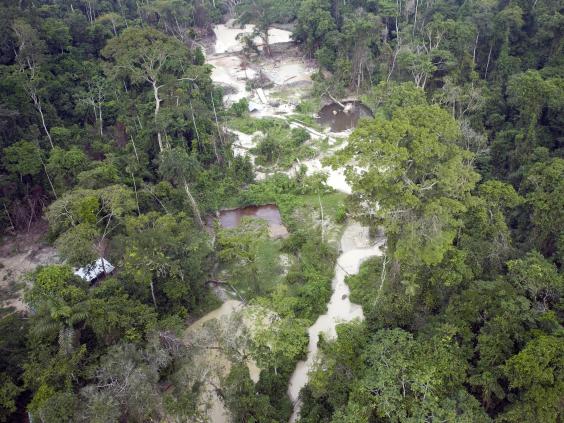 Many cases have not been legally resolved but suspected killers include members of paramilitary groups, police, private security guards and the military.
Global Witness is calling on governments and international bodies to monitor, investigate and punish crimes against activists and for Honduras in particular to address alleged abuses before the UN Human Rights Council.
The country has seen 111 known killings between 2002 and 2014, the report said. An indigenous activist in Honduras, Berta Cáceres, the winner of the 2015 Goldman Environmental Prize, said she is persecuted by supporters of a dam.
"They follow me. They threaten to kill me, to kidnap me, they threaten my family. That is what we face," she said.
Three of her colleagues have been killed since 2013 after resisting the Agua Zarca dam on the Gualcarque River, which activists claim threatens to cut off a vital water source for hundreds of indigenous Lenca people.
Shahed Kayes, an activist in Bangladesh, told Global Witness he was threatened and beaten by around 40 people believed to be involved in illegal sand extraction.
"You are fighting against us and we've lost lots of money because of your movement," he claimed he was told.
"We made the mistake of not killing you before; this time we will kill you. We will cut the veins in your wrists and legs, tie your hands and legs together and throw you in the river."
He heads a local Illegal Sand Extraction Prevention Committee, which campaigns against practices the group says damages the community's land and fishing waters.
In pictures: Biggest threats to the rainforests
In pictures: Biggest threats to the rainforests
1/10 Borneo

Destruction of the rainforest, deforestation in Borneo

2/10 Brazil

Aerial view af an area devastated by clandestine gold mining in the Jamanxim National Forest, state of Para. With 1,3 million hectares, the Jamanxim National Forest is a microsm that replicates what happens in the Amazon, where thousands of hectares of land are prey of illegal woodcutters, stock breeders and gold miners

3/10 Amazon rainforest

Intensive logging makes rainforest fires more likely as the Earth warms

Rex

4/10 Peru

Miners known as "Maraqueros" ready a rustic type of hydraulic jet known locally as a "Chupadera," after hauling the device about 16-meters deep into a crater at a gold mine process in La Pampa in Peru's Madre de Dios region. A new threat now looms for the estimated 20,000 wildcat miners who toil in huge scar of denuded rainforest known as La Pampa

5/10 Peru

A rope hangs around the trunk of a tree at a illegal gold mining process in La Pampa in Peru's Madre de Dios region. An estimated 20,000 miners toil in this malarial expanse of denuded rainforest known as La Pampa

6/10 Amazon rainforest

The extent of the environmental damage in the Amazon rainforest

afp/getty images

7/10 Indonesia

Destruction remains from tropical rainforest in Kuala Cenaku in Riau Province, Sumatra. Norway entered a partnership with Indonesia to support Indonesia's efforts to reduce emissions from deforestation and degradation of forests and peat lands. The business of pulp, palm oil and wood are causing the deforestation of Sumatra, the largest island owned by Indonesia, and is contributing global climate change to the extinction of many of the world's rare species

8/10 Malaysia

An area that has been cleared of rainforest to make way for a palm oil plantation in Sabah, Malaysia

CORBIS

9/10 Indonesia

Regenerated palm oil trees are seen growing on the site of destroyed tropical rainforest in Kuala Cenaku

GETTY IMAGES

10/10 Brazil

Brazil launched the Amazon Fund, aimed at protecting the rainforest so vital to the world's climate, and at combating climate change. In December 2008 Brazil launched a national climate change plan which proposed to cut the country's deforestation rate in half by 2018

Getty Images
Global Witness said violence and intimidation often went hand-in-hand with the criminalisation of protests, application of counter-terrorism laws, restricted freedom of expression and lax environmental protection laws.
"Environmental defenders are fighting to protect our climate against ever-increasing odds," said Mr Kyte. 
"Now more than ever we need to start holding governments and companies to account for the rising death toll on our environmental frontiers.
"The secrecy around how natural resource deals are made fuels violence and must end. It's time for the international community to stand up and take notice."
Reuse content