More than 20,000 homes could be heated by drawing energy from just 40 urban rivers and estuaries, from the Tyne in Newcastle down to the Stour in Bournemouth, according to new government research.
The Energy Secretary, Ed Davey, wants to see quick development of water-source heat pumps. These draw residual heat from rivers, which is then fed into local networks or single buildings to provide a low-carbon form of energy.
The Department of Energy has today published a "heat map" (see graphic) to help developers and local authorities identify the best locations to install the pumps, aligning them to areas with high demand for heat.
The first system of its kind in the Thames provides hot water for 150 homes and a large hotel in Richmond Park, saving 500 tons of carbon emissions that would otherwise pollute the atmosphere through traditional gas-fired or electrical heating supplies.
The water is drawn from two metres below the surface of the Thames, where latent heat is sustained at a constant temperature of between 8C and 10C.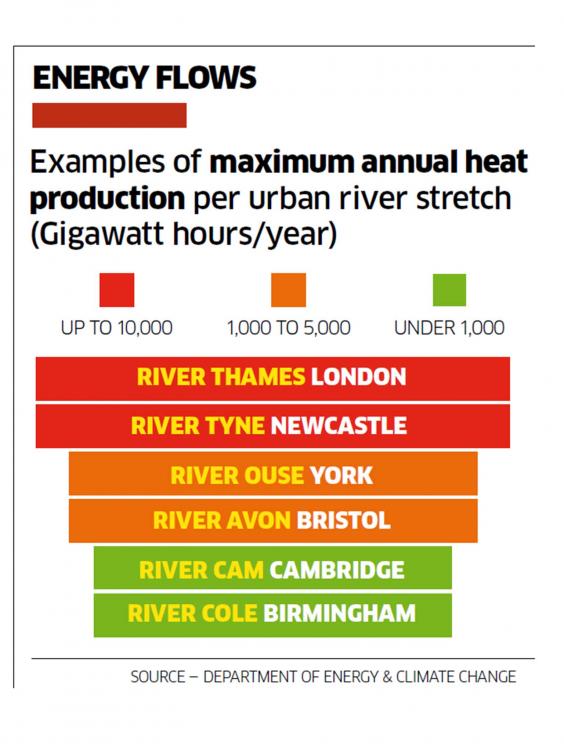 Mr Davey said: "It sounds like magic, but using proven technology we can now extract some of the heat in our rivers and estuaries and use that energy to heat our homes and offices."
"I want to help communities across England use our waterways for this renewable heat," he said. "This new map is designed to help communities, councils and developers identify the most promising opportunities."
"If we can succeed on a large scale it would cut Britain's import bill and boost our home-grown supplies of clean, secure energy."
The coalition is keen to introduce lower-carbon forms of energy generation in order to meet strict European Union emissions targets. Europe is aiming to reduce greenhouse gas emissions by 40 per cent of 1990 levels by 2030, with 27 per cent of the bloc's energy derived from renewable sources.
The map has been designed to illustrate the potential of the technology, which is popular in Japan and Scandinavia for heating individual homes. It will be updated as research continues.
Reuse content