They once represented the limits of the ancient world. But now, brought low by pollution, overfishing and exploitation by modern man, the seven seas of classical times are among the most polluted and imperilled on earth.
This weekend swimming adventurer Lewis Pugh – known as the Human Polar Bear after braving sub-zero Arctic waters clad in nothing more than a pair of Speedos – will strike out on his latest mission to highlight the plight of the world aquatic.
The former City lawyer, aged 44, will begin his campaign to raise awareness of the need for marine reserves with a 10km swim in the Mediterranean off Monaco.
After this he will tackle long-distance dips in the Adriatic, Aegean, Black Sea, Red Sea, Arabian Sea and the North Sea culminating in a 100km (62 miles) swim up the Thames to Parliament from Southend where he will deliver a petition to Downing Street.
 "These seas have been sustainable for thousands and thousands of years. But in my life time they have become severely under threat," he said. "As a boy I can remember the fishermen in Malta selling tuna and lampuki. But in the past 40 years it has been completely overfished," he said.
The landlocked Black Sea is the most polluted whilst he hoped to highlight the impact of coral bleaching in the Arabian Sea where he had been denied permission by the Indian government to swim off Mumbai because of rough monsoon seas forcing the leg to be moved to Oman.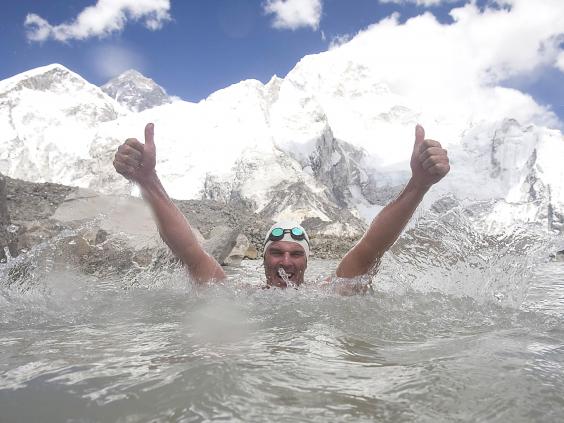 The depletion of stocks in the North Sea had devastated ports such as Grimsby – once the busiest in the world, he said.
 "This is about educating the public and policy makers about the importance of protected areas and the urgency with which we need to create them," he added.
The United Nations is calling for 10 per cent of the world's seas to be declared marine protected areas by 2020 to safeguard fish and other wildlife. Currently only three per cent are protected compared to 13 per cent of the land mass.
The swims will start off Monte Carlo in recognition of Monaco's attempts to have its territorial waters designated marine sanctuaries.
A 15km swim in the Adriatic off Zadar on the Croatian coast will highlight the near extinction of the slender-billed curlew whilst a 10km odyssey in the Aegean at Athens will focus attention on the monk seal – 200 of which are shot or caught in fishing gear each year.
"It has been complicated to organise but I feel confident I can pull these swims off," he said.