The reintroduction of lynx and other large predators to parts of Scotland could lead to a rise in the number of sheep being killed and eaten, carrying serious consequences for farmers, a visiting delegation from Norway has warned.
During a trip to Scotland, representatives from the Norwegian Farmers' Union said their country's population of wolves, wolverine, lynx and bears posed a constant threat to livestock and had resulted in "huge losses" in some herds of sheep and cattle.
"Norwegians are worried on behalf of Scottish farmers if carnivores are to be introduced here. We worry for the future of their sheep farming and feel sorry for them," said the union's vice-president Kristin Ianssen. "We have a long border with Sweden to the east so we will always experience roaming carnivores in our country – it would be impossible to control. But Scotland and the UK is an island, you can decide for yourselves."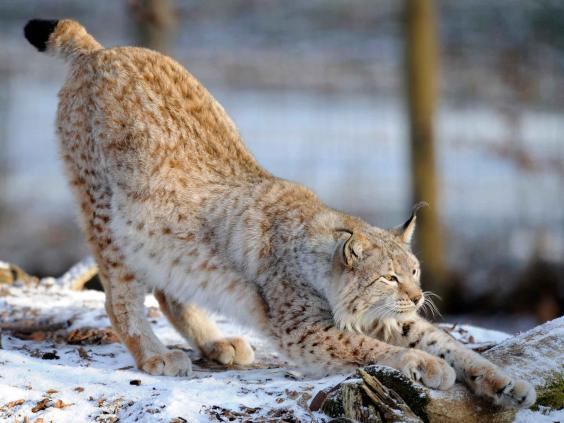 The warning comes amid growing calls for the "rewilding" of parts of Britain, with some charities arguing for the creation of new national parks in the Highlands where species such as lynx and wolves – which were previously hunted to extinction – could be reintroduced.
Andrew Bauer, deputy director of policy at NFU Scotland, said the experience of Norwegian farmers should serve as a "reality check" for those who say that large carnivores could be reintroduced with minimal consequences.
"We shouldn't go into this with our eyes shut," he said. "The circumstances in Norway are not that dissimilar to parts of Scotland. In Scotland we've got a big tree planting effort going on over the next ten years, so we'll have a lot more farming and forestry in close proximity. That will put lynx, if we were to reintroduce them, right next to sheep."
However, organisations in favour of bringing the animals back to Scotland said the two countries could not be compared, as in Norway farmers allowed their sheep to roam through forests, where lynx were more likely to attack.
Steve Piper, a spokesman for the Lynx UK Trust charity, described Norway as a "worst case scenario" and said it would be "misleading" to suggest that the same problems would arise in Scotland. In other European countries each lynx killed only 0.4 sheep per year, he said.
Critically endangered species
Critically endangered species
1/10 Yangtze Finless Porpoise

There are as few as 1,000 of this highly intelligent dolphin from the Chinese river of Yangtze.

Wikmedia

2/10 Cross River Gorilla

There are around 200-300 left in the wild.

Wikmedia

3/10 The Amur Leopard

There are only around 30 left, exclusively in the Russian Far East.

Wikmedia

4/10 Black Rhino

Improving numbers, but with fewer than 5,000 left in central Africa, it is critically endangered.

Wikmedia

5/10 Hawskbill Sea Turtle

Mostly threatened by wildlife trade; their shells highly valued.

Wikmedia

6/10 Javan Rhino

The most threatened rhino species - there are as few as 35 in Ujung Kulon National Park in Java, Indonesia.

Wikmedia

7/10 Leatherback Turtle

Having lost many of its habitable beaches, and impacted by fishing operations, this seaturtle is considered by WWF to be 'critically endangered'.

Wikmedia

8/10 South China Tiger

It is believed to be 'functionally extinct', with none of the species left in the wild.

Wikmedia

9/10 Sumatran Elephant

There are between 2,400 - 2,800 of this elephant native to Borneo and Sumatra.

Wikmedia

10/10 Sumatran Orangutan

There are an est. 7,300 but the gradual deforestation of their Sumatran habitat may threaten further.

Wikmedia
"In Norway farmers keep their sheep untended, free roaming, in mountain forestry full of lynx," he added. "That is why the rate of predation is higher there. The system of farming there is completely different to how we do it in the UK, so it's not really an accurate indication of what's likely to happen."
He added that introducing lynx to Scotland may actually result in a "net benefit" for sheep farmers, as they were natural predators for foxes which often attacked lambs. Crop farmers whose fields were damaged by deer may also welcome the introduction of a new natural predator to keep their numbers down, he argued.
A spokeswoman for the Rewilding Britain charity said the process of reintroducing lynx would not begin until a "broad consensus" could be reached about the advantages of the project. Even if the public were "on board", the final decision would rest with Scottish Natural Heritage, she added.
Reuse content