One of England's rarest birds is disappearing from its breeding grounds at an alarming rate and faces extinction in the country, the RSPB has warned.
The warning from the bird charity came as it launched an appeal for information over the "unexplained disappearance" of a nesting male hen harrier in the North Pennines, amid fear that a spate of mysterious hen harrier disappearances means the threatened species faces local extinction in England.
Of the UK's birds of prey, the stealthy hen harrier is the most intensively persecuted and while there is thought to be enough suitable habitats for up to 300 breeding pairs of hen harriers in England, only four pairs bred in 2014. This year only a handful of nesting pairs are thought to remain.
The latest disappearance of a male bird from the RSPB's Geltsdale reserve occurred last month, but has only just been made public with a call from Cumbria Police and the RSPB for information. It follows the disappearance of three birds from Bowland Forest earlier in May, amid speculation that "rogue gamekeepers" are poisoning the birds, which often feeds on grouse chicks.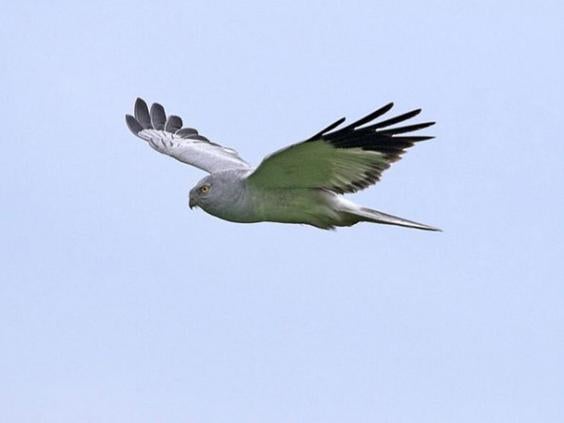 Steve Garnett, upland warden at RSPB Geltsdale, said: "All of the staff and volunteers who were watching the nest around the clock over the past few weeks are absolutely gutted about the disappearance of the male and the failure of the eggs."
The hen harrier is best known for its aerobatic displays of climbing, twisting and rolling. Known to conservationists as the Sky Dancer it has, like all birds of prey, been protected by law since 1954, but while buzzards and peregrine falcons have recovered their numbers, in England, the hen harrier is now close to extinction.
Jeff Knott, the head of policy at the RSPB said, "What we are talking about here is the extinction of the hen harrier as a breeding species in England. You can argue about what exactly extinction means when the animals are breeding elsewhere in the UK, but what is clear is that a significant proportion of England's breeding hen harriers have disappeared. More needs to be done to stop the killing."
Critically endangered species
Critically endangered species
1/10 Yangtze Finless Porpoise

There are as few as 1,000 of this highly intelligent dolphin from the Chinese river of Yangtze.

Wikmedia

2/10 Cross River Gorilla

There are around 200-300 left in the wild.

Wikmedia

3/10 The Amur Leopard

There are only around 30 left, exclusively in the Russian Far East.

Wikmedia

4/10 Black Rhino

Improving numbers, but with fewer than 5,000 left in central Africa, it is critically endangered.

Wikmedia

5/10 Hawskbill Sea Turtle

Mostly threatened by wildlife trade; their shells highly valued.

Wikmedia

6/10 Javan Rhino

The most threatened rhino species - there are as few as 35 in Ujung Kulon National Park in Java, Indonesia.

Wikmedia

7/10 Leatherback Turtle

Having lost many of its habitable beaches, and impacted by fishing operations, this seaturtle is considered by WWF to be 'critically endangered'.

Wikmedia

8/10 South China Tiger

It is believed to be 'functionally extinct', with none of the species left in the wild.

Wikmedia

9/10 Sumatran Elephant

There are between 2,400 - 2,800 of this elephant native to Borneo and Sumatra.

Wikmedia

10/10 Sumatran Orangutan

There are an est. 7,300 but the gradual deforestation of their Sumatran habitat may threaten further.

Wikmedia
Officially the RSPB declines to speculate on the cause of the hen harrier disappearances citing possible future criminal prosecutions, but they come against a backdrop of fierce conflict between game hunters, game-keepers and wildlife conservationists.
The RSBP stages 24-hours watches to protect breeding sites, but there are fears "rogue gamekeepers" are targeting the birds as they travel long distances to feed, often on young grouse chicks.  There are no gamekeepers on the Geltsdale reserve and the disappearance is still unexplained, but local sources report rumours of trespassing, while there are shooting moor adjacent to the reserve which reportedly shooting thousands of grouse very year.
The North Pennines case it follows mysterious disappearance last month of three male nesting birds in Bowland, Lancashire, an area that the RSPB has called the "last stronghold in England" for the harried bird. Together the Geltsdale and Bowland Forest incidents have resulted in the failure of two nests, which the RSPB describe as a "significant proportion" of the breeding birds in England.
Mark Avery, former conservation director of the RSPB, said: "The hen harrier has been fully protected by law for more than 60 years but is now the most persecuted bird in Britain. And it's clear it is persecuted by grouse shooting interests. It makes you wonder if it isn't time for a ban on grouse shooting".
Reuse content