The high seas should be given a seat at the United Nations to help to deal with issues such as piracy, overfishing and oil exploration outside national waters, according to a former Commander-in-Chief Fleet of the Royal Navy.
Admiral Sir James Burnell-Nugent, now a senior fellow at US-based project Oceans Beyond Piracy which this week will launch its annual report on the global state of piracy, said that many problems in international waters continue to go unchecked.
The report, to be launched on Wednesday, will reveal that piracy in South-east Asia has soared to its highest level since 2000, with more than 3,600 seafarers affected last year. While Somali piracy has fallen dramatically in recent years, the estimated total cost associated with attacks in the western Indian Ocean and Gulf of Guinea in 2014 was nearly $3.3bn (£2.1bn).
Admiral Burnell-Nugent, who was also Second Sea Lord, said events such as pirate attacks which happen "over the horizon" appeared to induce "sea blindness" in politicians. "It's a major political struggle to get governments around the world to pay attention to this issue," he said.
"If you were a lorry driver rather than a ship operator and you had to drive from London to Edinburgh every week and there was a 1 or 2 per cent chance of your lorry being stopped by Dick Turpin or whoever, it would be quite unsettling. We would find it completely unacceptable. We are hugely dependent on seafarers. Ninety-five per cent of the goods that arrive in the UK come by sea.
"Piracy is a global issue to which governments, politicians and international organisations need to pay attention and put their shoulders to the wheel to find solutions."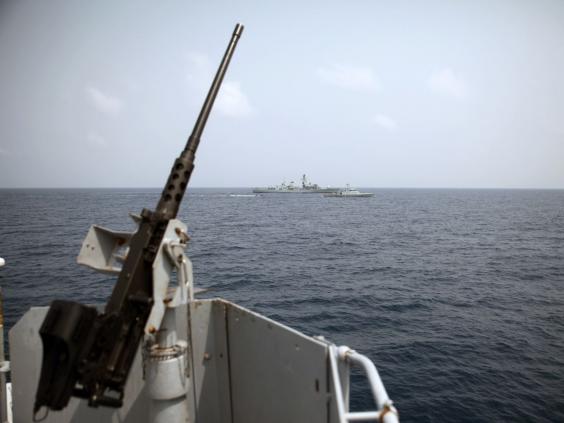 Giving a United Nations seat to international waters would help to address the lack of action, Admiral Burnell-Nugent said. "What's missing in my view is international waters don't have a seat at the UN," he said. "The land – 25 per cent of the planet – is well represented on the UN, but the 75 per cent of the planet which is covered in water is not represented at all. There's no voice to represent the concerns of international waters and they are many.
"There are huge issues over fish stocks, deep-water mining, the search for hydrocarbons. There are lots of issues and there are going to become more and more. The pressure to exploit international waters for good or bad will increase. For example, there's nothing to stop one of these massive ocean-going trawlers from going into international waters and hoovering up millions of tons of migrating fish. There are many more issues than piracy."
In September last year, scientists writing in Nature's Scientific Reports suggested fishing should be banned in international waters to help stocks to recover and boost catches in national waters.
Admiral Burnell-Nugent suggested an experienced diplomat with a team of support staff could fulfil the UN role and even potentially attend Security Council meetings depending on what was being discussed. "It is important that international waters do remain international waters. There's no question of international waters belonging to anybody," he added.
The Oceans Beyond Piracy report warns there are "unacceptable" levels of piracy in the Gulf of Guinea, mainly off the Nigerian coast, with a lack of effective co-operation between governments and industry. While Somali piracy has been much reduced, there are indications that piracy could flare up again with an increase since the start of this year.