Reindeer are facing a new threat in the form of heavy winter rain which freezes to form an impenetrable layer of ice and prevents them from eating on the lichen-covered tundra, scientists said.
Wild reindeer living on the Norwegian island archipelago of Svalbard in the Arctic suffered badly in January 2012 when up to 270mm of rain – some 70 per cent of the typical annual total – fell over a period of just two weeks, said researchers who carried out a study of the freak weather phenomenon.
Winter rain falling instead of snow is an increasing problem for reindeer because it freezes over and prevents them from eating, said Brage Bremset Hansen of the Norwegian University of Science and Technology in Trondheim.
Reindeer are used to permanently frozen ground, but cannot cope with layers of ice covering their pastures. Warmer, wetter winters pose particular problems if the rain falls in November or December, which can lead to the ice persisting for several months, Dr Hansen said.
Animals in decline
Animals in decline
1/8 Harbour seal (Phoca vitulina)

Where: Orkney Islands. What: Between 2001-2006, numbers in Orkney declined by 40 per cent. Why: epidemics of the phocine distemper virus are thought to have caused major declines, but the killing of seals in the Moray Firth to protect salmon farms may have an impact.

Alamy

2/8 African lion (Panthera leo)

Where: Ghana. What: In Ghana's Mole National Park, lion numbers have declined by more than 90 per cent in 40 years. Why: local conflicts are thought to have contributed to the slaughter of lions and are a worrying example of the status of the animal in Western and Central Africa.

3/8 Leatherback turtle (Dermochelys coriacea)

Where: Indonesia, Malaysia, Mexico, Costa Rica. What: Numbers are down in both the Atlantic and Pacific. It declined by 95 per cent between 1989-2002 in Costa Rica. Why: mainly due to them being caught as bycatch, but they've also been affected by local developments.

Alamy

4/8 Wandering albatross (Diomedea exulans)

Where: South Atlantic. What: A rapid decline. One population, from Bird Island, South Georgia, declined by 50 per cent between 1972-2010, according to the British Antarctic Survey. Why: being caught in various commercial longline fisheries.

Alamy

5/8 Saiga Antelope (Saiga tatarica)

Where: Kazakhstan, Mongolia, Russia, Turkmenistan, Uzbekistan. What: fall in populations has been dramatic. In the early 1990s numbers were over a million, but are now estimated to be around 50,000. Why: the break up of the former USSR led to uncontrolled hunting. Increased rural poverty means the species is hunted for its meat

6/8 Swordfish (Xiphias gladius)

Where: found worldwide in tropical, subtropical and temperate seas. Why: at risk from overfishing and as a target in recreational fishing. A significant number of swordfish are also caught by illegal driftnet fisheries in the Mediterranean

7/8 Argali Sheep (Ovis mammon)

Where: Central and Southern Asian mountains,usually at 3,000-5,000 metres altitude. Why: domesticated herds of sheep competing for grazing grounds. Over-hunting and poaching.

8/8 Humphead Wrasse (Cheilinus undulatus)

Where: the Indo-Pacific, from the Red Sea to South Africa and to the Tuamoto Islands (Polynesia), north to the Ryukyu Islands (south-west Japan), and south to New Caledonia. Why: Illegal, Unregulated and Unreported (IUU) fishing and trading of the species
In January 2012, rain fell in record amounts on Svalbard. Temperatures reached about 8C in one location, where it normally hovers around minus 15C. At one weather station, 100mm of rain fell in one day, almost half of the average total for an entire year, Dr Hansen said.
"Having so much rain in winter is very rare, something like a one in 500-year event. This region is actually a semi-polar desert. It's an arid environment and the average precipitation is actually quite close to some deserts in Africa," Dr Hansen said.
"We know from previous studies that rain falling on snow has a detrimental effect on the reindeers' access to food in winter. It freezes and forms a layer of ice on the ground. It can completely cover the vegetation and it's hard for the reindeer to find food, so they die," he said.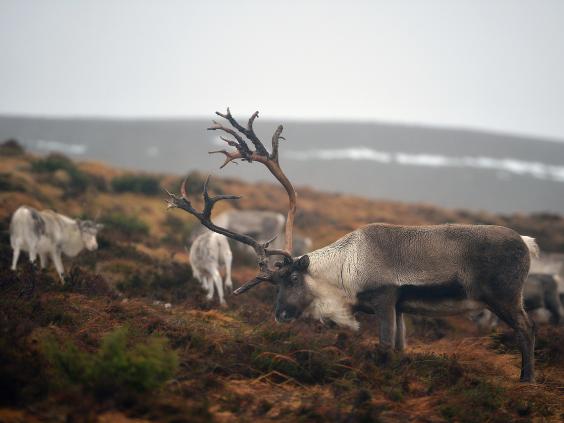 After the extreme rain of January 2012, the scientists counted the highest number of reindeer carcasses they had ever recorded. However, although mortality rates had risen, the overall reindeer populations were generally stable because of good conditions for feeding and breeding up to this event, and because it happened relatively late in the winter season, Dr Hansen said.
"It wasn't like there were dead reindeer all over the tundra. If this had happened in the colder 1980s, it could have been much worse. They had a nice winter up to this event, which occurred rather late," he said.
Although winter rain rather than snow is becoming more common, there is no evidence so far to suggest that extreme rainfall is more frequent now than in the past. However, when it happened in January 2012, it left a layer of ice averaging 15.3cm thick for several weeks, said Jack Kohler, a glaciologist at the Norwegian Polar Institute at Ny-Alesund, a co-author of the study published in Environmental Research Letters.
"The winter rain events leads to the ground-ice formation, and the ice lasts for the remainder of the season, until it melts, and that it what I would call the significant happening," Dr Kohler said.
Reuse content