Many of the new green power stations that were expected to spring up over the next decade will no longer be built, after subsidies for onshore wind and solar energy were slashed, campaigners have warned.
In a development that will make it even harder for Britain to meet its ambitious climate change targets, numerous projects, from large onshore windfarms to small household solar installations, are no longer expected to go ahead.
A series of renewable energy projects planned by major power industry players such as the Big Six providers EDF and Germany's RWE Group, owner of nPower, have recently been scrapped and many others will fail to get off the ground in the first place, campaigners said.
The cancellation of so many renewable projects is particularly embarrassing as it comes days before the start of next week's UN Climate Conference in Paris. David Cameron is among the 138 world leaders expected to attend the opening day of the conference, but his Government is facing increasing criticism for backing away from the green agenda. In Wednesday's Spending Review, the Chancellor scrapped a £1bn pilot project to cut carbon emissions.
"It is not at all surprising investors are losing interesting in UK renewable energy given the political context. It's a direct consequence of the Government taking an ideological sledgehammer to these technologies," said Craig Bennett, chief executive of Friends of the Earth.
Even more damaging than the individual policy changes themselves is the cumulative impact of continually changing them, Mr Bennett says. This reduces the confidence of potential investors in green energy because they worry that as soon as they have sunk money into a new project a key policy change could be announced which hurts their investment.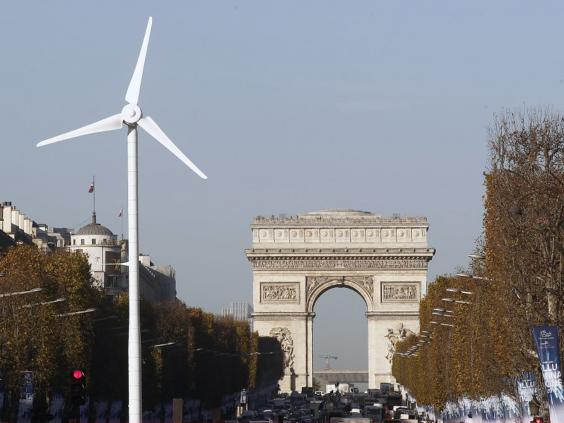 "Capital is global. If you are a big investor, or even a small one, wanting to decide where to put your money you can choose from any number of countries. The UK is no longer one of them," said Mr Bennett.  
Dr Doug Parr, Greenpeace UK's policy director, added: "Since the election, the Government has introduced a startling array of destabilising policy changes that have already begun to hit the renewable energy sector hard.
"If the Government was serious about tackling climate change and creating new jobs, they would be choosing to go all out for renewables and creating a coherent energy policy fit for the 21st century. But they'll need to convince investors, who can take their money to Beijing or California, that their eccentric decisions were a flash in the pan not a sign of longer-term incoherence on climate planning," he said.
Last month, energy companies warned that 15 "illogical" policy changes introduced by the new Conservative government since May have made some renewable power sector projects "uninvestable" – causing them to cancel billions of pounds of investment.
The policy changes also include forcing renewable energy producers to pay a climate change tax and ending support for energy efficiency in homes.
Germany's RWE Group has scrapped nine onshore wind projects in England in the past five months and has channelled the £250m it would have invested in those generators to the Netherlands and Germany. It has also put its other green projects in the UK on hold for the foreseeable future. 
First look: Architect creates 'Solar City Tower' for Rio's Olympic Games
The sheer scale of renewable project cancellations came to light a day after the Government scrapped a £1bn pilot project to develop carbon capture and storage technology. This aims to help the climate by capturing the carbon dioxide emitted by coal and gas power stations and pipe it underground.
Campaigners said scrapping the project was a huge blow for the prospect of developing the technology, which is seen by many as crucial if the world is to limit emissions sufficiently to restrict global warming to 2C.
A spokesman for The Department for Energy and Climate Change said: "Our priority is to keep bills as low as possible for hardworking families and businesses, while reducing our emissions in the most cost-effective way."
"Government support has driven down the cost of renewable energy significantly. As costs continue to fall and we move towards sustainable electricity, it becomes easier for parts of the renewables industry to survive without subsidies," he added.