Nearly one million households, communities and schools will no longer be able to install solar panels on their rooftops after the Government cut subsidies by 87 per cent.
The change, to be introduced in January, will reduce the amount paid for solar electricity from 12.92p per kilowatt hour to just 1.63p – amounting to a £3,840 cut in payments for a typical 4kW system over the 20 years of the subsidy contract.
The cuts will not apply to solar panels that have already been installed, for which the payments have been fixed, but all new installations will be affected from next year.
The solar subsidy cut is one of a series of reductions announced yesterday as the Government reduced support for a range of small-scale renewable energy technologies such as wind turbines and hydro power.
"From California to China, the world is reaping the benefits of a solar revolution, yet incredibly in the UK David Cameron is actually trying to shut rooftop solar down," said Friends of the Earth campaigner Alasdair Cameron.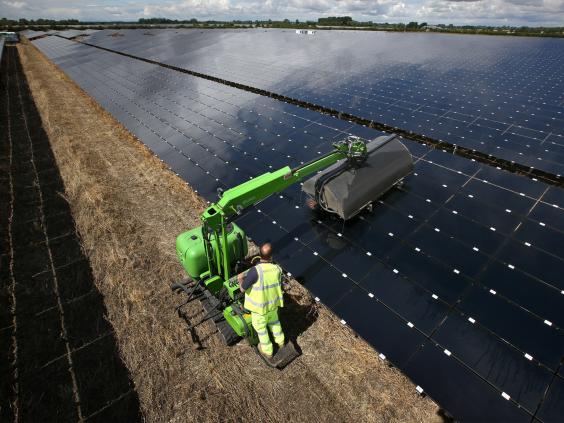 "These absurd solar cuts will send UK energy policy massively in the wrong direction and prevent almost a million homes, schools and hospitals from plugging in to clean, renewable energy," he added.
The Government conceded that as many as 958,000 fewer parties would be able to afford to install renewable power devices in the next five years as a result of the cuts, with solar panels expected to make up the vast majority of the casualties.
But it said the cuts were necessary because spending on renewable energy schemes was running over budget and the only alternative would be to end generation tariffs for new applicants altogether.
"Our support has driven down the cost of renewable energy significantly. As costs continue to fall and we move towards sustainable electricity investment, it becomes easier for parts of the renewables industry to survive without subsidies," a spokesman for the Department of Energy and Climate Change said.
But opponents to the change say the costs of solar power are unlikely to come down to the point where they don't need subsidies for another five years and argue that effectively pulling the plug on support could be hugely damaging to the industry's development.
Solar panels around the world
Solar panels around the world
1/11 China

Photovoltaic solar panels on the roof of the Chint Group office building in Hangzhou, Zhejiang Province, China

Rex Features

2/11 France

On 13 October 2011 France launched its largest-ever solar energy farm, with an array of panels spread over about 200 hectares (500 acres) in the mountainous southern Alpes-de-Haute-Provence region in Les Mees. With a production capacity of 90 megawatts, the vast photovoltaic park features nearly 113,000 solar panels and was built at a cost of 110 million euros ($137 million)

AFP

3/11 United States

Solar Panels, Photovoltaic array at the University of New Mexico, Taos campus, USA

Rex Features

4/11 China

Large solar panels are seen in a solar power plant in Hami, northwest China's Xinjiang Uygur Autonomous region

AFP

5/11 France

Some of the panels of France's biggest photovoltaic power station in Bordeaux. This station, with its 60.000 panels set on the parking of the Bordeaux-Lac international fair was launched in May 2012

AFP

6/11 France

Built on a former NATO base, this is one of the most important photovoltaic plant in France, located at Crucey near Chartres. It was developed by electricity provider EDF (Electricite de France)

AFP

7/11 UK

The project manager from solar century walks between lines of solar panels erected at Weighbridge, Wheal Jane, Baldhu near Truro, England. Launched in 2011, this was the first solar farm in the South West and biggest in the UK

Getty Images

8/11 China

A worker climbs over a solar panel at a solar factory in Longyou county, Zhejiang province

Reuters

9/11 Germany

Workers install solar panels containing photovoltaic cells at the new Solarpark Eggersdorf solar park in 2012 near Muencheberg, Germany. The park, which was being built by German solar energy operator juwi Solar GmbH and contains 85,000 solar modules and is one of many similar projects in eastern Germany

Getty Images

10/11 UK

In 2010 homeowners had solar panels installed this month as growing numbers of people and companies look to cash in on the Government's renewable energy scheme

PA

11/11 United States

In 2009 a solar panel system was installed on the roof of a business building in Gainesville, Florida. Gainesville became the first city in the nation to have a solar feed-in tariff ordinance which meant owners of new solar photovoltaic systems were eligible to receive 32 cents per kilowatt hour of electricity produced by the system over the next 20 years

Getty Images
Mike Landy, head of policy at the Solar Trade Association, added: "This is the antithesis of a sensible policy for achieving better public value for money while safeguarding the British solar industry."
The latest cuts come after the Government announced plans to abolish new subsidies for onshore wind farms and solar parks as it looks to keep a lid on renewable energy subsidies.