A relentless tide of wet wipes is blighting Britain's beaches and threatening wildlife, part of a record level of rubbish along the coastline, according to a new report released today by the Marine Conservation Society.
There has been a 50 per cent rise in wet wipes littering beaches in the past year, according to the research – based on reports from more than 5,000 volunteers who spent several days cleaning up more than 300 beaches last September.
Some 4,000 of the wipes, which are designed to resist breaking down in water, were found. The increase reflects the growing number of hygiene obsessed Britons using wipes for everything from removing make-up to an alternative to toilet paper. But wet wipes do not degrade in the way that normal toilet tissue does, and Britons need to throw them away rather than flush them down the toilet, according to the Great British Beach Clean report.
"There's a common misconception that they're all flushable – but wet wipes don't break down like toilet tissue because they are made of tougher fibres. Some even contain plastic such as polyester," it says. "Literally don't put anything down the loo that isn't pee, poo or paper! If we all kept to that simple rule our beaches would be a whole lot cleaner," adds the report.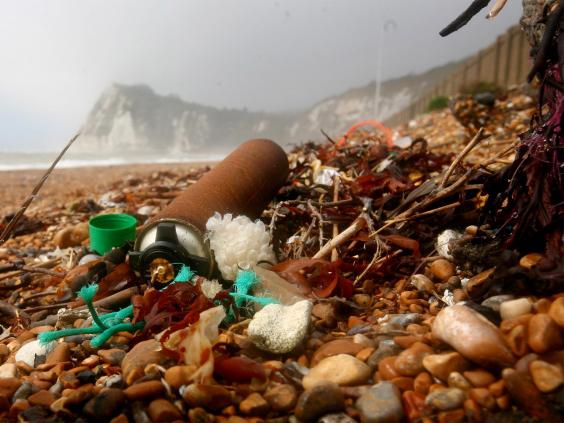 Charlotte Coombes, MCS Beachwatch Officer, said: "Our sewerage systems weren't built to cope with wet wipes. When flushed they don't disintegrate like toilet paper, and they typically contain plastic so once they reach the sea, they last for a very long time."
She added: "They can cause blockages in our sewers, and then, everything else that has been flushed down the loo can either back up into people's homes, or overflow into rivers and seas."
Plastics, including microfibres found in wipes, can cause injury and death by entanglement and swallowing, affecting fish and birds, among other species, according to campaigners.
And the problem of rubbish on Britain's beaches is getting worse, says the report: "In the last 10 years there's been a huge hike in the amount of litter found on UK beaches – it's gone up over 20per cent."
In pictures: Plastic pollution around the world
In pictures: Plastic pollution around the world
1/10 Plastic pollution

Plastic trashes drifting on the sea surface in Marseille's islands

2/10 Plastic pollution

The Bishnumati river running through Kathmandu in Nepal. The river is full of litter and raw sewage which is emptied into the river. The local people see the river as a rubbish collection service

3/10 Plastic pollution

Garbage in the harbour of Tripoli, Libya

4/10 Plastic pollution

Plastic and other undissolvable wastes float over the polluted Vrishabhavathi River, which a few years back use to supply drinking water to Bangalore 48 km to the north, in Kundanahalli village, Ramnagaram district, India

5/10 Plastic pollution

Children collect plastic to be sold and recycled at a polluted river in suburban Manila

6/10 Plastic pollution

Plastic bags and other rubbish are collected from the waters of Manila Bay during a campaign by environmental activists earlier this year

Getty Images

7/10 Plastic pollution

A man collects plastic bags and other rubbish from the waters of Manila Bay

8/10 Plastic pollution

A woman throws out a doll while she selects recyclable plastic bottles, along Tiete river where floating foam blocks emit harmful gasses, in Pirapora de Bom Jesus, 60 Km north of Sao Paulo, Brazil

9/10 Plastic pollution

Baby sea otter pup chews on a plastic cookie wrapper

10/10 Plastic pollution

Bin overflowing with plastic rubbish, central London
More than 273,000 pieces of rubbish were collected last year. As well as wet wipes, various forms of plastic dominated the beaches, and volunteers found everything from discarded fishing lines and nets to cans and broken glass.
Some 2,457 pieces of rubbish litter were collected for every kilometre cleaned and surveyed in 2014 compared to 2,309 in 2013. And campaigners are calling for a National Marine Litter Action Plan to tackle the problem.
In a statement, a Defra spokesperson said: "Our seas and beaches are enjoyed by millions of people as well as providing a home for a wide range of wildlife, so it's important we keep them clean and litter free." They added: "Everyone has a responsibility to dispose of their litter properly whether at land or at sea."
Reuse content