Smartwatches offer you a single screen with the handy ability to show email notifications, give directions, measure your physical activity and more, all alongside the things regular watches do – tell the time, for instance. 
There are two main smartwatch operating systems: Apple's watchOS and Android. But don't dismiss the outliers – Pebble's bespoke system is popular, Samsung's Tizen is highly usable and the Withings system is basic but effective.
Some smartwatches are thick and hefty to accommodate the electronics (and, in some cases, GPS units). Some work as digital wallets, too. Apple Pay is best for these, and is a simple alternative to contactless credit cards – you can even pay with them on the London Tube.
Most smartwatches are companion devices – that is, you need a compatible smartphone nearby for the more advanced functions. It's from the smartphone that the watch receives notifications, for instance. Without one, it'll just tell the time and count your steps. 
1. Apple Watch Series 2: From £369, Apple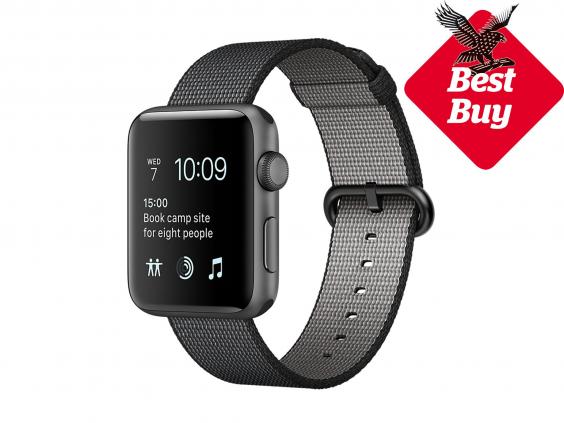 This is easily the best smartwatch, and the smartest-looking. This new model is swim-proof and has GPS built in, so you don't need to carry your iPhone with you when you're on an outdoor run. You do still need the phone for directions, though, as there's no mapping stored on the Watch. The battery, already good in last year's model, has been further improved. It lasts well over a day, though it's best to charge it daily. The entry-level casing is aluminium, but you can pay extra for a stainless steel case and super-tough sapphire crystal display cover. There are thousands of apps so you can use it as a British Airways boarding pass, enjoy mindfulness with Breathe, identify music with Shazam, and so on. The display is very bright so it's easy to read even on the sunniest day. Comes in two sizes, 38mm and 42mm.
2. Withings Steel HR: From £169.95, Withings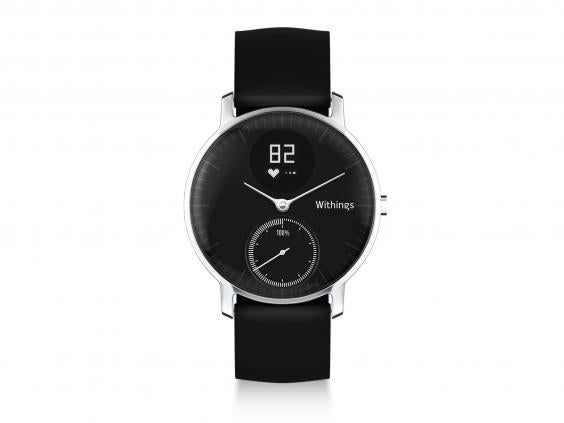 The latest smartwatch from Withings (now part of Nokia) is out on December 7. It has physical hands to tell the time with a smaller dial that counts you towards your exercise goal. But there's also a small digital display, for details like an even more exact digital readout of your steps, the distance covered and calories burnt. It can also notify you when you receive a call or text. It also has a heart rate monitor to keep track of your heart rate as you work out, with detailed analysis on the smartphone app. The battery lasts for around three weeks, and it's water-resistant up to 50m.
3. Samsung Gear S3: £349.95, John Lewis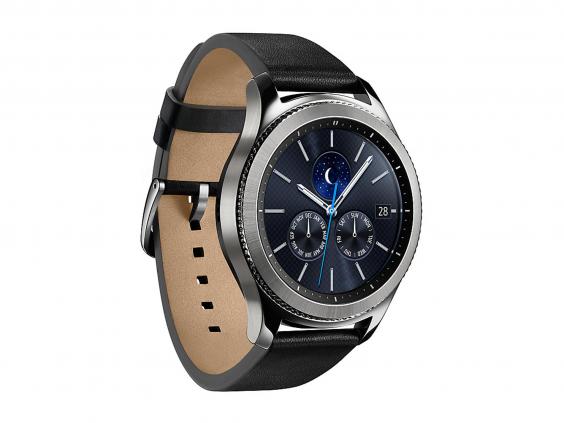 The latest smartwatch from Samsung connects via Bluetooth to your smartphone. It comes in two styles, a snazzy Classic and more rugged Frontier. Both are water-resistant – half an hour in water 1.5m deep won't hurt the watch, though it's not dive-proof. The rotating bezel can be used to control apps – you can turn your Nest central heating up and down with one spin, for example. This watch will also have Samsung Pay, a digital payment system which should work with most card readers, not just chip-and-pin ones. Samsung Pay has yet to launch in the UK, mind – it's set to be rolled out in 2017.
4. Apple Watch Series 1: From £269, Apple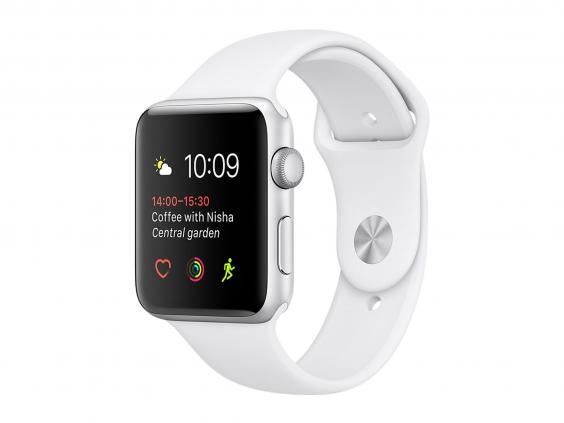 If you don't need your smartwatch to be water-resistant, and don't need the GPS of the Series 2, this is a more affordable option. Like every Apple Watch, there's a heart rate monitor which is useful during workouts. The Series 1 has the same, fast chip as Series 2, so apps load very quickly – slow responsiveness was a problem on last year's Apple Watch with the initial software. There's a big range of straps available here, though the Series 1 is only available in an aluminium finish, albeit in several colours. 
5. Withings Activité Pop: £119.95, Withings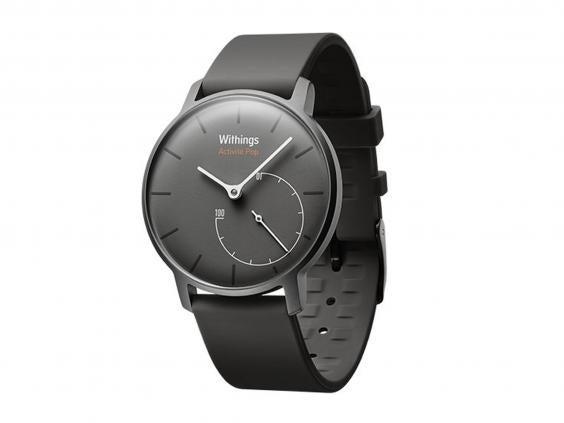 This is a brilliant, affordable watch. Like the Steel HR, it has real hands for the time and exercise levels. Tapping the touch-sensitive glass provides alarm functions and it's easy to change the time when you travel. Though it lacks the extra features such as notifications found on other watches here, this is a highly accessible choice that looks good, is lightweight and works just as well on smaller wrists. It's also water-resistant and spots when you're swimming automatically, so it can count those calories, too. It uses a standard watch battery so it lasts eight months or more.
6. Samsung Gear S2: £219.95, John Lewis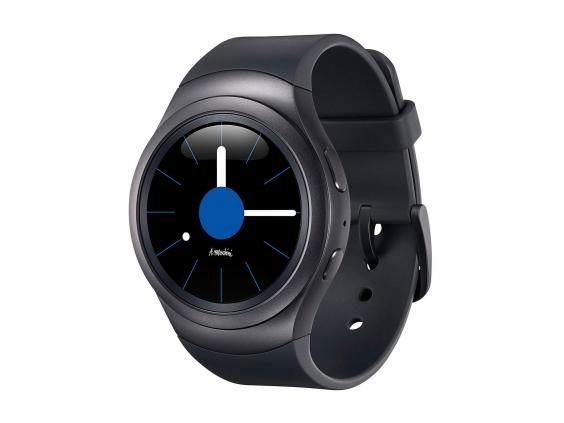 Choosing last year's model is always a canny way to save money with tech. The Gear S2 has dropped in price and is neat. It has the same rotating bezel as the new S3 and though the battery life isn't as long, it's still a reasonable two days or more. The screen is as pin-sharp as Apple's, circular, and includes an always-on option to make it quicker to see the time, though it reduces battery life. It uses Samsung's own Tizen operating system, which is good but means the number of aps is limited.
7. Pebble 2 SE: £79.99, Currys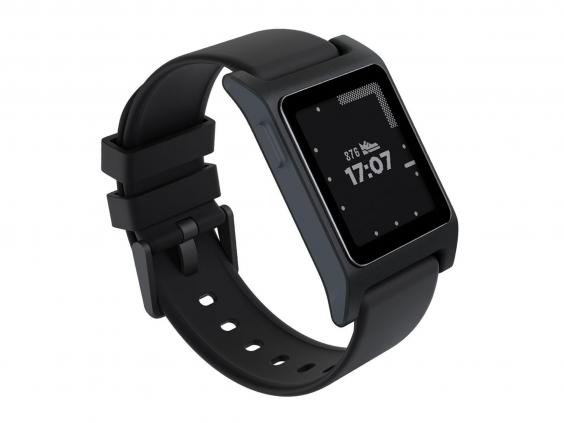 Pebble was one of the first smartwatches on the market, and while there are several models available the company has just announced its intention to shut down, so take care – they may not be supported for much longer. There are dedicated apps for fitness and sleep monitoring, you get text and email notifications, and there's even voice input for some apps. Pebble watches are compatible with both Apple and Android smartphones through corresponding apps. You can only have a limited number of apps on the watch at a time, but it's easy to change these. Overall Pebble Watches are light and fun, and the battery lasts around a week thanks to its black-and-white e-paper display.
8. Sony Smartwatch 3 SWR50: £130, Amazon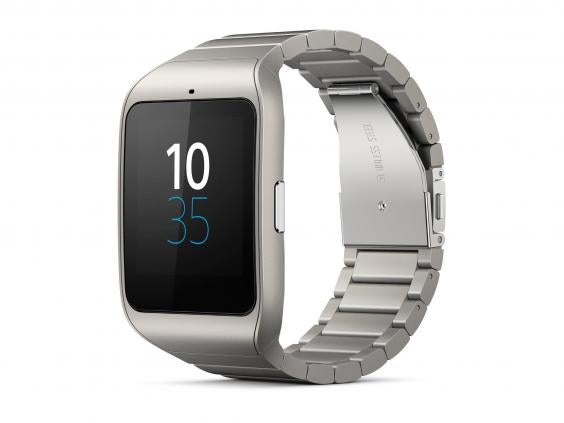 Sony's smartwatches had GPS onboard before Apple's did, and the company knows how to do it without weighing you down too much on your run. This latest device has a battery that can last two days and, like Sony's flagship phones, it's waterproof, designed to survive for an hour at a depth of two metres (although it lacks features to monitor swimming). It uses an Android operating system, with plenty of apps available. Various finishes are available, including a stainless steel case and strap.
9. Tag Heuer Connected: £1100, Goldsmiths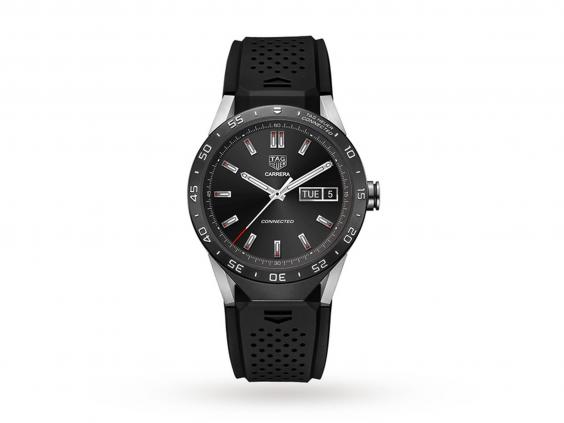 This is one of the most expensive smartwatches available (the Apple Watch Edition, with its ceramic case, costs more) and comes with the exceptional build quality you'd expect from Tag Heuer. It has a scratch-resistant screen and full-day battery life. After two years (when the warranty expires) you can "upgrade" to a conventional special-edition Tag for $1500 (approximately £1,185). This is certainly a handsome watch, though it feels a little like a halfway house between smart and not-so-smart.
10. Apple Watch Nike+: From £369, Apple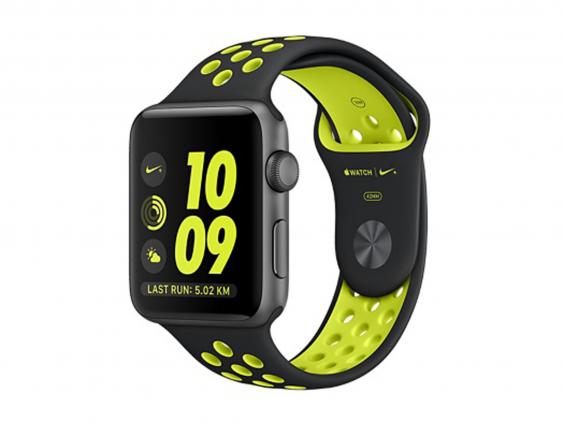 This is the same aluminium-case machine as the Apple Watch Series 2, but aimed at runners especially. It comes with a different strap that's perforated to wick away sweat quickly, and is made of soft rubber that's especially comfortable to wear – more so than it looks. The special edition also has exclusive Nike watch faces which connect to the company's Nike+ Run Club app, for instance. Otherwise, the watch has all the regular features and, unusually for a special version, doesn't have a price hike applied.
The Verdict: Smartwatches
There's a real standout in the world of smartwatches: the Apple Watch. It comes in various colours, sizes and case materials to suit most pockets. Each is head and shoulders above the competition. Perhaps the best value watch here is the Sony Smartwatch 3, which balances price and capability. Samsung's latest, the Gear S3 has a lot going for it and is the most recent smartwatch to be released, with strong features and great looks.
IndyBest product reviews are unbiased, independent advice you can trust. On some occasions, we earn revenue if you click the links and buy the products, but we never allow this to bias our coverage. The reviews are compiled through a mix of expert opinion and real-world testing
Reuse content