It is a dispute about a treehouse that threatens to divide two of Britain's finest horticultural institutions and pit one of the country's most distinguished aristocratic families against the former chairman of Barclays bank.
Granting an interview at her family seat, the medieval, multi-turreted Alnwick Castle, the Duchess of Northumberland has accused the Royal Botanic Gardens, Kew, of "copying" her idea for the treetop walkway that graces her 42-acre garden.
Not only that, she also claimed that esteemed banking grandee Marcus Agius, ex-chairman of Barclays and current chairman of Kew's board of trustees, wanted to imitate the ideas that inspired her 6,000 sq ft treehouse – one of Alnwick's most popular visitor attractions.
This was disputed by Kew Gardens last night. Officials at the south London horticultural bastion claimed to have had the idea for a walkway three years before the duchess opened hers. Kew also insisted that while its managers were indeed looking at ways to "refresh the walkway experience", it was too early to say whether a treehouse would feature.
According to Her Grace's account, Mr Agius, 68, who took a principled decision to resign as Barclays chairman following the bank's involvement in the 2012 Libor rate-rigging scandal, appears to have shown great curiosity about her treehouse while visiting Alnwick Castle as part of a shooting party.
The duchess, 56, told the Newcastle Journal: "He said, 'Jane, I want to know about your Treehouse'. It was in a breakfast meeting with the whole shooting party, and alarm bells rang. I immediately said no. I'd given a talk at Kew Gardens and he had his board of directors sitting there taking notes – they copied the walkways ideas from us and now he wanted to copy the treehouse idea."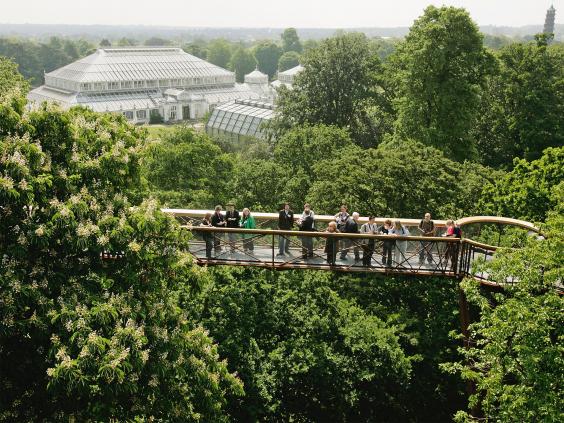 Both sides in the disagreement seemed keen to compliment each other publicly last night – but there is no doubting the passion the duchess feels for Alnwick Garden, her labour of love since 1997.
As Jane Richard, a stockbroker's daughter, she married Ralph, the second son of the 10th Duke of Northumberland in 1979, joining the illustrious Percy family, whose members have been immortalised in Shakespeare's Henry IV in the form of Harry Hotspur – as well as participating in the Gunpowder Plot and leading a rising against Elizabeth I.
When Ralph's elder brother Henry, the 11th duke, died in 1995, Jane Percy became the Duchess of Northumberland and found herself living in England's second-largest inhabited castle (after Windsor). She resolved to turn the then derelict garden into "a contemporary pleasure garden".
It now attracts 800,000 paying visitors a year, and is said to be Britain's third most-visited paid-for garden behind Kew and Wisley in Surrey.
The treehouse, 60ft above the ground with its own restaurant and "roaring log fire" was opened to the public in January 2005. A network of aerial walkways was attached.
Three years later, in May 2008, Kew opened its own £3m, 650ft-long Treetop Walkway. Tony Kirkham, head of Kew's arboretum and project manager for the walkway, insisted, however, that he came with the initial concept in 2001 – and his inspiration had nothing to do with Alnwick.
He said: "We came up with the concept for our own walkway in 2001, trialled a scaffold version in the gardens in 2004 – which was a huge hit with visitors – and opened the Treetop Walkway in 2008.
"We drew our inspiration from the wonderful, large-scale walkways that are found in Australia, South Africa and Indonesia and the Forestry Commission's Tree Top Way in Salcey Forest."
Mr Agius was unavailable for comment last night, but Kew officials denied there were any immediate plans to build a treehouse. Gay Coley, Kew's director of public programmes, said: "We are currently looking at how we might refresh the Treetop Walkway experience, but it is too early to say whether this would include some treehouse-type experience." She added: "Alnwick's Treehouse is a fine example of how to do it exceptionally well."
The duchess, too, appeared keen to be diplomatic, instructing a spokeswoman to say: "The duchess thinks Kew is a great facility for Londoners. The point she was making is that standardisation and replicating things results in visitors never having new experiences, which is really sad."