As Britain's sprawling metropolis, London has been characterised as cold, ruthless and full of bankers and politicians who only look out for themselves.
Yet according to new research into the location of bone marrow and stem cell donors around the UK, the capital may actually prove to be the most selfless region of them all.
Flying in the face of their unfriendly reputation, Londoners are more likely than people from anywhere else in Britain to pledge their time – and their bodies – to help save the life of a complete stranger.
The new data have been compiled by the Anthony Nolan bone marrow register, which comprises more than 520,000 people nationwide – and 80,000 in the capital alone.
The charity has produced an interactive map so that people can explore the country in terms of the number of "heroes" – donors – split up by parliamentary constituency.
And if you think that Health Secretary Jeremy Hunt's own seat of South West Surrey could do better than 64th in the country, for example, Anthony Nolan is encouraging you to email or tweet him (@Jeremy_Hunt).
The London constituencies of Finchley and Golders Green and Hendon made up first and second place on the list respectively – yet despite the capital's overall performance the percentage of the total population signed up is still just 0.97 per cent (see full list below).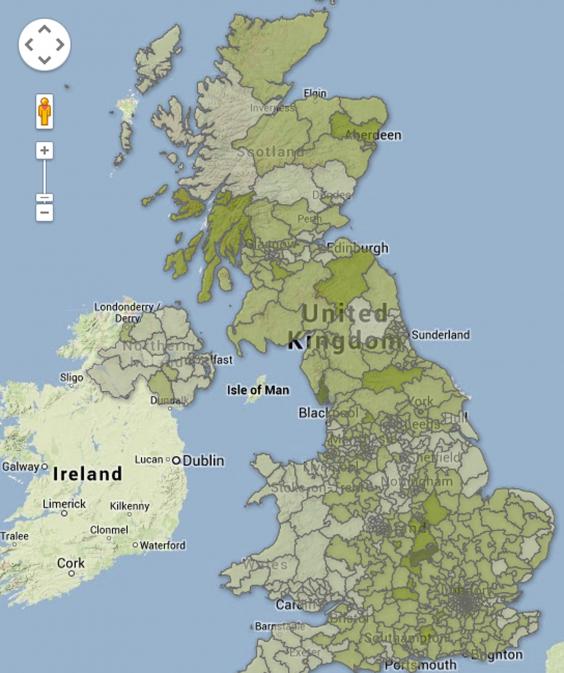 Ann O'Leary, head of register development at Anthony Nolan, said: "Donating stem cells to save the life of a stranger is a remarkably selfless act so it's great to see so many Londoners challenging the city's stereotype and signing up to our register.
"Even though London has the highest proportion of donors of any region, it's still less than one per cent of the overall population of London, which shows us that we urgently need to recruit donors from all over the UK so we can give people with blood cancer the best possible hope of a cure."
Ms O'Leary said that the data highlighted the vital role played by individual campaigners in each area, often supporting a friend or relative in desperate need.
In Harrow, north-west London, for instance, a single support campaign for a mother in need of bone marrow saw 1,000 people sign up in four months.
Other stand-out selfless regions included the East Midlands (0.91 per cent signed up to the register), Scotland (0.89 per cent) and the South East (0.87 per cent).
"Mapping the register in this way will help us to target our efforts in order to grow the register and save more lives," Ms O'Leary said. "We now need people all over the UK to join the fight against blood cancer and champion the register at a local level – as we know it works."
To explore the map in more detail – or to find out more about how you can sign up to be a donor – visit the Anthony Nolan website.
About bone marrow and stem cell donation
To join the register you must meet certain criteria, including being between 16 and 30 years old and in good health.
Those who are eligible will be asked a few questions about their medical history and required to submit a saliva sample to be put on Anthony Nolan's database. And that's it.
One day, you might come up as a match for someone in need of a stem cell or bone marrow transplant. In 90 per cent of the cases it is the former – in which case you will attend a specialist collection centre and be hooked up to a tiny tube as if giving blood normally.
The process takes between four and five hours while a machine collects up the stem cells, while the process is almost painless and does not require a general anaesthetic. Side-effects generally include tiredness and aching but last no more than a couple of days.
For bone marrow donation, you will spend two nights in a London hospital. Under general anaesthetic, doctors will take some bone marrow from your pelvis using a needle and syringe.
You'll probably feel tired and have a little bruising and pain in your lower back after donation. But this generally passes within a week or so.
For more information on the process of joining the Anthony Nolan register, visit their website here
Reuse content