Three quarters of England's flood defence systems are not being adequately maintained as a result of under-investment by the government that is storing up problems for the future, the coalition's official independent climate change advisor warns today.
Cuts to the Environment Agency's budget have weakened England's protection against flooding, leaving it with far fewer staff to assess the flood-risk of planning applications for flood plain developments and too little money to ensure defences are robust, says the Committee on Climate Change (CCC).
Furthermore, the rising prospect of flooding comes at a time when 55 per cent of the 4m households living in England's flood plains – or more than 2 million households - are unaware they are at risk of flooding.
In some cases, the householders simply don't know they are at risk while in others, they actually believe themselves not to be at risk when they are, the CCC said, in a new report out today that questions the UK's strategy of building more new houses on flood plains than off them.
"The current strategy for building in the flood plain, which is to build and defend, is storing up long term issues. The more you build in flood plains the more you are committed to investing in defence as the impacts of climate change, including sea level rise and increasing rain severity events, kick in. We question whether the present model will be sustainable in the very long term," said CCC chairman Lord Krebs.
The report found that Environment Agency staff cuts since 2010 had left it with 40 per cent less staff to advise local authorities and developers on planning applications in flood risk areas.
This meant that 12,000 applications for flood-plain developments of 9 houses or less went unassessed last year, the CCC said, increasing the risk of new houses being built that are prone to flooding.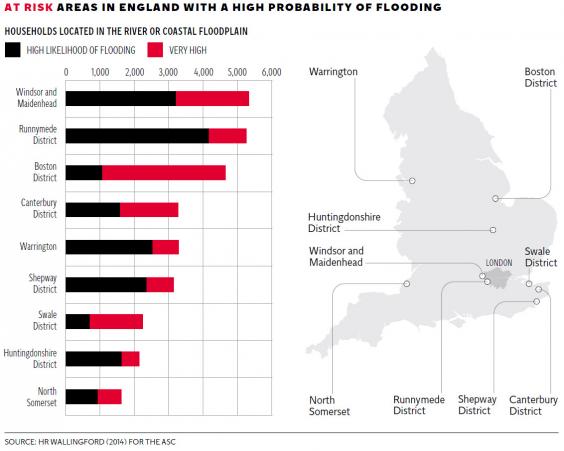 Click HERE for full-size version of graphic
The report noted that the government had invested an additional £270m in flood defences this year, but said this will be primarily spent repairing damaged infrastructure. The remaining maintenance budget, of around £175m a year in the coming years, is not sufficient to ensure defences are kept "according to their identified needs", the report said.
Neither is England capitalising on the business opportunities provided by climate change in the form of consultancy and building services such as design, architecture, finance, risk management, insurance and water irrigation. Among the world's top ten economies – including the US, China and Germany – the UK's climate change sector (worth £2.1bn a year) has been the slowest growing in recent years, the report said.
Hospitals are also in need of an overhaul. Nine out of ten wards are of a type that is prone to overheating because they have too much glass, windows that cannot be opened, poor ventilation and centrally-operated temperature controls, the report warned.
A spokesperson for the Department for Environment, Agriculture and Rural Affairs (DEFRA), said: "Building our resilience to climate change is important for everybody, which is why we developed the first National Adaptation Programme published last year setting out ongoing actions for government, businesses, local councils and communities.
"We are committed to addressing the risks from climate change - by increasing awareness and making far-sighted decisions we can address these risks, save money and safeguard our homes and communities for the future," he added.
Reuse content