"Can Tom Cruise save his career with Edge of Tomorrow?" one magazine recently asked of the man still widely regarded as the world's biggest movie star. It seems a perverse question given that Cruise's films are calculated to have earned well over $3bn at the box office and that he has appeared in a never-ending stream of hit movies over the last 30 years. Cruise has been an A-list actor since he was in his early twenties. His last film, Oblivion (2013), made over $286m at the box-office worldwide – not a figure that suggests his marquee appeal has vanished. Nonetheless, some are questioning whether his Midas touch can last much longer.
Cruise will be 52 next month. That's hardly ancient given the longevity of other stars like Clint Eastwood, Harrison Ford and Sylvester Stallone but one of his selling points has always been his youthfulness. Cruise doesn't play cynical vigilante types or hardbitten old-timers. Whether he is climbing up cliffs or skyscrapers in Mission Impossible films or rescuing the world from aliens in sci-fi movies, he retains the zest that was first so evident way back in the days when he was making teen movies like Risky Business (1983). The likeable quality he projects so effortlessly on screen, even in the most intense action movies, has invariably protected him whenever his career has threatened to veer off course. Neither the continuing controversies about his involvement in Scientology nor his rants on TV against psychiatry nor the three-year hiatus when he stopped making blockbusters to work on Eyes Wide Shut for Stanley Kubrick affected his popularity. In his films, whatever is happening to him offscreen, he is always still the same genial, good looking American everyman with the shiny teeth.
That's the paradox about Cruise. He has a folksy all-American persona and yet is a hugely divisive figure. There is an obvious tension between Cruise the film actor and Cruise the personality. As author Lawrence Wright noted in his recent book Going Clear: Scientology, Hollywood and the Prison of Belief, a decade ago, when Cruise was ranked in polls as "the most powerful actor in Hollywood and even the most powerful celebrity in the world…" he was also ranked No 1 as the celebrity that people would least like to have as their best friend." On screen or when he is patiently signing autographs at premieres, he seems very approachable and yet he is also an aloof and inscrutable figure who risks alienating the same fans who so cherish his movies.
The star's collaborators invariably describe him as down to earth, friendly, and with a fierce work-ethic. "He [Cruise] will try anything, do anything. He threw himself into the part even when his character was being humiliated or killed in some crazy way. He cared so much about the movie and worked so hard, that in and of itself was inspiring to everyone around him," Edge of Tomorrow director Doug Liman said recently of him.
The Cruise who appears early on in Edge of Tomorrow is unctuous, narcissistic and very cowardly. Cruise plays Major William Cage, a former advertising man turned army PR officer who "really can't stand the sight of blood." The photogenic Cage radiates the smugness and self-satisfaction that detractors associate with Cruise himself. He looks good in uniform but is appalled at the idea that he is going to have to get his hands dirty and fight on the beaches himself.
At first, it appears that Cruise is sending up his own star image in a witty and self-deprecating way. Almost 30 years on from his first blockbuster hit, Top Gun (1986), it's as if he has had enough of playing maverick, adrenalin-driven heroes and wants to portray somebody a little sleazier for a change. Inevitably, though, Cage eventually discovers his inner heroism. After being doused in alien blood, thrown in a time loop and reliving the same brutal events again and again, he emerges in the final reel as just the type of character we expect Cruise to play: the resourceful and fearless action man with the twinkle in his eye.
Critics have responded warmly to the film. Whether his sports agent in Jerry Maguire (1996) or his upright doctor caught in a web of sexual jealousy and voyeurism in Eyes Wide Shut (1999) or his role as the sex guru in Magnolia (1999), Cruise has generally received his best reviews whenever he has taken challenging, unpredictable roles. Edge of Tomorrow is unusual in that it combines offbeat elements, and even hints of self-parody, with more conventional Cruise blockbuster material.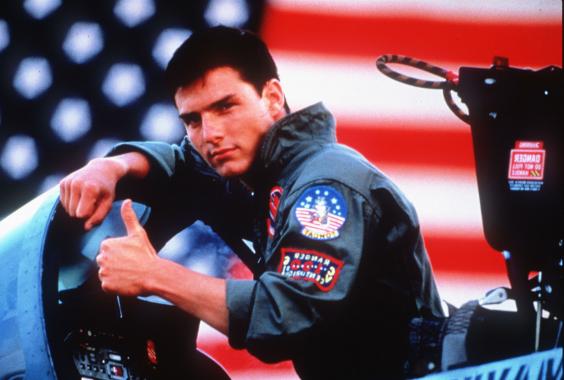 However, battling aliens, as the star does with his trademark energy in Edge of Tomorrow, is only part of the challenge he faces. This month, Cruise is also up against a formidable opponent that has been known to stifle the biggest Hollywood movies at birth, namely the FIFA World Cup. That was why, reversing usual release patterns, the film was launched in the UK and in many other markets around the world this week, in advance of the US opening on June 6th.
The figures, thus far, are disappointing given the movie's reported $178m budget. The trade press was reporting that the film made a very "soft" $20m in box-office from its opening weekend in 28 foreign markets.
In his Hollywood career, Cruise is always pragmatic. In 2006, media magnate Sumner Redstone, the chairman of Viacom, which owns Paramount, "fired" Cruise – or, at least, chose not to renew his deal at the studio – on the grounds that his interviews on Oprah and The Today Show had "turned off all women" and were "embarrassing the studio". Cruise, though, was still ready to work for Paramount on the highly successful Mission: Impossible Ghost Protocol (2011.) Suddenly, Redstone pronounced that he and Cruise were "best friends."
Look at Cruise's future projects and you can't help but notice that he is busy re-customising past hits. A new Mission Impossible is in the works and there are reports of a belated Top Gun sequel and another Jack Reacher film. In other words, Cruise is set to continue making action movies until he is well into his late fifties. It is worth remembering that the swashbuckling Douglas Fairbanks, silent cinema's closest equivalent to Cruise, was dead at 56 and that Sean Connery made his final official Bond film, Diamonds are Forever (1971) when he was 41 (he was roughly Cruise's current age when he made the breakaway Bond film Never Say Never Again in 1983).
The Hollywood studios will be hoping that their most recognisable star retains his Peter Pan-like appeal. After all, Cruise is one of the few current A-list actors with a name that means as much to audiences as big movie brands like Marvel or Pixar. Old rivals like Arnold Schwarzenegger and Sylvester Stallone now appear content to appear in glorified B-movies. Cruise is far too classy a star to want to drive tanks in Expendables sequels. Nor does he seem much interested in re-inventing himself as a character actor as he grows older. He appears determined to keep blazing away as the same smiling, alpha-male hero he has always been. As Edge of Tomorrow makes a stuttering start at the international box office, all that stands in his way are age, global football tournaments and a new Hollywood in which big and powerful stars like himself are beginning to seem very old-fashioned indeed.
'Edge of Tomorrow' is on general release now
Reuse content