The National Costume round of this this year's Miss Universe pageant treated viewers and judges with some 'amusing' outfits.
The idea behind this particular round of the annual pageant is to sport an outfit inspired by the contestant's culture.
The 88 entrants from across the world in the 63rd version of the annual beauty competition went to extreme lengths to impress the judges wearing some incredible –and pretty bizarre- frocks representing key elements of their nation's culture. Some origins were obvious, but others were slightly more dubious.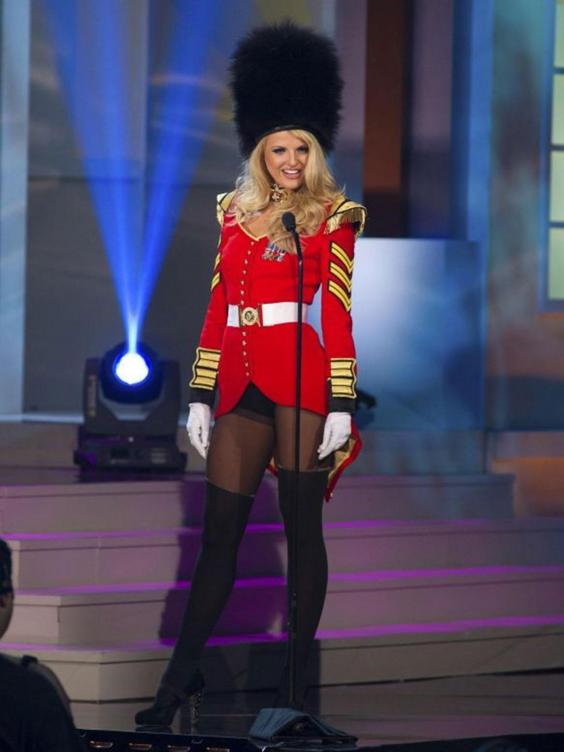 Miss Great Britain went as a 'sexy' Queen's Guard in a skimpy outfit, while Miss Venezuela went dressed as her country's national tree, Tabebuia chrysantha. But it was Miss Canada who made the headlines sporting an entire hockey game. Yes, that's right. Her outfit was adorned with 10 ice hockey sticks, a full-working electronic scoreboard and a Stanley Cup on her head.
Some of the highlights included Ireland's Game of Thrones inspired by Celtic warriors, Dominican Republic's Virgen the Altagracia (the country's patron saint), Japan's Sojutsu fighter and Spain's sexy medieval royalty.
These are some of the most mind-boggling outfits of the night:
Miss Universe 2015: National Costumes
Miss Universe 2015: National Costumes
1/18 Miss Universe 2015: National Costumes

Miss Great Britain

AP

2/18 Miss Universe 2015: National Costumes

Miss Canada

AP

3/18 Miss Universe 2015: National Costumes

Miss Brazil

Rex Features

4/18 Miss Universe 2015: National Costumes

Miss Venezuela

5/18 Miss Universe 2015: National Costumes

Miss Ireland

Rex Features

6/18 Miss Universe 2015: National Costumes

Miss Belgium

Rex Features

7/18 Miss Universe 2015: National Costumes

Miss USA

Rex Features

8/18 Miss Universe 2015: National Costumes

Miss Uruguay

Rex Features

9/18 Miss Universe 2015: National Costumes

Miss Mexico

Rex Features

10/18 Miss Universe 2015: National Costumes

Miss Germany

Rex Features

11/18 Miss Universe 2015: National Costumes

Miss Honduras

Rex Features

12/18 Miss Universe 2015: National Costumes

Miss Jamaica

Rex Features

13/18 Miss Universe 2015: National Costumes

Miss India

Rex Features

14/18 Miss Universe 2015: National Costumes

Miss Panama

Rex Features

15/18 Miss Universe 2015: National Costumes

Miss Argentina

Rex Features

16/18 Miss Universe 2015: National Costumes

Miss Ghana

Rex Features

17/18 Miss Universe 2015: National Costumes

Miss Czech Republic

Rex Features

18/18 Miss Universe 2015: National Costumes

Miss Bulgaria

Rex Features
Reuse content