To call Guido Palau a hairdresser would be something of an injustice, or at least an understatement. Three decades in the business honing his craft – working alongside the world's most respected designers and photographers – has earned him the epithet, according to Vogue, of the world's most in-demand hair stylist. Like Cher, or Madonna, he's known simply and universally by his first name; for the fashion flock, that says everything.
He has just returned from the spring/summer 2015 collections; a month-long, four-city marathon that saw him devise the 'dos of the biggest-billed shows in each capital. From sleek ponies at Alexander Wang in New York, via centre-partings and wispy fringes at Christopher Kane in London and pulled-back, flyaway locks at Prada to the geisha-inspired theatricality of Alexander McQueen – Palau's show tally racks up to an impressive 30.
Practically, this means that there's not a hair trend you'll see on the street or in a fashion magazine that he hasn't had his nimble fingers in somehow – particularly thanks to his role as global styling director of haircare giant Redken, a position he praises profusely for keeping him in touch with "real women". He may be best known for his high-fashion creations – from catwalk and campaign to conceptual headpieces for New York's Metropolitan Museum of Art – but it is through Redken that he has developed a more practical knowledge: "How the products are going to be used and what women actually want." Which explains why his latest tome is titled, simply, Hair. Because hair is what Palau does best.
Born in Dorset in 1962, Palau's journey into fashion was accidental. "I didn't do well at school," he confesses. "I left before my exams and then I travelled. I came back and was 19 and thought 'Well, I'd better do a job.' A couple of my girlfriends were hairdressers – I thought, I could do that."
His introduction to the hairdressing profession was shaky to say the least. Beginning his career at Vidal Sassoon, he was given the boot after filling the appointment book with names such as Barbra Streisand for a laugh. By chance, he ended up assisting a hair stylist on a shoot for Woman's Weekly – his introduction to styling for shoots and shows, rather than heads on the street. It was an entirely different facet of the industry. "Back then, in the late Seventies, there weren't many magazines apart from Vogue and Harper's," says Palau. "It wasn't something you knew about."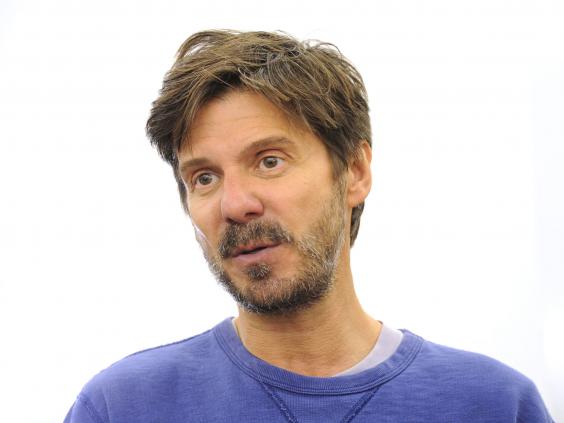 One of the first session hairstylists to emerge, Palau found his niche early. "I started in 1984. Street style was just happening, with magazines like i-D and The Face, [emerging designers] Lee McQueen and John Galliano; that very creative thing that was happening in London was like my schooling." By 1990, Palau was an established name – so established that he was called on by George Michael to style the hair for his "Freedom" video, featuring a phalanx of Supers including Naomi Campbell, Linda Evangelista and Cindy Crawford. It was a watershed fashion moment.
There have been plenty of those in Palau's career, which has seen him working with photographers from Richard Avedon to Steven Meisel. He credits David Sims as one of the most significant. "David is someone very close to me," states Palau. "He taught me in the beginning to be myself and express myself, do my hair, don't copy someone else, and draw from around you and what you know. He was very influential in that way because he guided my eye."
Now, 30 years since he first started out, Palau has managed to stay at the top of a game that has undergone shifts that register on the fashion Richter scale in terms of significance. The most seismic has been the influence of new technology across fashion. Anyone who has been backstage at a fashion show (or has witnessed the affray on YouTube) will appreciate Palau's work all the more given the circus-like environment in which he works.
"When I first started, there was a photographer called Roxanne Lowit, who is a great photographer… it was just her and nobody else," comments Palau. "Then, suddenly, backstage became like a mosh pit of people descending, for information, for content, for quotes. There was something nice about the industry when it was in its infancy, in a way. Maybe it was more elitist – it's more inclusive now, which is a good thing. But I think there's something about that dream and not knowing, something that's untouchable, that is inspiring. Maybe it's not there any more."
Nevertheless, it is his ongoing relationship with designers that forms the basis of his inspiration. "These houses have a strong identity and every season you're slightly adapting that identity," explains Palau. "They don't suddenly plunder a different world; it's a continuation of the same woman. And because I've worked with these designers for a long time I understand the journey. It's about interpreting it in a different way."
For next spring, he cites Celine's half up-do, clasped together in a barrette, as his favourite look of the season. But no tonsured topiary there – the look is remarkable because it's eminently real. Palau's new book, however, could not be a further contrast to that recent catwalk work. It's a decade since publication of his first, Heads, an amalgamation of iconic styles shot by various fashion photographers. His new work was partially inspired by Alexander McQueen's last show, Plato's Atlantis – which pushed hair to the absolute extreme.
"I did the cover picture with David [Sims] and that was the instigator," remembers Palau. "I wanted to do a book that didn't so easily identify what it was, that wasn't so accessible… I was almost inspired by Lord of the Rings in a way. It has that strange sort of timelessness where you look at it and it could be the future or the past. You're not quite sure. I wanted it to be fantasy, an ideal of something that doesn't really exist." Just like those fantasy celebrities in the Vidal Sassoon appointments book way back when, then.
Hair by Guido, photographed by David Sims, (Rizzoli, £45) is out now
Reuse content