It's good to be born into the Beckham family –  their children become trendsetters from day one in this world, so much has been the case of Harper Beckham, who's been seen on the front row of mum Victoria Beckham's fashion shows in New York sporting top designer outfits and sat next to US Vogue editor Anna Wintour.
To please the many mothers' dream of owning similar clothing for their kids, and to help a good cause, Victoria and David Beckham have donated part of the wardrobe of their youngest child to Mary Portas' fundraising shop in London's Primrose Hill. Unsurprisingly, the items were gone in minutes.
The sale included 25 outfits worn by the three-year-old fashionista, featuring a mini-me quilted grey dress, which retailed at £350, and a peach dress which sold for £150, both by French design house Chloe. Other luxe clothing included names such as Ralph Lauren, Stella McCartney, Gucci, Marc Jacobs and Charlotte Olympia -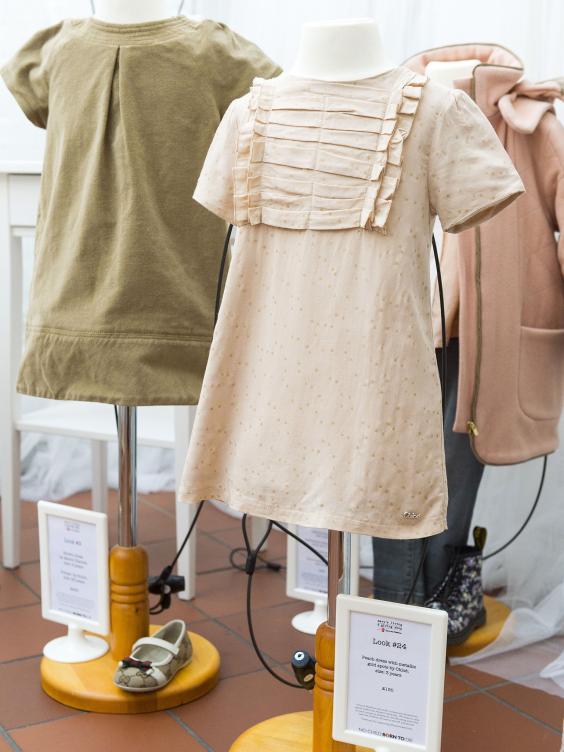 All outfits were curated by Victoria herself and with prices starting at £250 for a dress and shoes, and going up to £500 for the complete outfit, Mary's Living & Giving Shop saw mums and dads queuing outside from 6:00 am waiting anxiously for the shop to open its doors at 10:00am. Half of the outfits were reportedly sold out within 40 minutes of the store opening and one outfit is set to be auctioned over the phone.
Harper Beckham's outfits sold out
Harper Beckham's outfits sold out
1/5 Harper Beckham's outfits sold out

Harper Beckham's embellished dress available for sale at Mary's Living & Giving Shop in aid of Save The Children

Rex Features

2/5 Harper Beckham's outfits sold out

Harper Beckham's complete outfit available for sale at Mary's Living & Giving Shop in aid of Save The Children

Rex Features

3/5 Harper Beckham's outfits sold out

Harper Beckham's Outfits available for sale at Mary's Living & Giving Shop in aid of Save The Children

Rex Features

4/5 Harper Beckham's outfits sold out

Harper Beckham's outfits available for sale at Mary's Living & Giving Shop in aid of Save The Children

Rex Features

5/5 Harper Beckham's outfits sold out

Harper Beckham's bright outfits available for sale at Mary's Living & Giving Shop in aid of Save The Children

Rex Features
Helen Wiltshire, Head of PR for Save The Children, said: "We thought she [Victoria] would put a few outfits in a box and post it but she got in touch and said she was hugely passionate about this project and personally styled 25 outfits for us, which was incredible."
All proceeds from the Fashion Saves Lives Sale will go towards Save the Children's No Child Born to die campaign.savethechildren.org.uk
Reuse content