MaxMara's camel cashmere double-breasted 101801 coat is a classic. Marcel Breuer's 1966 design for the now-old Whitney Museum of American Art on the Upper East Side's 75th street is a classic, too, in a different medium – one in which the new downtown Whitney, designed by the Italian architect Renzo Piano, is currently jockeying for position.
Is it facile to compare a museum to a coat? That's what some would argue, but the spheres of art, architecture and fashion are overlapping all the more frequently, like a Venn diagram. The new Whitney is a prime example: Italian fashion brand MaxMara underwrote the new museum's grand opening party, and was so taken with the space that they themed their entire Pre-Fall collection around the building, the works within and the gallery-going denizens. Furthermore, they've enlisted Piano – alongside MaxMara's creative director, Ian Griffiths – to design a handbag that replicates the museum's already-signature ribbed façade. All proceeds will be donated to the Renzo Piano Foundation, which helps to fund cultural and educational projects.
The façade is certainly impressive enough to be reiterated in miniature: if you approach it from its east side in New York's Meatpacking District, the glass-walled lobby of the new Whitney appears to be crouching underneath the High Line, Manhattan's elevated park built along an old rail line. As you walk along the Hudson, the museum shoots up to resemble a ship's sail, appropriate for the once-bustling port. And if you patiently (or more likely not) join the tourist procession up on the High Line it can seem like yet another rejuvenated former factory. Only this one doesn't house condos for the city's 1 per cent.
"We worked along with the museum to create a building to meet their needs," explains Piano. "Our aim was to design an inviting building, one that rather than taking possession of the space on the ground, can be glimpsed from the street." Like a work of art in itself, then?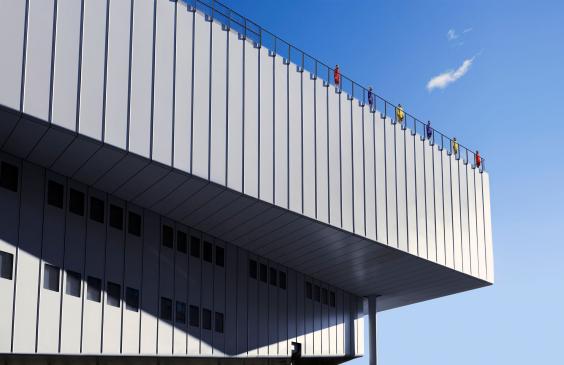 Inside the lobby and to your left, in the book-filled store, alongside Alex Katz and Yayoi Kusama porcelain plates and Jean-Michel Basquiat and Keith Haring flip-flops (both artists used to rub shoulders with Debbie Harry and Madonna at the Roxy club a few blocks away), you'll find another classic hopeful – that new Max Mara Whitney handbag. The top-handle tote nests on its very own red velvet tray like a true VIP (on a recent visit, a museum employee was handling it with the same care afforded to exhibits on the floors above), each numbered out of 250, with a £740 price tag.
As souvenirs go, it beats a Whitney mug –although the limited-edition slate version is already sold out. "If you look at the bag," says Griffiths, "you can see that the principle element is the skin that wraps around it, reflecting the ribbed sections of the building. In order to achieve that, our craftspeople in Tuscany had to develop new techniques – really pushing the boundaries of what they do."
Fashion has always looked to art for inspiration – from Elsa Schiaparelli's collaborations with Dali and Cocteau, to Marc Jacobs' art-fuelled Louis Vuitton years, resulting in a series of projects with Richard Prince, Stephen Sprouse and Takashi Murakami. It seems that architecture is the next step – a natural working relationship, since fashion brands need shining buildings to house their studios, stores and, increasingly, art collections. Frank Gehry recently designed the Fondation Louis Vuitton in Paris, and only days ago the Rem Koolhaas-devised Prada Foundation opened in Milan.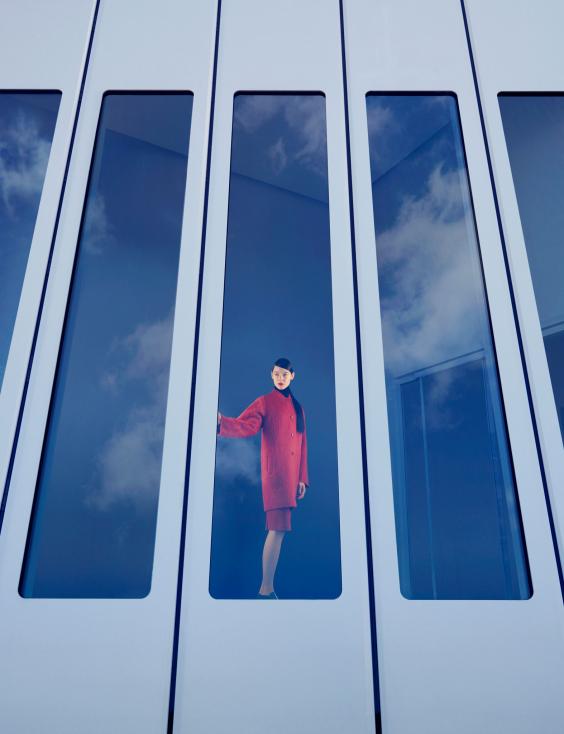 Concrete and steel structures, yes, but leather goods? Apparently so, as indicated by Piano's Whitney Max Mara bag. In fact, the relationship is far more symbiotic than it might first appear. Global superstar architects such as Piano and Gehry are reimagining cityscapes in the 21st century with more influence, it could be argued, than the artists whose work lives in the museum spaces and private homes they build. Fashion thrives when it not only remains relevant, but catches a glimpse at what lies ahead. In a constantly changing fashion landscape, there is a real need for something permanent, with strong foundations. What better than an entire building?
The Whitney's move downtown has been seen by many as a nod to the new order of things. That is where the money, power and influence live now, in a city that's much safer, cleaner, albeit more sterile, than when the Breuer Building was unveiled, or when Basquiat and Haring were at their height. Hence, the new Whitney building is inviting, open, near diaphanous at its base. It's also not a trophy building, merging seamlessly in good-neighbourly fashion, adding yet another jumbled-up rooftop to the mix.
"Our hope is that the light and the transparency of the spaces and the art will be able to create a cultural exchange between the museum and the community of the district, and with the city on a wider scale," says Piano. "A museum is a place of major civic importance: it should be transparent and accessible."
Reuse content