Despite his diminutive stature – he stands just five feet three inches tall, allegedly – I didn't measure him myself, but it seems about right – Azzedine Alaïa is a giant in the fashion world. It's just one of a knotty bundle of contradictions that make up his character, his career, and consequently his legend. He refuses to show his clothes at fashion week, but everyone wants to see them; he chafes against the confines of the fashion system, while being one of its defining figures. He creates garments that eschew the relentless novelty of contemporary fashion, instead offering gradual developments of idea and technique. But women clamour, season after season, to buy them. In Harrod's, Alaïa outperforms all other international brands. He doesn't advertise, and doesn't loan to celebrities – although they buy his clothes.
The brand flies in the face of all convention, as complex as the riddle of the Sphinx. And Alaïa sometimes deflects questions about his age – somewhere around 75 – by declaring himself "as old as the Pharaohs", so that's appropriate.
Alaïa was born in Tunisia, is based in Paris, and makes clothes. I mean, he really makes them. He is one of the few designers who takes up needle and thread himself to work on his garments. He always has. When he used to present his fashion on a seasonal basis, the shows were frequently weeks late. spring/summer 1990, one of his last, was shown a month and a half after every other Paris label, because he insisted on steaming every garment and sewing every prototype himself. I am loath to call him a designer at all, because really Alaïa is first and foremost a craftsman, a couturier. Today, he presents occasionally, quietly, in his headquarters in the Marais in Paris. The audience is made up of friends, like the artist Julian Schnabel, the photographer Jean-Baptiste Mondino, and Alaïa's gargantuan St Bernard, Didine. It's still shown a few days after everyone else.
Fashion News in Pictures
Fashion News in Pictures
1/22 ATP World Tour Finals 2015

Designer Christopher Kane and actress Rose Leslie at the 2015 Barclays ATP World Tour Finals

Getty Images

2/22 Beauty spot

Get down to your nearest H&M store quick! The brand has launched a mammoth beauty collection, and all at budget friendly prices

3/22 VMA crisis

Miley Cyrus hosting the VMAs was never going to be a modest affair. The latest is a costume copying scandal.

4/22 Cover girl

Interview magazine unveiled its newest issues featuring cover image selfies of your favourite stars

5/22 Nadal in the nude

The tennis star has stripped off as the new face of Tommy Hilfiger underwear, fragrance and tailoring

6/22 Spy drama

The Man From U.N.C.L.E is more than just your average spy movie, we're obsessing after the seriously stylish sixties fashion

7/22 Queen B

Beyonce has been revealed as the star of the prestigious September issue of US Vogue

8/22 May the force be with you

Max Factor revealed a collaboration with Star Wars, makeup artist Pat McGrath has made these looks to celebrate the upcoming film release

9/22 Pop model

Gigi Hadid stars in Calvin Harris' new music video

10/22 McQueen magic

Alexander McQueen: Savage Beauty closes as the V&A's most popular exhibition ever

11/22 Politics of style

Samantha Cameron is crowned the best dressed woman in the world by Vanity Fair

Rex Features

12/22 Model behaviour

Brooklyn Beckham lands a modelling contract

GETTY IMAGES

13/22 Olympic dreams

Stella McCartney is on board once again to design the Team GB Rio 2016 kit

14/22 Birkin blow-up

Jane Birkin asked for the iconic bag to be renamed due to animal cruelty concerns

TIMOTHY A. CLARY/AFP/Getty Images

15/22 Gigi's new gig

Gigi Hadid was announced as the new face of Topshop

16/22 Blahnik's bags

Manolo Blahnik is to launch a debut handbag collection

17/22 Sister act

Siblings were the subject of Balmain's new ad campaign featuring Kendall and Kylie Jenner as well as other famous model siblings

18/22 Caitlyn's couture

Caitlyn Jenner makes her red carpet debut in an Atelier Versace white gown

19/22 Casino couture

The Chanel couture show opens with A-list stars making their way to a casino in the centre of the catwalk - think Kristen Stewart, Julianne Moore and Vanessa Paradis

20/22 Scentsational

Miu Miu kicks off couture week with the launch of its very first fragrance

21/22 Midnight at the museum

The V&A announces all night openings for the final two weekends of the Alexander McQueen: Savage Beauty exhibition

22/22 New York Fashion Week

Beth Ditto walks the catwalk at Marc Jacobs spring/summer 2016 show

Getty Images
Why? Because Azzedine Alaïa stands apart from fashion – literally and ideologically. His clothes are frequently characterised as sexy – even by Alaïa himself – and often are. But for me, a more telling notion is of the corporeal. Alaïa is fixated with the body; we in turn associate that with sex. At one point, Alaïa created clothes for the showgirls of Paris's Crazy Horse cabaret: look at the way his seams delineate zones of the body, like an external musculature mapping the flesh. Many sneer, with not a little salaciousness, that you don't have to wear underwear when you wear Alaïa. What that illustrates is that his work is about dressing a body, not constructing a dress. Those are the words of the great Madeleine Vionnet, inventor of the bias cut, describing her own approach. Alaïa is a passionate admirer; if she were alive, I suspect that admiration would be mutual.
Alaïa's garments seem engineered rather than simply sewn, their fluctuating, distinctly physical relationship with the individual beneath them the real mark of his mastery of craft. They flare and wrap and grip and knead the human body, as if the flesh were clay ready to be sculpted. Like sculpture, they belong in a museum.Many of them end up there. That's where I meet Azzedine Alaïa for the first time.
We were in Rome, where an exhibition of his clothing – or, to borrow the phrase of the curators, Mark Wilson and Anna Coliva, his "soft sculpture" – has been installed at the city's Galleria Borghese. Erected in the 1600s for Cardinal Scipione Borghese, nephew of Pope Paul V, patron of Bernini and something of a Caravaggio fanatic, it's one hell of a backdrop for his work. Alaïa's clothes are, arguably, the only ones that could stand the test. Exquisitely realised, timeless, the product of obsessive devotion to the act of creation, they're the closest fashion comes to a masterpiece.
Alaïa himself trained as a sculptor at the Institut Supérieur des Beaux Arts in Tunis. "Un peu," he says, smiling wide, his fingers pinching the air to indicate the brevity of time spent in that pursuit. Alaïa does not speak English, and my French is as ropey as one of Alaïa's macramé dresses, so we speak through Caroline Fabre, his commercial director and confidante. He continues: "When I realised I couldn't be an amazing sculptor, I changed direction."
Not entirely, though. Rather than representing the body like traditional sculptors, Alaïa chose to mould on to it. His work is in the tradition of ancient Greek sculptors, who chose the perfect components from imperfect sitters to fashion their own superhuman ideals.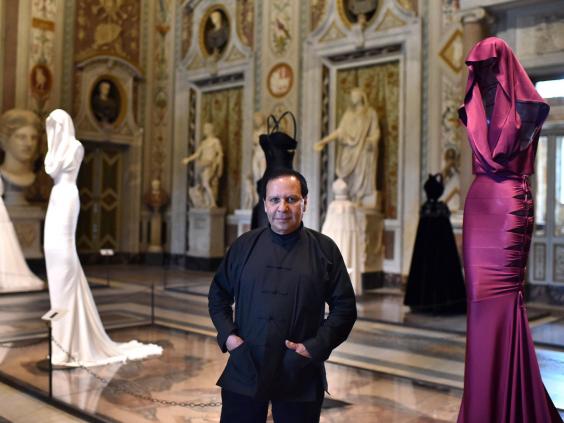 He did much the same with the supermodels of the 1980s, a decade he helped to shape stylistically. Linda Evangelista, Helena Christensen, Cindy Crawford – all broke other bookings and flew to Paris to model for Alaïa, for little more than his clingy little dresses. Naomi Campbell, whose career Alaïa helped launch, would sleep on his floor during the Paris shows. When I ask if she would say something about Alaïa, the notoriously tardy Campbell responds in an uncharacteristic instant. "Azzedine is one of the most unique designers in the world, he has an unparalleled work ethic," she says. "I am honoured to have watched him work and to have worked for him. He has been my papa since I was 16, and I love him very much." Many in the fashion industry, and beyond, feel the same overwhelming affection for the man, and his clothes.
Back to Rome and the Borghese Berninis. Nestled among the grand marbles and gilt-framed masterpieces are leather jackets and velvet dresses; others woven or knitted from bands of fabric to resemble mummies or especially elegant crustaceans. There are 60-odd Maison Alaïa interlopers on show until the end of October. Wilson, who has worked on five exhibitions with Alaïa over the past 15 years, suggested that he was a "visitor" to the Borghese; "How can he be a great visitor?" Wilson asked, rhetorically. "By making himself at home, but also being respectful."
It's a neat inversion of Alaïa tradition: the couturier is known for hosting dinner parties during Paris fashion week, where the likes of Rihanna, Rei Kawakubo, the designer Marc Newson, a few international fashion editors and a number of dogs all cram around a table in Alaïa's atelier for a home-cooked meal. Obviously at ease in someone else's home, Alaïa looks about the gallery. "At the beginning I was a little afraid to have so many masterpieces," he says, carefully. "Because fashion next to Bernini can be dangerous. I tried to respect that. I was praying at lot, that Bernini would accept me into his house. And he agreed."
Alaïa grins again. He grins a lot – that's another paradox, because his clothes, on the whole, can be seen as fierce, imposing, aggressive even. He exploded on to the fashion scene in the Eighties with an eyelet-studded leather coat and matching gauntlets. He dressed Grace Jones and Tina Turner. He had, in fact, been making clothes for years in Paris before then. He first came to work with Dior in 1957, just as the Algerian war intensified. Fresh off the boat, he was dismissed for having incorrect immigration papers (ironically, following the departure of John Galliano in 2011, Alaïa reputedly declined an offer of the Dior reins).
After his Dior dismissal, Alaïa worked for Guy Laroche for two seasons, taking up residence with the first of a series of high-society patrons, the Comtesse de Blegiers, who offered him a temporary home in exchange for services as dressmaker and occasional babysitter. Alaïa has said: "From two seasons at Guy Laroche I learned how. From the last elegant women in the world, I learned what."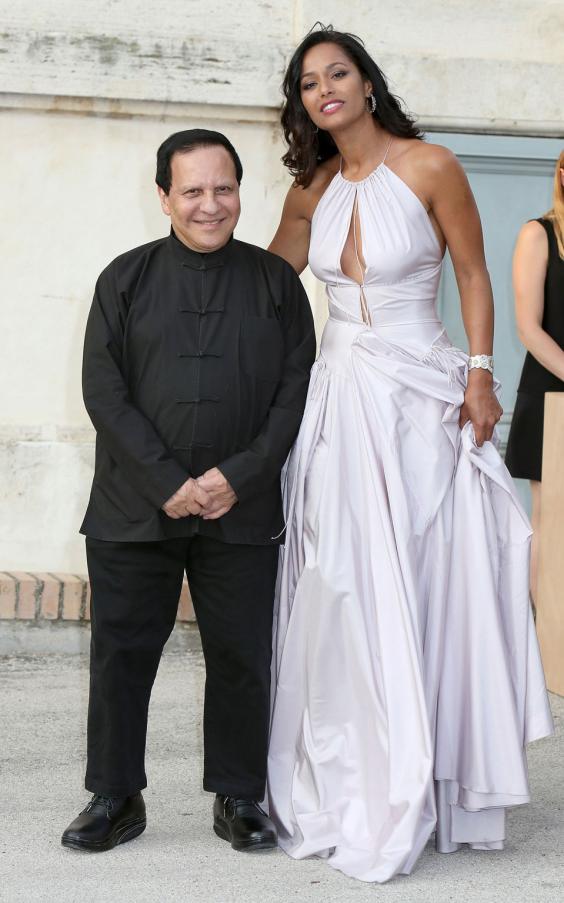 Alaïa's "What" dressed the demanding clients of French haute couture – Picassos, Rothschilds, Mitterands – as well as odder types. Besides those Crazy Horse showgirls, the reclusive Greta Garbo had him sew a pair of trousers and a navy cashmere overcoat big enough for two. Once more, the body – this time, swamped and swaddled and moving inside a cocoon of material.
Alaïa isn't just the "King of Cling" – a misleading moniker bestowed upon him in the Eighties, which reduces his wide oeuvre of semi-fitted or unfitted tailoring in boiled wool and leather (still a large swathe of his business); his experimentations with Vionnet's bias-cutting techniques (ahead of the curve of a mid-Nineties revival); and his ground-breaking development of fabrics (for 40 years Alaïa has worked with the knitwear factory of Silvia Bocchese in Florence to devise new textiles), to a tight skirt on a skimpy dress. Although he loves those too.
Not much has changed, really, since the Eighties, for Alaïa. His exhibition at the Galleria Borghese juxtaposes dresses made in the Eighties and Nineties with those from last year. Time has no meaning here, just as Alaïa has no age. "There is an evolution, but fashion hasn't changed so much," he says, looking around at his work. "For women, there is the body. The body is the most important thing. Technically, some dresses are more modern than others, because of the technique of the knitwear. The evolution of the technique and of the fabric is very important, And how you wear it too. You maybe have to be more comfortable today. This is the difference."
The handcraft, however, hasn't changed. Just as when he lived in the back-room of the Comtesse, Alaïa still handles each sample himself. "I take care of the fabric, the pattern, I do all the patterns myself, all the fittings," he states. "From the idea to the reality. I'm not very often satisfied by what I do." Nevertheless, there isn't a sense of frustration with what he does, but there is a drive to go beyond fashion – which, at its most basic, is about hawking as many clothes as possible.
Alaïa's business isn't small: the annual turnover is around £40m. It could be much bigger, but Alaïa doesn't want that. When I ask him if he considers himself part of fashion today, the grin vanishes. "Pas de tout. I do not agree at all with the system of fashion today." He doesn't like the speed, he says, the dismissal of ideas as worthless when the seasons expire.
How to reconcile, then, that the anti-fashion Alaïa just launched his first fragrance, with the backing of Beauté Prestige International and luxury conglomerate Richemont, who partnered (but didn't buy out) Alaïa in 2007? Perfume is the most conventional mass-fashion move possible. Can't afford one of Alaïa's eyelet-cotton shirts (around £1,000) or a leather coat (five times that)? Try a spritz of Alaïa's essence at 1 per cent of the price (well, £62 for 50ml). His fragrance bottle comes topped with a cap to resemble a golden spool of thread, and stamped with a relief of the vaguely North African shapes that often make up his laces, and are punched through the iron doors of his Paris headquarters.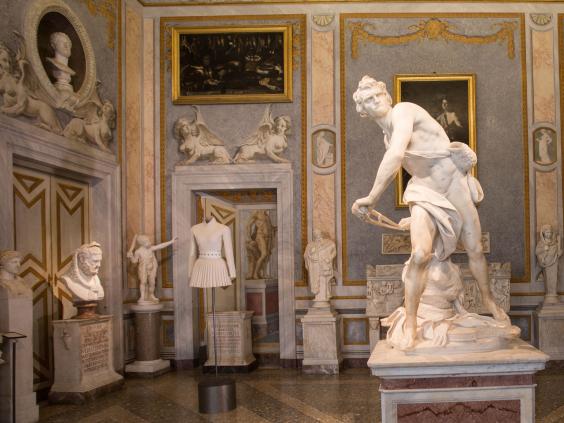 Back to the riddle of the Sphinx-like Alaïa: why launch perfume, if you don't want to be part of the big, bad fashion industry? He shakes his head violently. "Non, non, non. Perfume was always in fashion, by couturiers, always." I think, immediately, of Parfums Rosine – the first designer perfume line launched in 1911 by the great couturier Paul Poiret, of whom Alaïa is both an admirer and a collector. "I have been working on it for a long time, several ideas have been proposed to make perfume. I didn't think that the time was right. The smell – the first briefing I did, I said, 'Comme de l'eau!'" Water? Alaïa grins wider. "I wanted something light and fresh. I've been trying for years and years." So, I imagine, has the long-suffering "Nose" of BPI, Marie Salamagne, responsible for the final fragrance. It doesn't smell like water – rather pink pepper, freesia and peony – although it is fresh. I know a few people who don't like it. I know more who have bought it in bulk.
Coming as it does two years after the flush of publicity around a major retrospective at the Palais Galliera in Paris (the Rome affair is smaller, quieter, off the beaten track), I wonder why Alaïa decided to launch his perfume now. "It's the right time," he states, simply. "And also because of Richemont. They offer possibilities to develop it properly. Before, I was not as free. I couldn't do anything. Today it's easier, because I have the backing of a big corporation." Alaïa is, genuinely, the first designer I have ever heard espouse, unprompted, the wonders of working with a conglomerate. Generally, there's an uneasy silence when you ask that, unless it's already been ironed out in a pre-vetting of the questions. (Alaïa didn't ask for anything like that, despite the language barrier).
He continues, "I always feel free – I feel really free. When I don't want something, I don't make it. Even if there's finance behind it, if I don't feel it, I don't do it. I always feel free, this is my strength. Truly, I don't need much to live."
That much is true. I'd been warned, beforehand, that he may be late, or not show up at all. The next day, he did just that at a dinner hosted in the French embassy, following a contretemps with a diplomat. Alaïa, in short, doesn't do anything he doesn't want to do. He's reached an age – and, more importantly, a stage – where he can please himself. It isn't indulgence, rather practicality.
Hence, don't be hoodwinked into thinking anyone is making Alaïa do perfume, besides Alaïa himself. "I love perfume," he declares, emphatically. "Having a perfume with my name – everyone who is wearing my perfume, it's like I am sleeping with them all!"
Azzedine Alaïa grins, wider than ever before. "Just to let you know."
Reuse content