"The peasant stank as did the priest, the apprentice as did his master's wife, the whole of the aristocracy stank, even the king himself stank, stank like a rank lion, and the queen like an old goat."
So writes Patrick Süskind in his novel Perfume. Set in 18th-century Paris, it speaks of a time when a generalised fear of water, which was believed to carry disease, meant that even the most wellborn were none too fragrant. It was this, and the necessity of covering the smell of powerfully odorous gloves, that led to the widespread use of perfume in France. Glove leather was bathed in urine, and aromatic oils were applied to skins to soften them, while lessening the impact of any noxious residue. A faint whiff often remained. Grasse, the southern-French town associated to this day with the use and production of such oils, was traditionally also home to some of the world's finest glove-makers. The union of gantier/parfumier continued well into the 19th century, at which point scent began to be worn on the body – and perfumers set up business in their own right.
The Ten Best Perfumes
The Ten Best Perfumes
1/10 Tom Ford

Not content with his domination of the fashion industry, Ford has successfully branched out into theworld of perfumery, and White Patchouli is his latest offering. The heady mix of rose, jasmine and patchouli will appeal to glamorous girls who want to get noticed.

2/10 Lancôme

Inspired by Lancôme's latest muse, the actress Anne Hathaway, Magnifique is an unusual combination of woody and floral notes. Rose and jasmine are combined with vetiver and sandalwood in a gorgeous ruby-red bottle.

3/10 DKNY

Grapefruit, pomegranate, nectar and fig combine harmoniously with mimosa and gardenia in Women, a sparkling new offering from the American designer Donna Karan. Although the scent is pretty distinctive, it isn't overpowering, so you wont leave too much of a heady trail in your wake.

4/10 Chanel

As one of the most consistently popular fragrances since its inception in 1921, it was always going to be tough to improve upon No 5. But in my opinion, this new "lighter" version, Eau Première, is even lovelier. A truly modern classic.

5/10 Lolita Lempicka

Rendezvous, a new version of Lempicka's popular Midnight fragrance, is a sweet and intoxicating mix of jasmine, myrrh and vanilla, Collectors will love the purple apple-shaped bottle, with its golden swirls and hearts.

6/10 Space NK

While travelling through India, Space NK founder Nicky Kinnaird was inspired to create Champaca, a subtle scent with hints of vetiver, cedarwood, amber and musk. It shrouds the skin rather like incense, and transports one, if only in the imagination, to thewondrous temples of Rajasthan.

7/10 Estée Lauder

If warm,woody scents are your thing, you will love the new Sensuous from Estée Lauder. In its tactile bottle with rose-gold cap, this scent is romantic and nostalgic in equal measure, and will be flying off the shelves at Christmas.

8/10 Girard

A major British perfume house at the turn of the last century, Girard has been resurrected by Boots. In its charming bottle, Lysval smells old-fashioned and romantic, with hints of hyacinth, lily of the valley and freesia. Exclusive to Boots.

9/10 Lanvin

This pretty bottle contains a cocktail of blackberry, pear and citron, as well as freesia, sandalwood and musk. A collaboration between the artistic director Alber Elbaz and perfumer Anne Flipo, Jeanne is a tribute to the great couturier, Jeanne Lanvin.

10/10 Jo Malone

Unisex colognes are a great alternative to wearing heavy perfumes, and this zingy new offering, Sweet Lime & Cedar Cologne, was inspired by the mix of spices, delicate floral fragrances and aromatic leaves in Thai cuisine. Layer throughout the day.
If our response to fragrance is one steeped in romance – in memories, dreams and reflections – its origins and a few of its most prized ingredients are less obviously lovely. Civet, for instance, is extracted from the anal glands of the cat of the same name and was used extensively during the time of the Black Death. While ambergris is secreted from the intestine of the sperm whale, castoreum comes from the genitals of the castor beaver, and musk is the product of the sheath gland of the musk deer. All these are employed in contemporary perfumery, predominantly in synthetic form, and they give fragrance – French fragrance in particular – its animal qualities.
To me, many of France's greatest scents are impolite, as well as animalistic – and quite deliberately so. These historic smells have none of the ozonic freshness of the post-Aids generation of fragrance or the banal foody florals that came later. Instead, they are deliberately confrontational, overtly sexualised – rude. Jacques Guerlain's Shalimar, created in 1925, caused a scandal when its creator said that he wanted it to smell like his mistresses, hence its woody, smoky appeal intensified by wild animalic notes. The name means garden of love. Chanel No. 5, introduced four years earlier, is a rose-jasmine accord, famously jazzed up by an overdose of aldehydes, but one with undeniably musky depths.
White flower fragrances are noted for the presence of indole, an organic compound found in all of the aforementioned blooms – but also in faeces. Anyone who has ever lived in a room with even the smallest vase of fresh tuberose in particular will know that as the flower's beauty fades its smell becomes increasingly intoxicating and that, intermingled with the voluptuous and floral, is undeniably the not-so-sweet smell of excrement. Robert Piguet's Fracas, a sultry tuberose, is the most dramatic of these; Jean Patou's Joy, an abstract floral heavy with jasmine the most luscious; and Christian Dior's lily of the valley-based Miss Dior, the prettiest.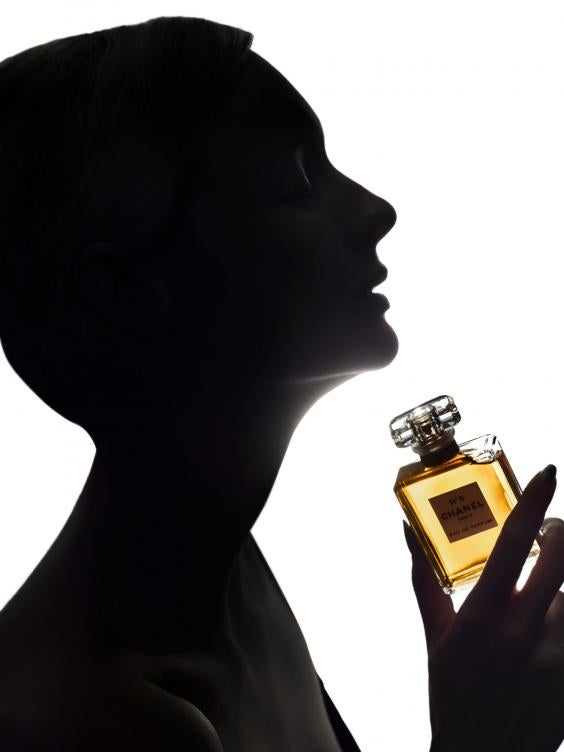 In 1977, Yves Saint Laurent christened what would go on to become his most famous fragrance, Opium: the name was as deliberately provocative as the liquid inside (this is a designer who, six years before that, posed nude for the ad campaign for his first men's fragrance, Pour Homme). Opium is a hugely seductive oriental, an unabashed and brash harlot of a scent and one that was as integral to 1980s style as shoulder pads and matt black. Orientals are also among Serge Lutens's most notable fragrances. A visit to his Paris store, a small and dimly lit space clad in purple porphyry, is on the wishlist of anyone in search of olfactory grandeur.
Released in 2015, as part of Lutens's Section d'Or, Sidi Bel-Abbès, named after the Algerian city of the same name, is among the darkest and most mysterious orientals of them all. Prohibitively expensive, it is an unashamedly exotic flashback to a time when pungent, quintessentially French scents were the mark of the discerning grande bourgeoisie. Lutens tends, for obvious reasons, to withhold the formulas of his fragrances, but this one is spicy, leathery, smoky, woody, musky – huge. In place of the usual breakdown of ingredients, the press material that accompanied its launch said just this: "From a forgotten time, an erased past, all that remains in our memory is the footprint in the sand of an anonymous love." For all its tenderness, there's nothing especially clean about this sentiment or indeed the fabulous juice it so obliquely describes.
Susannah Frankel is editor-in-chief of 'AnOther Magazine'
Reuse content