H&M's designer partnerships are perhaps one of the most talked about collaborations in the fashion world causing thousands to queue for their most sought-after item. 
But, if you're worried about missing out, don't panic - because some pieces are already available via pre-sale on eBay. Unfortunately, it's for seven-times the asking price. 
The collection doesn't officially go on sale until November 3rd but with two weeks still to go items are appearing online for hundreds of pounds more than their retail worth.
This isn't the first time so-called 'fashion flippers' have taken on the brand's collaborations either; last year's Balmania saw pieces appear via the online marketplace for double the price ahead of its release but things have escalated somewhat radically this time round.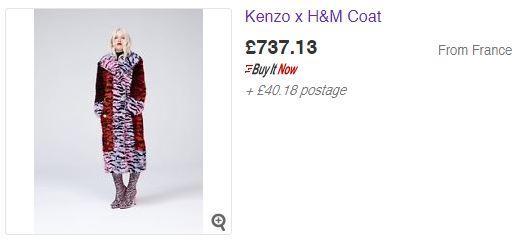 The biggest mark-up comes in the form of a red and pink tiger print coat which when it launches in store will cost £113.99. If you want to get it through eBay though, you'll have to pay £737.13 plus postage from France meaning you'll be forfeiting a massive £633.27 extra.
This isn't the only inflation though; a bow adorned pink and lilac hat will cost just £29.99 on release but nab it on eBay and you're looking at a cool £163.98 plus postage from the US.

One shocking price hike is for a navy blue trimmed animal print coat which at £586.44 plus £45.11 postage is a whopping £482.56 more expensive than the H&M price.
You'll also have to pay an extra £545.32 to buy what should be a £149.99 Kenzo x H&M folkloric dress.
Kenzo x H&M: The complete look book
H&M are quickly becoming one of the industry leaders in fast-fashion, bringing diffusion lines from the likes of Stella McCartney, Lanvin and Versace to the masses - but shrewd shoppers seem to be intent on cashing in.
The items appearing on eBay are hugely inflated, sometimes costing more than mainline Kenzo garb - but when a collection drops and sartorial hysteria kicks in there will always be people willing to pay extra.  

Reuse content