This week Gap sparked outrage on the web after sharing a picture of a skinny-looking model in a shirtdress with the caption "dress up your days in pastel plaid" to promote the item.
The Twitter post on their official account caused internet uproar with social media users saying that the model looks extremely thin, unhealthy and "like a pencil in plaid", promoting an unrealistic physical standard.
User AgnesLoo said: "Seriously, Gap? In what world do people look like this? Perhaps you could select models who represent regular gals and not a skeletor ghost."
Also, user Katie (KJ041912) said: "Doesn't Gap feed its models? Seriously she looks ill. Please use healthy looking women in your ads next time." To what Miss Giggles (AndreaKcc) added: "Indeed, we need to see real women in ads. I mean, after all, real women buy clothes."
Dress up your days in pastel plaid. #since1969 http://t.co/MahfoxlM5i pic.twitter.com/xWWSxyImnA

— Gap (@Gap) August 4, 2014
However, on the American retailer's website, the same shirtdress is modelled by a healthier-looking model who seems to be wearing a "regular" US size small.
In a statement, a Gap spokesperson said: "The intention is always to celebrate diversity in our marketing and champion people for who they are."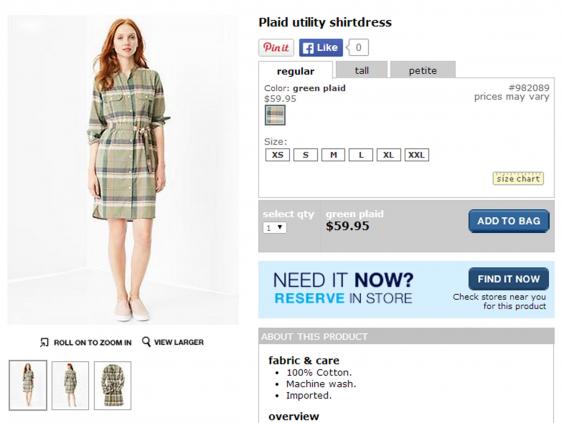 This is not the first time that such controversies spread on the web. Earlier this year Italian lingerie label La Perla sparked outrage after a mannequin in a red set with protruding ribs was on a window display in a New York boutique. At the time, a customer said: "How does La Perla think ribs on a mannequin is ok?!" They quickly apologised and said it would be removed.
Following this, last month Primark was forced to remove a skinny-looking mannequin after the budget shop was slammed for having dummies with jutting ribs and concave stomach of its Glasgow branch. Like La Perla, a concerned costumer shared an image on Twitter saying: "Dear Primark, is it really necessary that these new mannequins have protruding ribs??" Again, Primark said they would investigate the case and remove them.
Gap hasn't comment about it on the social media platform.
Reuse content