For the fashion conscious, photo-sharing websites such as Instagram provide a means of swapping style tips and getting a head start on the latest trends. But if everyone knows what outfit you wore last night, can you still wear the same thing next week?
Young women are increasingly having to mix and match clothes to cope with the problem over "overexposure" in the age of the selfie, a phenomenon which is driving sales of skirts, tops and accessories and is having a profound effect on the fashion industry.
Camille Charriere, a 27-year-old fashion blogger who runs the website Camille Over The Rainbow, said she had first become aware of the issue "long ago" when people started to share photographs of their style on Facebook.
"From the moment that people started uploading pictures of themselves or having people tag pictures of them, they started to pay more attention. There is a trend of people thinking 'I don't want to wear this, because I've already been seen in that'," she said.
Around a third of women consider clothes to be "old" after wearing them fewer than three times, according to a study published last month. One in seven blamed the effect of Facebook, Twitter and Instagram, saying they were uncomfortable being seen in the same outfits more than once.
The rise of social media has "totally changed the way we consume fashion", according to Ann Marie Kirkbride, a senior lecturer in the subject at Northumbria University. "When I was a fashion student you had to wait for the magazines to come out. Now we're living in real time, we're bombarded with images of fashion."
She added that while the chance of instant sales through social media was "great for the industry", some retailers would be wary about undermining their commitments to "responsible consumerism" by being associated with a throwaway culture.
But Sophie McCarthy, a retail analyst at the Conlumino agency, said the Instagram effect was a "big opportunity" for retailers as it allowed them to see how the public was interpreting the newest fashions. "What it does is allows consumers to dictate trends. If a retailer is able to set up a way of responding rapidly to that, then it could be a massive benefit for them," she said.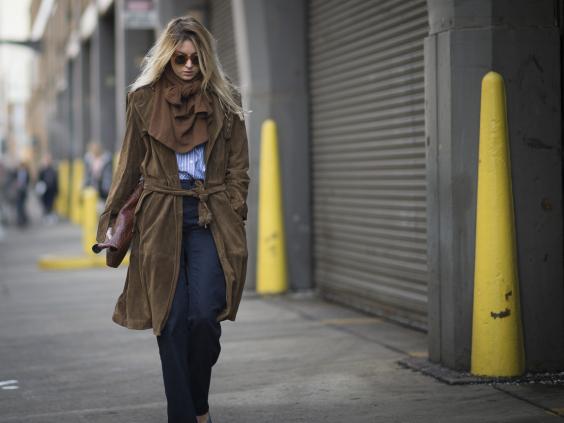 "It might not necessarily mean that they can go out and buy a whole new range from China, but what they can do is flip around their in-store merchandising and say 'This look is popular, we've got this dress and those shoes, let's take them out of the back and pull them forward'."
Ms Charriere, who has 351,000 followers on Instagram, said she had seen whole outfits in the windows of high street stores that were directly inspired by a popular post on the site – evidence that retailers are already routinely monitoring social media and changing their displays accordingly.
Roxanne Nejad, senior social media manager at online retailer Boohoo, said the company had a team of people monitoring Instagram and other websites for the latest styles and could design and manufacture clothes ready for sale in as little as six weeks.
"We don't just get influence from the catwalk like most other traditional retailers. Because of our supply chain, we're able to react quickly and support street trends that often come through from social platforms," she said.
Amazon Fashion's studio in London
Amazon Fashion's studio in London
1/10 Amazon Fashion's studio in London

The studio aims to produce over 500,000 exclusive imagery every year.

2/10 Amazon Fashion's studio in London

35 new permanent roles have been created at the studio and up to 75 will also be brought in to support seasonal demand.

3/10 amAmazon Fashion's studio in London

At 46,000 sq ft, it houses 22 individual photography bays

4/10 Amazon Fashion's studio in London

Suki Waterhouse is new ambassador for Amazon Fashion.

5/10 Amazon Fashion's studio in London

It's got an editorial suite and video editing facilities

6/10 Amazon Fashion's studio in London

7/10 Amazon Fashion's studio in London

Suki Waterhouse and Sergio Bucher, VP Amazon Fashion EU, at the opening of Amazon's new multi-million pound fashion photography studio in London as she's announced as the company's brand ambassador for AW15.

8/10 Amazon Fashion's studio in London

9/10 Amazon Fashion's studio in London

10/10 Amazon Fashion's studio in London
The company also takes advantage of social media to sell more of its existing products, by encouraging customers to post pictures of their outfits on Instagram. Using a service called Like2Buy, the images are then made "shoppable" so new customers can add the same clothes straight to their online shopping baskets.
Reuse content