Kanye West's debut sneaker created for Adidas Originals named the 'Yeezy Boost' will launch this week in New York it was announced today.
West gave the trainers their global debut on stage during the Grammy awards at the weekend.
The launch will be the first from West's new collaboration with Adidas after the rapper's much publicised fallout with Nike.
The Yeezy Boost will launch on February 14th in New York to coincide with the upcoming New York Fashion Week event and NBA's All-Star weekend.
Further details on the launch of the trainers have been confirmed with a global simulcast event live from New York City this afternoon at 4pm New York timed and simultaneously streamed to 42 theatres around the globe.
In the UK it will be Odeon cinemas in London, Birmingham and Manchester who will be hosting the event with details on how to get tickets available from tickets.yeezy.supply.
For the first time customers will be able to reserve trainers prior to the release day through a new app - Adidas Confirmed.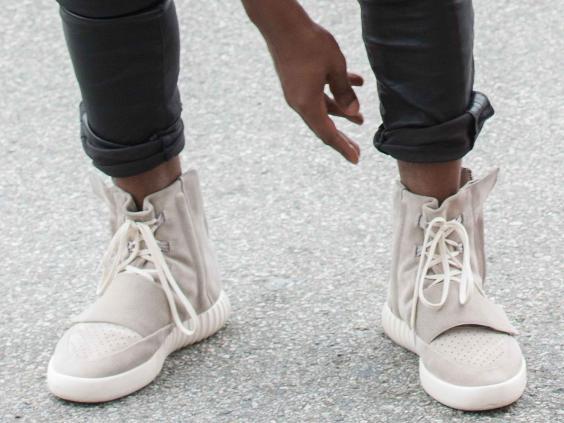 The app which can be downloaded from the Apple store or Google play, will allow customers to reserve their shoes in select stores including Adidas, Foot Locker and Champs Sports.
The confirmed stockist where UK fans will be able to get there hands on the shoes are Dover Street Market and the Adidas Originals store on Fouberts Place.
UK shoppers will have to wait a little longer than those in the US as the shoes won't be on sale here till the 28th February.
For those eagerly awaiting a chance to get their hands on the shoes, the retail price for the trainers will be $350 (approx £250).
Arthur Hoeld, General Manager of Adidas Originals aid:
"No one transcends music and fashion like Kanye West, he is a cultural icon like no other and brings a completely new expression to designing shoes."
"The YEEZY BOOST is the first sneaker that brings Kanye's unique creativity and individuality to the forefront of its design.  It will be highly sought-after and we expect to see unprecedented excitement when we release it in New York during one of the most exciting times for fashion, sports and culture." 
For more information on stockists visit adidas.com/kanye
Reuse content